Webinar: Get it Right from the First Bite: How to Incorporate Baby-Led Weaning in Your Pediatric Nutrition Practice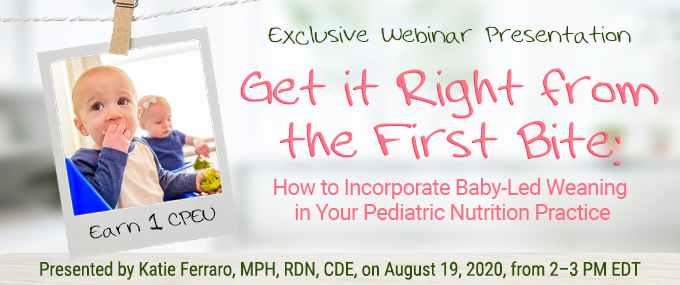 Looking to incorporate a baby-led approach to starting solid foods in your pediatric nutrition practice? If the last thing you learned about feeding a baby was in your Lifecycle Nutrition class, it's time to take a closer look at baby-led weaning!
Baby-led weaning (BLW) is an effective and safe alternative to traditional spoon-feeding that helps you raise an independent eater and prevent picky eating from baby's first bites. Parents and caregivers are increasingly interested in this feeding philosophy, as well as RDs who work with the pediatric population.
Join Katie Ferraro, MPH, RDN, CDE on August 19, 2020 from 2-3 p.m. ET as you learn about the emerging body of research that supports a baby-led approach to feeding, with practical tips on how you can incorporate BLW in your pediatric nutrition practice...or your own family! Katie will cover how to counsel parents and caregivers who are interested in mastering the BLW method, as well as strategies to help avoid nutrient gaps and support safe feeding practices.
Learning Objectives
After completing this continuing education course, nutrition professionals should be able to:
Cite a body of current, peer-reviewed published research that supports a baby-led approach to feeding.
Assess a baby's readiness to feed and identify potential nutrient gaps and safety concerns commonly associated with the introduction of solid foods.
Provide recommendations for ideal first foods, portion sizes, sample feeding schedules, and texture transition for patients and clients interested in a baby-led approach to feeding.
Additional Information
Suggested CDR Learning Codes:
Suggested CDR Performance Indicators:
2.1.7, 8.4.1, 9.4.5, 12.3.3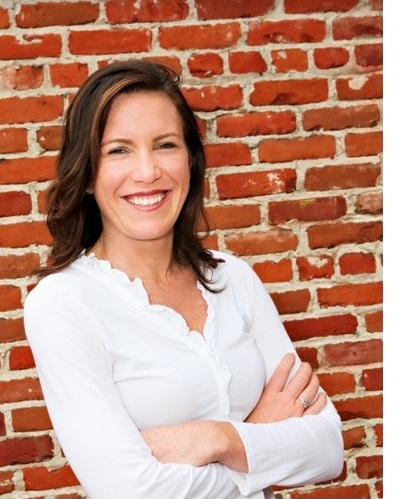 Katie Ferraro, MPH, RDN, CDE, is an Associate Clinical Professor of Nutrition at the University of California San Francisco, and a mom of 7, who specializes in infant feeding and baby-led weaning. Through her business, The Fortified Family, and her popular Instagram page, @babyledweanteam, Katie has helped tens of thousands of healthcare professionals, families, and caregivers give their babies a safe start to solid foods using baby-led weaning.
The speaker has the following disclosures to report: her private practice, The Fortified Family, sells digital programs and materials related to baby-led weaning. She has received honoraria from the following food or food-related brands: a2 Milk, Arctic Apples, Atkins Nutritionals, US Highbush Blueberry Council, California Olive Oil Council, Fresh Cravings, Mushroom Council, Pure Maple from Canada, Simple Mills, Smart and Final, Danone North America, The Wonderful Company, New Zealand Lamb, Healthy Height, and Kabrita USA. She receives affiliate income from BapronBaby, Butcher Box, ezpz, Puffworks, Stokke, and Thrive Training Institute. She certifies that no conflict of interest exists for this program. View our disclosure policy.
Required Hardware/software
Ensure your browser's cookies are enabled in order for the GoToWebcast software to function properly. Please add "ce@gvpub.com" to your email provider's safe list. Otherwise, login instructions for this event may be caught in your spam/junk folder.