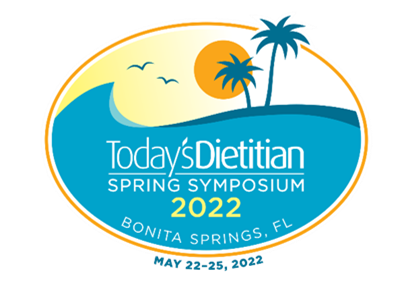 The Today's Dietitian Spring Symposium is an annual continuing education event for dietitians and nutrition professionals. The foundation of our event is continuing education. Our sessions, workshops, and presentations are led by some of the foremost experts in dietetics and nutrition. All topics chosen for our program are current and pertinent to the professional growth and development of registered dietitians.
Our Symposium program and line up of expert presenters supply the tools and knowledge you need to provide exceptional dietetics counsel to your clients, as well as tips to grow your professional career and practice. In addition to the selection of sessions, presentations, and workshops, our unique environment presents a variety of opportunities for creative networking, peer interaction, and acquiring information from our sponsors.
Unlike any other event designed for dietitians, the Today's Dietitian Spring Symposium offers a level of engagement, interaction, and meaningful person-to-person contact between our attendees, our session presenters, and our sponsors that is truly different and quite extraordinary for a professional meeting. 
Join us for some fun in the sun from May 22-25, 2022 - REGISTER TODAY!
 
*Looking for content from the 2021 Virtual Symposium? Point your mouse over the green "Symposium" menu item above and select where you'd like to go from the drop down list.