Recorded Webinar: Counseling for Food Allergies in Adults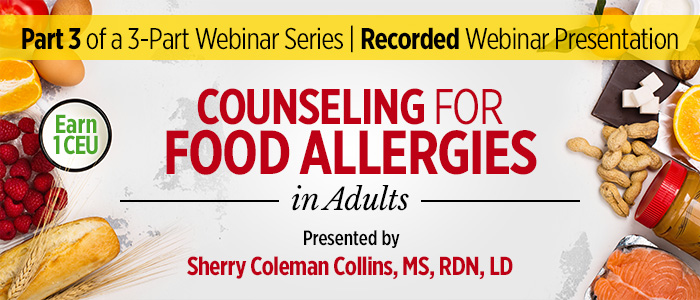 This webinar was originally presented on Wednesday, February 5, 2020, from 2-3PM EST.
Once thought to be relatively rare, a recent survey has shown that prevalence of food allergies in adulthood may be over 10% in the U.S. Yet, in the same survey, a full 20% claimed to have a food allergy. The adult-onset food allergic patient requires similar education to the child, but in a very different way because the adult patient is wholly responsible for his/her needs. At the same time, they also may need help with the emotional and psychological part of living with food allergies, as they can no longer live as they once had.

In the final part of this three-part webinar series, Sherry Coleman Collins, MS, RDN, LD, discusses how the RDN can help clients learn to manage risk around social settings, intimacy and dating, and understand the keys to reducing the risk of food allergies in their offspring, in addition to the obvious food preparation and cooking skills. The RDN can also be a source of referral for additional important services, such as support groups or psychological services.
Learning Objectives
Direct parents and patients using the latest guidelines for nutrition intervention to prevent food allergies, obtain an accurate food allergy diagnosis, and successfully manage food allergies.
Implement an evidence-based approach as they educate patients in order to reduce the risk of food allergy reactions while protecting quality of life.
Understand and use the appropriate educational approaches and techniques to teach families, pediatric patients, or adult patients about successful food allergy management.
Additional Information
Suggested CDR Learning Codes:
Suggested CDR Performance Indicators:
8.1.3, 8.1.4, 8.3.1, 8.4.4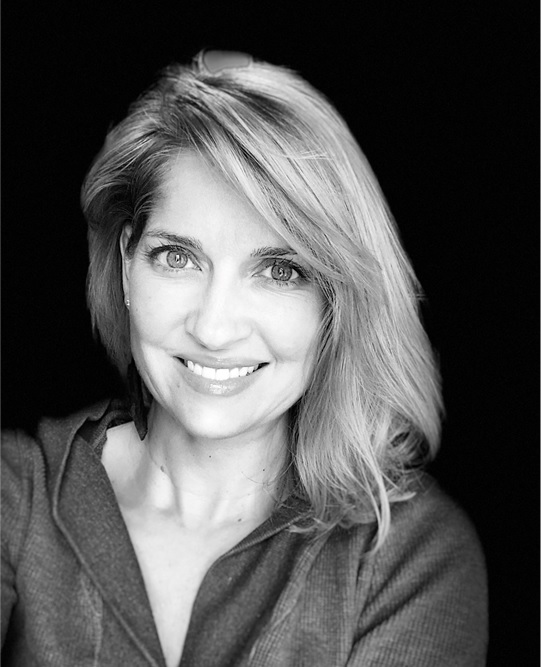 Sherry Coleman Collins is president of Southern Fried Nutrition Services in Atlanta, Georgia. Sherry specializes in food allergies and sensitivities, digestive disorders, and nutrition communications, and develops and delivers food allergy education for consumers and training for professionals in food-service, school nutrition, and general nutrition. Sherry is also an avid cook, and teaches cooking classes, shares recipes, and helps people live better by learning to navigate the world of food with ease. She also writes about food and nutrition for a variety of online and print publications and is frequently quoted and interviewed as an expert in the areas of food allergies, nutrition, and gut health. In 2016, Sherry was awarded the Distinguished Service in the Media award from the Georgia Academy of Nutrition and Dietetics (GAND), an award given to an RDN in Georgia who has exhibited exemplary service by providing evidence-based information to the media. In her spare time, you can find Sherry hosting the Southern Fried Girlfriends podcast.
Sherry Coleman Collins, MS, RDN, LD, has the following disclosure to report: consultant, National Peanut Board. Sherry has certified that no conflict of interest exists for this program. View our full disclosure policy here.
Required Hardware/software
Ensure your browser's cookies are enabled in order for the GoToWebcast software to function properly.