Recorded Webinar: Promoting Healthy Portion Sizes: From Quantity to Quality and the Role of RDNs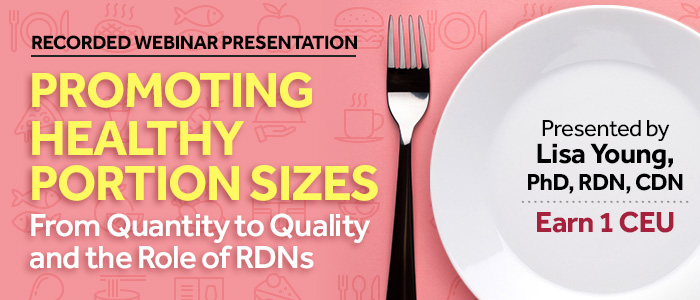 The live version of this webinar was presented by Lisa Young, PhD, RDN, CDN, on Wednesday, June 5, 2019, from 2-3 pm ET. This recorded version is approved for one hour of continuing education credit. RDs should list CDR code 175 for this activity type.
One national trend that is likely to be a key contributor to the rising rates of obesity in the U.S. is the increase in the size of food and beverage portions. This webinar provides an overview of the evidence on trends regarding portion sizes, the influence of portion sizes on food intake and consumer attitudes regarding portion sizes.

It also discusses federal serving sizes, including the updated serving sizes on food labels and the role of the registered dietitian nutritionist (RDN) in helping individuals consume healthy portions. Promising educational strategies and policy options were discussed for addressing large food portions.This webinar emphasizes real-life strategies for healthy eating along with science-based perspectives and actionable ideas for how to manage portion sizes in today's food environment.
Learning Objectives
After completing this continuing education course, nutrition professionals should be able to:
Describe trends in portion sizes and their influence on food intake.
Describe consumer attitudes regarding portion sizes.
Understand federal serving sizes and how to educate the public on appropriate food portions.
Identify educational strategies for addressing oversized portions.
Additional Information
Suggested CDR Learning Codes:
Suggested CDR Performance Indicators: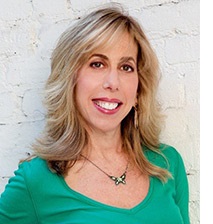 Lisa Young, PhD, RDN, CDN, is an internationally recognized nutritionist and portion control expert. She is an Adjunct Professor of Nutrition at New York University, author, international lecturer, registered dietitian nutritionist in private practice, and media consultant. As one of the leading experts on food portion sizes in the U.S., Dr. Young is the author of Finally Fully, Finally Thing: 30 Days to Permanent Weight Loss One Portion at a Time (Center Street, 2019) and The Portion Teller Plan: Eating, Cheating, and Losing Weight Permanently (Crown, 2006). Dr. Young has also authored peer-review research articles as well as popular features on portion size and served as an adviser to the NYC Department of Health and Mental Hygiene on its various portion-control initiatives.

Lisa Young, PhD, RDN, CDN, has no relevant disclosures to report. She has certified that no conflict of interest exists for this program. View our disclosure policy.