Webinar: Behind the Headlines: Ethical and Socially Responsible Communications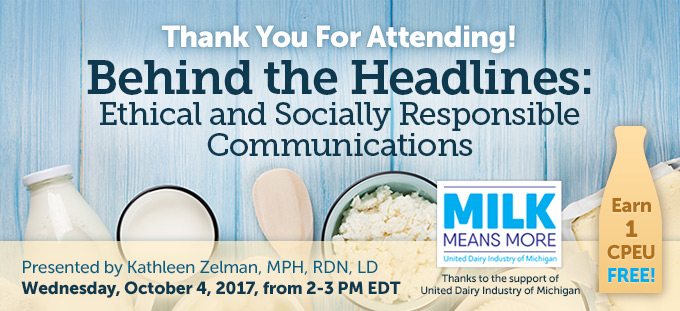 Suggested CDR Learning Codes: 1050, 1090; Level 2
Suggested CDR Performance Indicators: 1.1.2, 1.1.3, 1.1.4, 1.1.8
This webinar was presented on Wednesday, October 4, 2017, from 2-3 pm ET, by Kathleen Zelman, MPH, RDN, LD.
 
Kathleen Zelman, MPH, RDN, LD, reports the following relevant disclosures: she works for WebMD, is a consultant to United Healthcare, is on the advisory board of Total Health Initiative, Inc. and Sabra, is a Health Professional Advisor to Egg Nutrition Center, and is a member of Leaders Engaged in Advancing the Dialogue on Agriculture. She has certified that no conflict of interest exists for this program. View our disclosure policy.
 
This complimentary 1-credit continuing education webinar is brought to you with support from Milk Means More (Michigan's Dairy Council). Please note that Milk Means More provided financial support only and did not have input into the information provided in this course. Milk Means More is a sub-segment of the National Dairy Council (NDC). For over 100 years, the NDC has committed to providing health professionals and consumers with science-based education on the nutrition and health benefits of dairy foods as part of a well-balanced diet. The dairy industry is committed to providing products that are affordable and produced in a socially and environmentally responsible manner. This includes technical advances to allow more food to be produced in a humane way while reducing any impact on the environment.