Webinar: Changing the Conversation: Culinary Techniques to Meet the Needs of a Client's Diagnosis Without Sacrificing Flavor for Diabetes & Heart Disease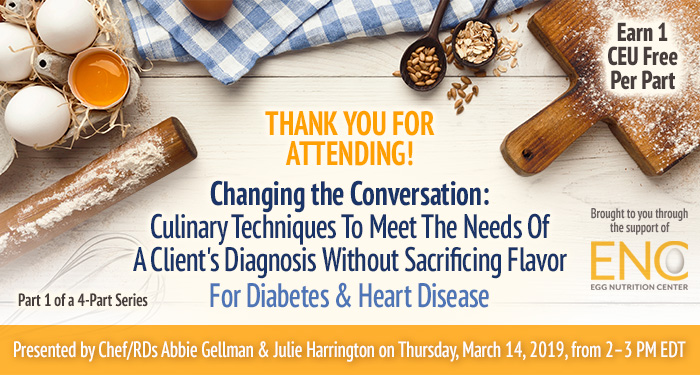 Suggested CDR Learning Codes: 5460, 6010, 8060, 8100
Suggested CDR Performance Indicators: 8.1.5, 8.3.6, 8.4.1, 8.4.5
CPE Level 2
This webinar was presented on Thursday, March 14, 2019, from 2-3 pm ET, by Abbie Gellman, MS, RD, CDN, and Chef Julie Harrington, RD.
This webinar is the 1st of a 4-part webinar series, featuring a new diagnosis to discuss in Q1, Q2, Q3, & Q4.

This complimentary 1-credit continuing education webinar is brought to you with support from Egg Nutrition Center. Please note that Egg Nutrition Center provided financial support only and did not have input into the information provided in this course. The presenters have the following relevant disclosures to report: they have received honoraria and other material support from Egg Nutrition Center, National Dairy Council, and National Cattlemen's Beef Association. They have certified that no conflict of interest exists for this program. View our disclosure policy.