Webinar: Malnutrition Documentation Throughout the Continuum of Care: Improving Payment and Quality Outcomes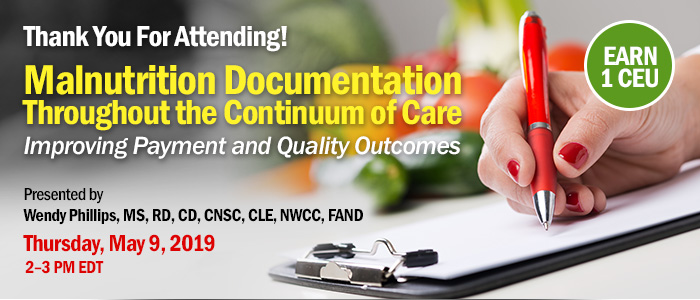 Suggested CDR Learning Needs Codes: 1080, 4070, 7000, 7170
Suggested CDR Performance Indicators: 8.2.5, 8.3.5, 14.2.6, 14.2.7
CPE Level 2
CDR Activity Type 171

This webinar was presented by Wendy Phillips, MS, RD, CD, CNSC, CLE, NWCC, FAND, on Thursday, May 9, 2019 from 2-3 pm ET.

Wendy Phillips has no relevant disclosures to report. She has certified that no conflict of interest exists for this program. View our disclosure policy.