Webinar: Mindfulness Masterclass: Personal Empowerment Through Awareness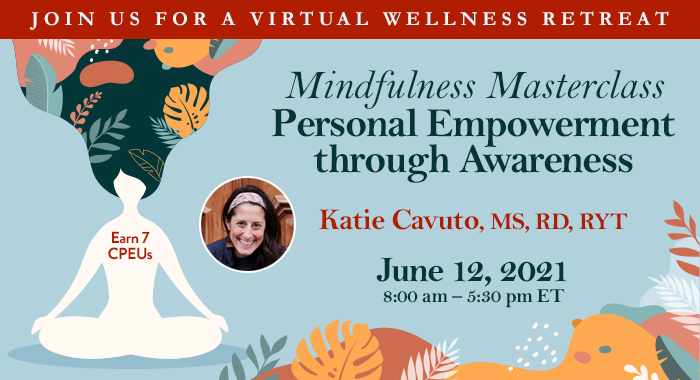 Join Today's Dietitian and Katie Cavuto, MS, RD, RYT, for a one-day virtual wellness retreat meant to help you deepen your sense of self-awareness, and foster compassionate, authentic connections with yourself and others.
Join a renowned wellness team who are ready to help you reflect, learn and grow on Saturday, June 12, 2021 from 8 a.m. to 5:30 p.m. ET. This intimate virtual retreat is limited to 75 participants, which allows room for individual and small group activities as well as robust and interactive discussion sessions.
Additional Information
Suggested CDR Performance Indicators:
1.2.1, 1.6.2, 3.1.1, 4.2.2
Agenda
TIME
ACTIVITY
CREDITS
8:00 – 9:00 AM
Optional Yoga Class
 
9:00 – 9:15 AM
Welcome, Overview
 
9:15 – 10:45 AM
Dr. Andrea Bonier
A Calmer Mind: Change Your Mental Habits Through Awareness and Self-Care
1.5
10:45 – 11:00 AM
Break
 
11:00 – 12:00 PM
Mara Wai
The Benefits of Mindfulness: How to Improve Your Health, Happiness and Eating Experiences by Connecting With Your Inner Wisdom
1.0
12:00 – 1:00 PM
1 hour lunch to include 30 minute guided activity
0.5
1:00 – 3:00 PM
Cal Cates and Kerry Jordan
Afternoon Workshop Part 1: Deepening The Well: Exploring the Unconscious to Heighten Awareness and Deepen The Authenticity of Our Relationships
2.0
3:00 – 3:15 PM
Break 
 
3:15 – 5:15 PM
Cal Cates and Kerry Jordan
Afternoon Workshop Part 2: Deepening The Well: Exploring the Unconscious to Heighten Awareness and Deepen The Authenticity of Our Relationships
2.0
5:15 – 5:30 PM
Closing Statements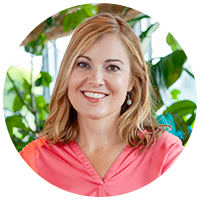 Dr. Andrea Bonior is a licensed clinical psychologist and the author of "Detox Your Thoughts: Quit Negative Self-Talk for Good and Discover The Life You've Always Wanted." For fifteen years, she was the voice behind "Baggage Check," the mental health advice column and live chat for The Washington Post, now appearing as "Ask Dr. Andrea." Her Psychology Today blog has garnered more than 20 million views. She is featured regularly as the psychologist contributor to CNN's The Lead with Jake Tapper, and has been interviewed by NPR, The Today Show, and Good Morning America, The New York Times, USA Today, Glamour, Self, and Refinery29. She serves on the faculty of Georgetown University, where she recently won a national Excellence in Teaching Award by the Society for the Teaching of Psychology.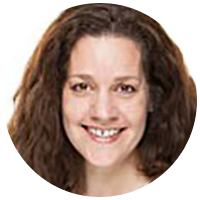 Mara Wai, MEd, is the Associate Director of the Penn Program for Mindfulness. Since 2012 she has taught the programs foundation programs and also developed and facilitated several advanced mindfulness programs. As a mind-body coach she utilizes mindfulness and other tools to help clients facilitate awareness of the mind-body connection to support them to apply mind-body awareness in pursuit of life goals and in navigating challenges.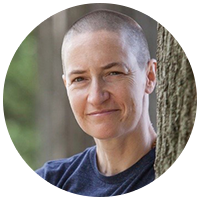 Cal Cates, LMT, has been teaching and developing curriculum for massage therapy courses focused on hospital-based practice, cultural competency, and end of life care since 2007. Their experience in clinical settings around the US and their long-standing work with contemplative practices have informed their teaching style greatly. Cal's favorite thing about teaching healthcare providers is the ability to blend nerdiness and authenticity to create opportunities to be more effective, more human and more flexible. In Cal's experience, the most effective and compassionate providers are those who are willing to look deeply at themselves and they love supporting that process.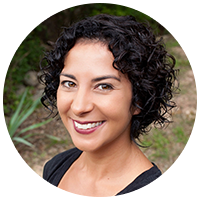 Kerry Jordan, LMT, is the Operations Director and a teacher for Healwell and she is an essential part of the curriculum development team. She brings 20 years of experience as an instructor and has an extensive background in teaching yoga, meditation, bodywork and mindfulness. Before training as a massage therapist, Kerry owned and operated a successful yoga studio in Boston. She has been teaching yoga since 1999. Kerry enjoys weaving the principles of yoga and meditation into her teaching and service work with yogis, massage therapists and other healthcare providers.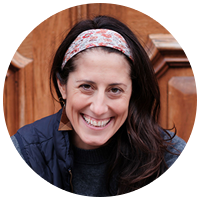 Katie Cavuto, MS, RD, RYT, practices Integrative Nutrition with a foundational philosophy that healing is holistic and wellness strategies need to be highly personalized. She uses her diverse background to support her clients with a purpose to create the space for people to feel heard and understand and to provide tools to foster personal growth and self-empowerment. 
The presenters have no relevant disclosures to report and certify that no conflict of interest exists for this program. View our disclosure policy.
Required Hardware/software
Ensure your browser's cookies are enabled in order for the webinar software to function properly. Please add "ce@gvpub.com" to your email provider's safe list. Otherwise, login instructions for this event may be caught in your spam/junk folder.