Recorded Webinar: The Happy Healthy Kitchen: Creating Delicious Meals to Support Dietary Advice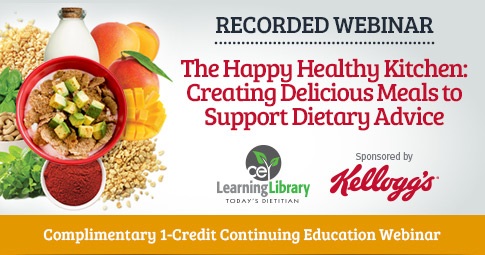 Suggested CDR Learning Codes: 2070, 2090, 4030, 8100; Level 2
Suggested CDR Performance Indicators: 8.1.3, 8.4.2, 11.2.6, 13.2.1
It's been said that no food is truly nutritious until it's actually eaten. Helping clients discover the enjoyment factor in adopting a healthy dietary pattern begins one bite at a time. Because taste is one of the most powerful motivators in getting people to try and continue to consume healthful foods, this continuing education webinar shares creative culinary ideas to add to the nutrition education toolbox.

Research on the most common shortfall nutrients will be reviewed and matched with practical meal pattern ideas to help fill in the gaps. In line with the 2015 US Dietary Guidelines, recipe ideas to help decrease consumption of salt, saturated fat and added sugars will also be addressed.
The live version of this webinar was presented by Carolyn O'Neil, MS, RDN, LD, on Thursday, April 28, 2016, from 2-3 pm ET. This recorded version is approved for one hour of continuing education credit. RDs should list code 175 for this activity type.
By registering for this free continuing education course, you are granting permission to Today's Dietitian to share your demographic information and e-mail with the course sponsor for potential marketing purposes.
Learning Objectives
After completing this continuing education course, nutrition professionals should be able to:
Discuss research identifying shortfall nutrients of concern in the U. S. population.
Identify the connection between taste and presentation on food acceptance.
Identify current US consumer food trends that impact nutritional status.
Create recipe ideas for clients to increase the healthfulness of favorite foods.
Provide clients with evidence-based advice for planning healthy meal patterns.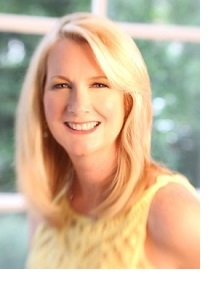 Carolyn O'Neil, MS, RD, LD, is a noted nutrition expert, award winning food writer, nutrition communications consultant, television personality and registered dietitian. She believes "The More You Know, The More You Can Eat!"

She's the author of Southern Living's best selling Slim Down South Cookbook: Eating Well and Living Healthy in the Land of Biscuits and Bacon and co-author of The Dish on Eating Healthy and Being Fabulous! which won "Best Health and Nutrition Book" at the World Food Media awards.  Carolyn writes a weekly food and lifestyle column for the Atlanta Journal-Constitution, called "Healthy Eating".  She contributes food and nutrition segments to NBC Atlanta & Company and appears as "The Lady of the Refrigerator" nutrition expert on Alton Brown's Good Eats series on the Food Network wearing a tiara and pale blue ball gown. Her blog is www.oneiloneating.com.

Carolyn earned three James Beard Foundation Awards, including Who's Who in Food and Beverage. She was honored by the National Restaurant Association, the American Heart Association, and the Academy of Nutrition and Dietetics for her pioneering work in nutrition communications. Carolyn reported on food, nutrition and travel at CNN for nearly 20 years.  Her master's degree in Nutrition and Communication is from Boston University and undergraduate degree in Foods and Nutrition is from Florida State University. Carolyn lives in Atlanta.
This complimentary 1-credit continuing education webinar is brought to you with support from Kellogg's. Please note that Kellogg's provided financial support only and did not have input into the information provided in this course.
Carolyn O'Neil has no disclosures to report for this program. She has certified that no conflict of interest exists for this program. View our disclosure policy.