Recorded Webinar: The Dairy Matrix: More Than the Sum of Its Nutrients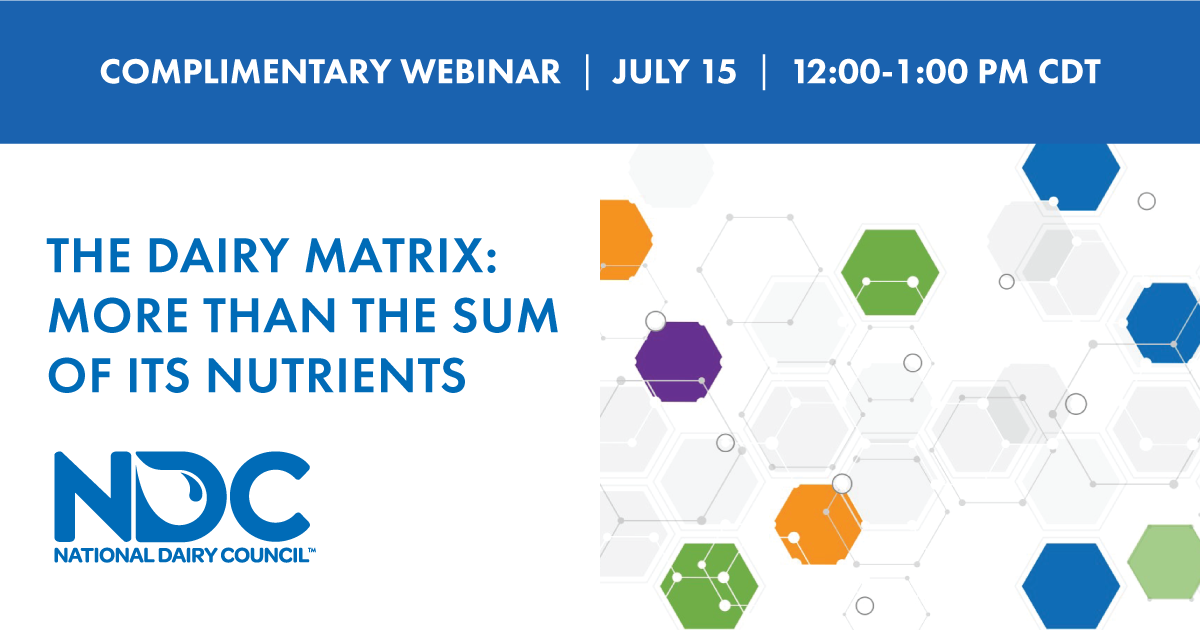 It is commonly accepted that we eat foods, not nutrients; however, until recently, the relationship between diet and health has focused on individual nutrients. Today, the focus is shifting toward the impact of whole foods. Join NDC's Katie Brown, EdD, RDN to explore the emerging concept of the food matrix, which looks at the physical structure of foods, the nutrients and bioactive factors working together synergistically to impact digestion, absorption and health - beyond the impact of individual nutrients.
To bring the research into your practice, Director of Bowling Green State University's Undergraduate Program in Nutrition and Dietetics, Carrie Hamady, EdD, MS, RD, FAND will provide educational strategies and translation tips to crystalize the concept for your audiences and stakeholders, moving science from the shelf to practical use to guide food behaviors.
Learning Objectives
After completing this activity, nutrition professionals will be better able to:
Describe the emerging concept of the food matrix and how unique combinations of nutrients and bioactives work together in synergy to impact health.
Discuss the unique components of the dairy matrix.
Provide examples of scientific research that supports consuming dairy foods (e.g., milk, cheese, yogurt) is linked to lower risk of cardiovascular disease and type 2 diabetes, as well as improved bone health.
Share strategies for bringing the latest research into the classroom and into practice.
Additional Information
Suggested CDR Performance Indicators:
7.2.6, 8.1.3, 8.3.6, 8.3.7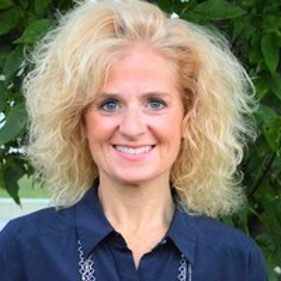 Katie Brown is Senior Vice President, Sustainable Nutrition at National Dairy Council. She has a passion for connecting agriculture, food, nutrition and health to elevate sustainable nutrition as relevant, meaningful and actionable. She leads scientific, regulatory and nutrition affairs, and thought leader outreach and education and serves as a subject matter expert and spokesperson on diary's role in healthy and sustainable food systems.
Dr. Brown is a registered dietitian nutritionist and has Bachelor's and Master's degrees in Dietetics and Nutrition and a Doctorate degree in Education. Prior to joining NDC, she served as the Global Nutrition Strategy Officer for the Academy of Nutrition and Dietetics Foundation. In this role she was responsible for strategic planning, leading public education initiatives and community-based nutrition research initiatives.
Dr. Brown has been an author on numerous manuscripts published in peer-reviewed journals and has spoken at many national and international professional conferences on topics ranging from sustainable food systems, dairy nutrition, food and nutrition security and effective nutrition education.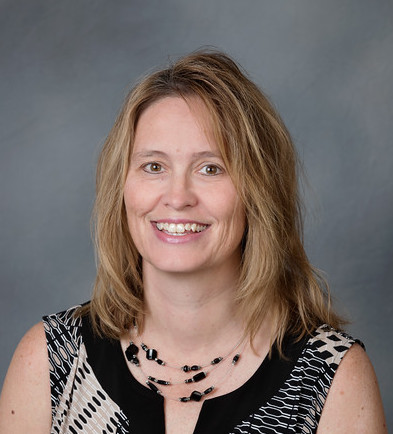 Carrie Hamady is a registered/licensed dietitian in the state of Ohio. She has a Master of Science in Health Promotion and a Doctor of Education in Leadership Studies. She is an associate clinical professor in the department of Public and Allied Health as well as the coordinator of the Food and Nutrition Program and the Director of the Undergraduate Dietetics Program at Bowling Green State University. Her interests are in clinical nutrition, sustainability, food insecurity, innovative teaching techniques in dietetics education, informatics, and the use of programmatic learning outcome. She serves as the Faculty Affiliate on campus for the BGSU Ending Hunger initiative and with the Office of Academic Assessment. She won the award for best innovation in dietetics education at FNCE, the Faculty Excellence Award for Community-Based Teaching at BGSU, the 2018 Ohio and North Central Region of NDEP Outstanding Dietetic Educator Award in the DPD Program category, and the 2020 BGSU Mentoring Excellence Award. She is also the former Chair of the Nutrition Informatics Committee for the Academy of Nutrition and Dietetics.
Katie Brown has the following relevant disclosures to report: she is a member of the University of Kansas School of Health Professionals Board of Advocates and she is employed by the National Dairy Council. She certifies that no conflict of interest exists for this program.
Carrie Hamaday has no relevant disclosures to report and she certifies that no conflict of interest exists for this program.

National Dairy Council's mission is to bring to life the dairy community's shared vision of a healthy, happy, sustainable world - with science as our foundation. On behalf of American's dairy farmers, NDC strives to help people thrive across the lifespan through science-based information on dairy's contributions to nutrition, health, and sustainable food systems. Visit us at USDairy.com or stay connected @NtlDairyCouncil.
The National Dairy Council via Dairy Management Inc. was approved by the CDR to offer 1.0 CPEU for this webinar.
Required Hardware/software
Ensure your browser's cookies are enabled in order for the GoToWebcast software to function properly. Please add "ce@gvpub.com" to your email provider's safe list. Otherwise, login instructions for this event may be caught in your spam/junk folder.