Recorded Webinar: Milk Protein and Human Health: A1 versus A2 Beta-Casein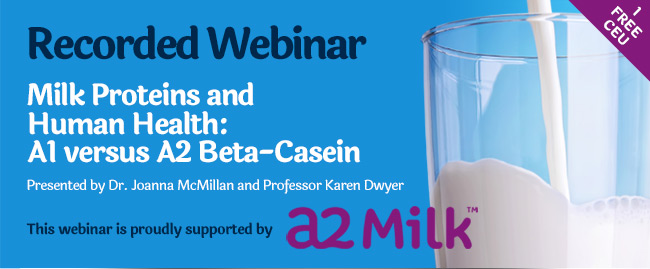 Suggested CDR Learning Codes: 5110, 2100, 2000
Suggested CDR Performance Indicators: 6.2.3, 8.1.1, 9.4.5
Millions of Americans experience post-dairy digestive discomfort (PD3), self-diagnose lactose intolerance, and avoid cows' milk. But there is strong evidence that lactose intolerance might not be the cause of PD3 for many of these milk avoiders. A better understanding of the proteins in milk can aid your efforts to counsel these patients and clients—and re-introduce real cows' milk to some, without the discomfort.
Learn more by viewing Milk Protein and Human Health: A1 versus A2 Beta-Casein, a new one-hour webinar, presented by Dr. Joanna McMillan and Professor Karen Dwyer.
Ordinary cows' milk contains a mixture of A1 and A2 beta-casein. A growing body of research supports the notion that some people digest milk proteins differently, and that for these people, A1 beta-casein may be the cause of PD3.
By registering for this free continuing education course, you are granting permission to Today's Dietitian to share your demographic information and e-mail with the course sponsor for potential marketing purposes.
Learning Objectives
After participating in this program, dietitians will be able to:
Differentiate between A1 and A2 beta-casein proteins.
List mammalian milk contain A1 and/or A2 beta casein genetic variants.
Evaluate the evidence for digestion differences between A1 and A2 beta-casein protein variants.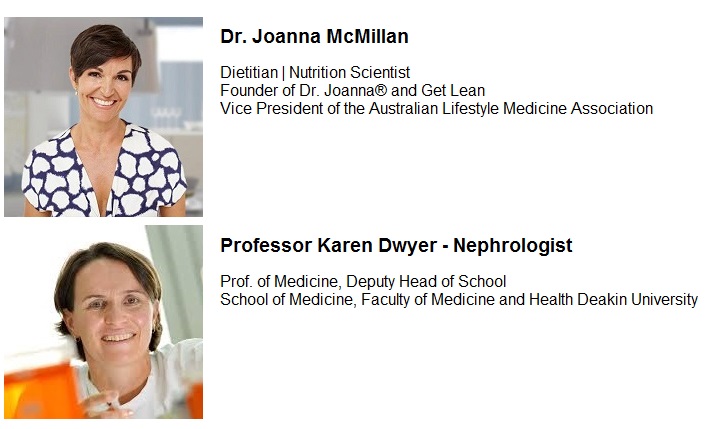 This complimentary 1-credit continuing education webinar is brought to you and accredited by The a2 Milk Company. Please note that a2 Milk® provided financial support only and did not have input into the information provided in this course.
Dr. Joanna McMillan and Professor Karen Dwyer have no disclosures to report for this program. They have certified that no conflict of interest exists for this program. View our disclosure policy.