Webinar: Food and Fitness After Cancer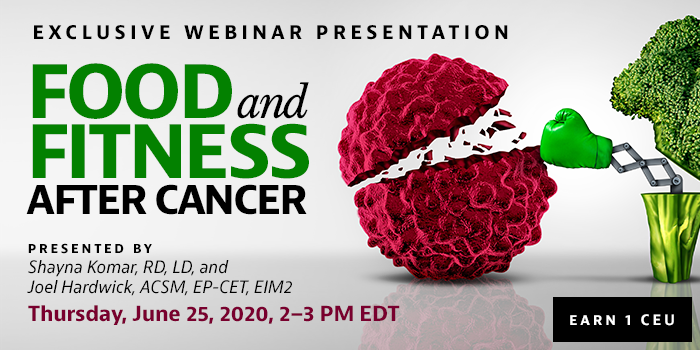 Approximately 15.5 million Americans are living with cancer, and each day they may be trying to seek lifestyle-based approaches to improve survival. For those who have received this diagnosis, nutrition professionals and exercise physiologists can make the difference between a successful and safe survivorship plan or one that is unsafe and inappropriate.
Join Shayna Komar, RD, LD, and Joel Hardwick, ACSM/EP-CET, EIM2, on Thursday, June 25, 2020 from 2-3 p.m. ET for a webinar that will address how food and fitness impact the cancer survivor. Shayna and Joel will discuss how to create a healthy plan post treatment and educate dietitians on how to team up with their local exercise experts to help patients manage post treatment side effects. The duo will also discuss an appropriate food plan that coincides with a fitness program in order to decrease the comorbidities of the cancer survivor. Most importantly, Shayna and Joel will dive deep into a discussion of the synergistic effects of combined exercise and nutritional therapies. 
Lifestyle modification is a complex process; learn how dietitians can play an essential role in navigating exercise and nutrition for the cancer survivor.   
Target Audience
Registered Dietitian Nutritionists and Dietetic Technicians Registered
Learning Objectives
After completing this continuing education course, nutrition professionals should be able to:
Discuss the benefits of being physically active and its correlation to nutrition in the cancer population.
Identify and recommend medical nutrition therapy needs and exercise strategies for the long-term care of the cancer survivor as they relate to metabolism and body composition.
Communicate 5 take home food and fitness ideas to the cancer survivor that s/he can implement during post treatment.
Additional Information
Suggested CDR Learning Codes:
Suggested CDR Performance Indicators:
8.2.4, 8.3.6, 10.1.2, 10.2.8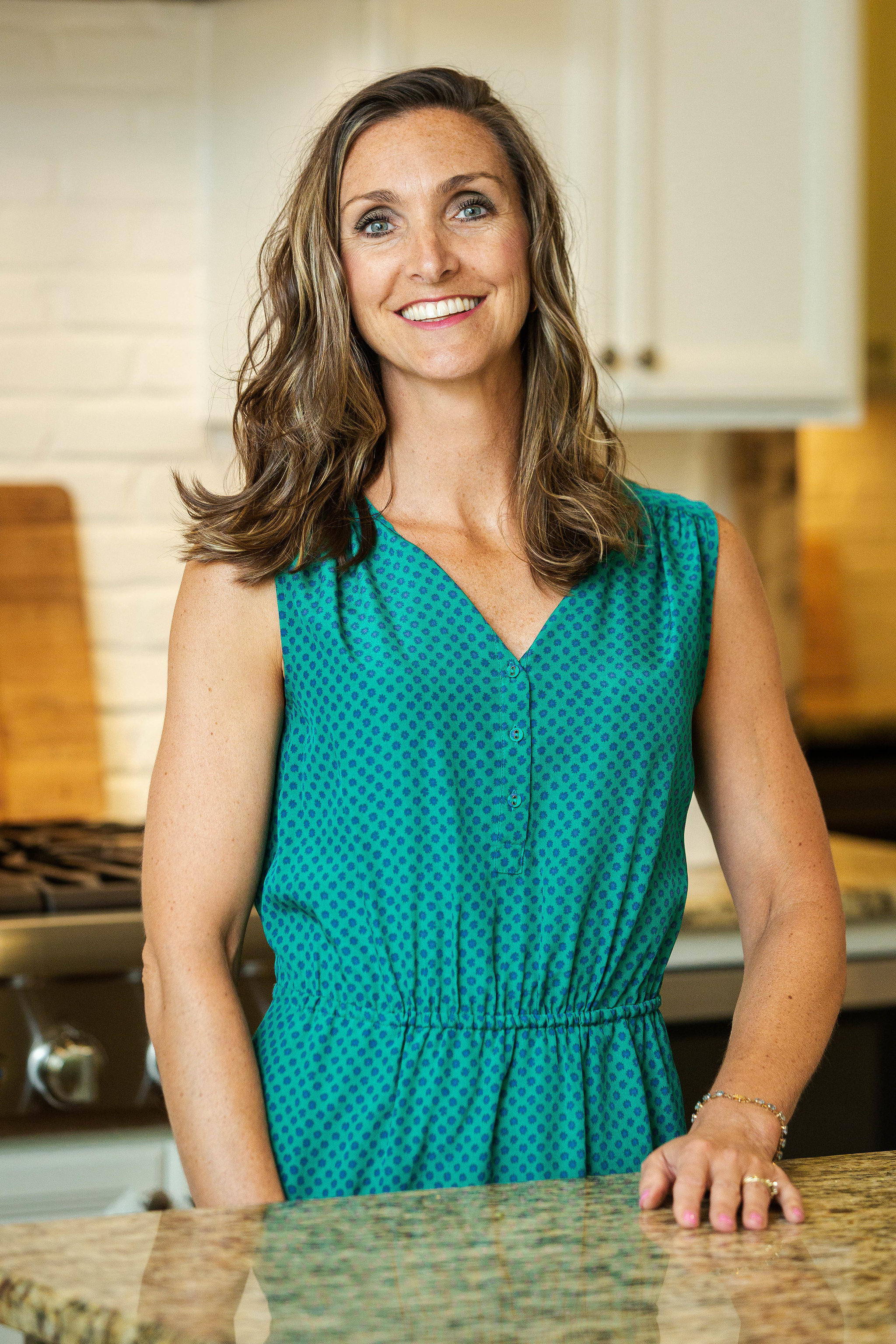 Shayna Komar, RD, is a Registered and Licensed Dietitian based in Atlanta, Georgia. She completed her undergraduate degree in Nutrition, Foods, and Exercise at Virginia Tech and her dietetic internship at Johns Hopkins Hospital in Baltimore, Maryland. Shayna currently contracts with Cancer Wellness of Piedmont Hospital where she provides individual nutrition counseling, cooking classes and group lectures for cancer patients and caregivers. She was the proud recipient of the 2006 Distinguished Dietitian of the Year Award from the Academy of Nutrition and Dietetics. 
In 2019, Shayna was one of the "Top 10 Dietitians of the Year" from Today's Dietitian. She is on the Academy of Nutrition and Dietetic Speakers' Bureau for oncology dietitians and speaks all over the country. Shayna has been featured as a nutrition expert on Fox News Atlanta, CNN Accent Health, WSBTV Radio, and most recently, 11Alive Atlanta and Company. She writes weekly with her colleague, Chef Nancy Waldeck, on their blog, "Living and Eating Well" at tasteandsavor.com, and she's an avid fitness enthusiast who has been teaching group fitness classes for 20 years.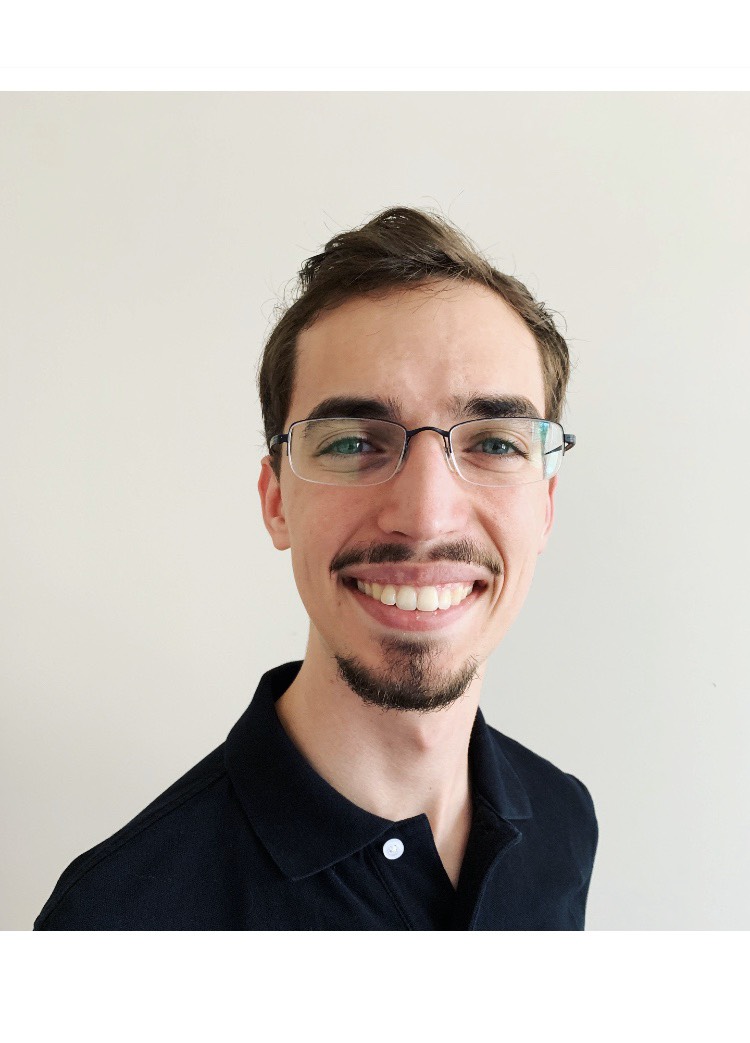 Joel Hardwick is an exercise physiologist, cancer exercise trainer, and brain health ambassador based in Atlanta, Georgia. Joel received his undergraduate degree in Exercise Science from Georgia State University and his internship at Piedmont Atlanta Hospital Cardiac Rehab. Joel currently works for Piedmont Atlanta Hospital where his work centers on prehabilitation and rehabilitation interventions for pancreas, prostate, lung, and breast cancer patients. Joel provides exercise prescriptions, group exercise classes, and educational opportunities for cancer patients and oncology providers. He also coordinates the PINK breast cancer and Cancer Well-Fit programs and Piedmont Atlanta Hospital.
Joel was nominated by his peers for "member spotlight" for the Medical Fitness Association in 2019. He has also been featured as an exercise expert for several articles on Piedmont's blog, "Living Better," and 11Alive's "Why Guy" series for topics related to exercise and delayed onset muscle soreness.
The presenters have no disclosures to report and certify that no conflict of interest exists for this program. View our disclosure policy.
Thank you for registering. By 1:30 p.m. ET on the day of the webinar you will receive an email containing a link to join the webinar on GoToWebcast, as well as any pre-event materials, surveys and/or handouts.
If you click "Start Course" below, you will see an "Access Denied" page. This is because the next step in the process is to complete the evaluation, however the evaluation is not available until after the webinar is over (i.e. after 3 p.m. EST on the day of the webinar). You cannot access the evaluation before this date/time.
If you have any questions, please contact us at ce@gvpub.com. 
Required Hardware/software
Ensure your browser's cookies are enabled in order for the GoToWebcast software to function properly.
Please add "ce@gvpub.com" to your email provider's safe list. Otherwise, login instructions for this event may be caught in your spam/junk folder.