Webinar: Baby-Led Weaning: A Step-by-Step Guide to Starting Solids Using a Safe, Practical and Natural Alternative to Spoon-feeding Purees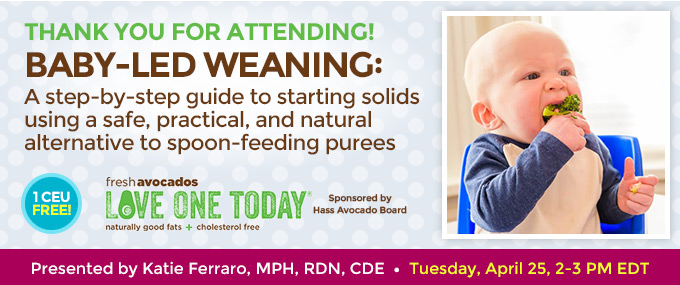 Suggested CDR Learning Codes: 3050, 4150, 5070; Level 2
Suggested CDR Performance Indicators: 8.1.4, 8.2.1, 8.3.6
This webinar was presented on Tuesday, April 25, 2017, from 2-3 pm EDT by Katie Ferraro, MPH, RDN, CDE.
This complimentary 1-credit continuing education webinar is brought to you with support from Hass Avocados. Please note that Hass provided financial support only and did not have input into the information provided in this course.
Katie Ferraro reports the following relevant disclosure: she serves as a consultant to the California Avocado Commission. She has certified that no conflict of interest exists for this program. View our disclosure policy.