Recorded Webinar: Berries, Bioactive Nutrients, and Brain Health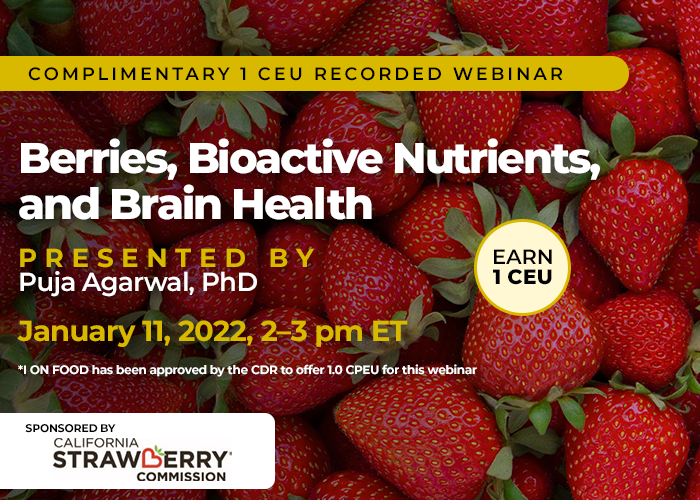 This webinar was presented on Tuesday, January 11, 2022, from 2-3 pm EDT.
Currently, more than 16 million people in the United States are living with cognitive impairment and the number is expected to rise as the aging population increases. Two of the most prevalent neurodegenerative disorders among older adults include Alzheimer's and Parkinson's disease. With limited available treatment, modifiable factors such as a diet rich in antioxidants and other essential nutrients for brain health are of substantial public health interest.
One such diet is the Mediterranean-DASH Intervention for Neurodegenerative Delay, or MIND Diet, which emphasizes natural plant-based foods, includes berries and green leafy vegetables as primary components, and limits the intake of red and processed meat and high sugar and fatty foods. In a prospective study of older adults, those who most closely followed the MIND dietary pattern, had a slower cognitive decline over time and 53% reduced risk of developing Alzheimer's dementia (AD).
Berries are a key component in the MIND Diet because they are rich in anthocyanidins and other bioactives that have antioxidant and anti-inflammatory properties. In population-based studies, berry intake and its bioactivity are associated with better cognitive and motor function and reduced Alzheimer's dementia risk. Strawberries are particularly rich in vitamin C and the anthocyanidin pelargonidin. Pelargonidin has a been shown to have a neuroprotective effect. Similarly, blueberries are a good source of vitamin K, C, and other anthocyanidins, including quercetin and myricetin, and have a positive effect on brain health. 
Join Puja Agarwal, PhD, Assistant Professor, Rush Alzheimer's Disease Center, Rush University Medical Center, Chicago, for a webinar that will address the role that berries, including strawberries, can play in a diet that optimizes brain health.
Learning Objectives
After completing this activity, nutrition professionals will be better able to:
Detail the importance of identifying diet-based approaches to preventing cognitive decline in the aging population.
Describe the components of the Mediterranean-DASH Intervention for Neurodegenerative Delay (MIND) Diet.
Analyze the research indicating the role of berries in preventing cognitive decline.
Identify the bioactives in berries, and in particular, strawberries, that may contribute to their positive impact on cognitive health.
Additional Information
Suggested CDR Performance Indicators:
6.2.3, 6.3.2, 8.1.2, 8.2.3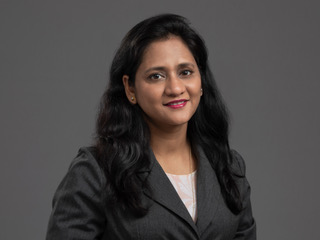 Puja Agarwal, PhD, is a nutritional epidemiologist whose research focuses on nutrition and neurodegenerative diseases, primarily Alzheimer's and Parkinson's disease. She completed her Ph.D. in Human Nutrition at the University of Illinois at Chicago and a Post-doctoral research fellowship in nutritional epidemiology at Rush University Medical Center. Her primary interest is investigating the association of dietary patterns, specific foods including berries, green leafy, fish, and various nutrients and bioactive with cognition, motor function, and brain neuropathologies in older adults. California Strawberry Commission supported her work relating berry to brain health. Her current work is funded by the National Institute on Aging and philanthropic grants (Alzheimer's Association; Michael J Fox Foundation for Parkinson's Research; Consolidated Anti-Aging Foundation).
Puja Agarwal has the following relevant disclosures to report: Puja has received a research grant and an honorarium for this session from the California Strawberry Commission. She has received additional research grants from the Michael J. Fox Foundation and the Alzheimer's Association and an honorarium  from the Physician's Committee for Responsible Medicine. The speaker certifies that no conflict of interest exists. View our disclosure policy.

The California Strawberry Commission represents more than 400 strawberry farmers, shippers and processors, proudly working together to advance strawberry farming for the future of our land and people. Commission programs create opportunities for success through groundbreaking initiatives focused on workforce training, strawberry production research, and nutrition research. Through science-based information and education, we deliver the good news about sustainable farming practices that benefit the health of people, farms, and communities.
I ON FOOD has been approved by the CDR to offer 1.0 CPEU for this webinar.
Required Hardware/software