Recorded Webinar: An Interprofessional Approach to Collaborative Care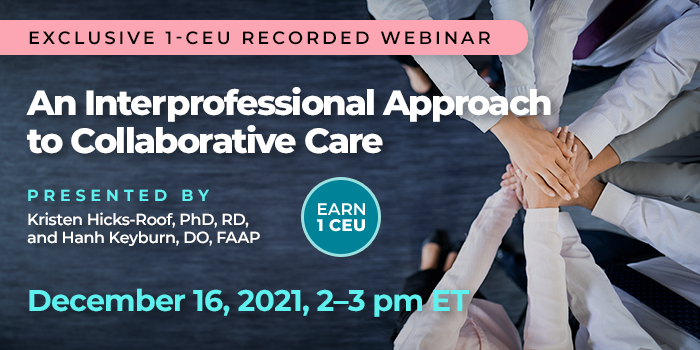 This webinar was presented on Thursday, December 16, 2021, from 2-3 p.m. ET.
Collaborative healthcare - otherwise known as interprofessional care - has been consistently shown to be a positive experience for the patient and their health status. Interprofessional teams comprise a number of different primary and allied health care members, each with a unique purpose and contribution, and resulting in improved health care outcome for patients.
Join Kristen Hicks-Roof, PhD, RD, and Hanh Keyburn, DO, FAAP. for a webinar focused on the role of the dietitian and physician as valued members of the interprofessional care team. Drs. Roof and Keyburn will review perspectives from both healthcare professions to help you connect the dots on the importance of taking the next step in your involvement in a collaborative team. You will leave the session feeling more comfortable and confident in understanding the varying professional roles, communication strategies, and techniques on how to work more closely with other, integral health professions.
Learning Objectives
After completing this continuing education course, health care professionals should be better able to:
Explain the purpose and goals of interprofessional collaborative care.
Illustrate the roles of the dietitian and physician on the interprofessional team.
Employ concrete steps in order to be better integrated into the interprofessional team in their daily practice.
Additional Information
Suggested CDR Performance Indicators:
8.2.1, 8.2.4, 10.1.1, 10.3.9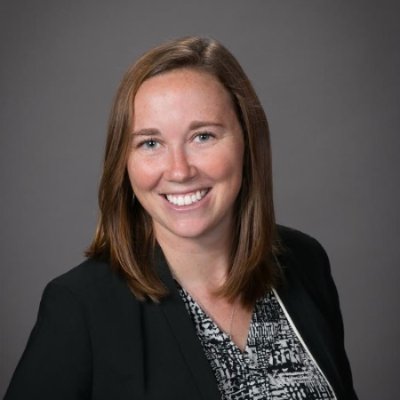 Kristen Hicks-Roof, PhD, RD, is a Registered Dietitian and an Assistant Professor in the Department of Nutrition and Dietetics at the University of North Florida. Her major research interests focus on program development and evaluation using virtual technology. Her programs specifically focus on interprofessional education and communication among the healthcare team, as well as virtual project-based mentoring in dietetics (www.rdmentor.com). Dr. Hicks-Roof is an expert on interprofessional education and advocating the role of the RDN in interprofessional teams and she's an active researcher, having presented her research at over 50 invited and professional conferences and has over 50 published articles and media.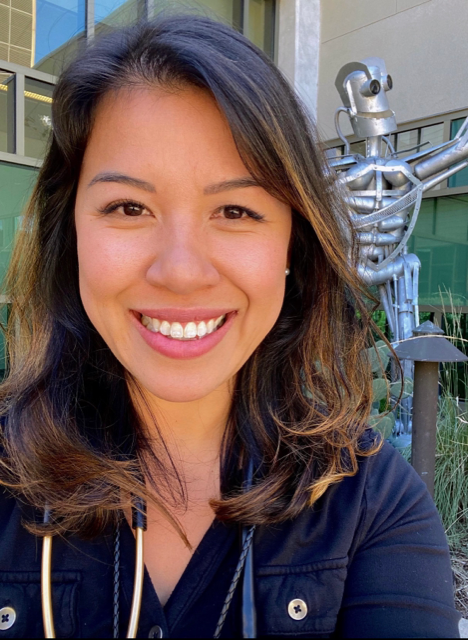 Hanh Keyburn, DO, FAAP, is an Assistant Professor of Pediatrics at Dell Medical School, board-certified in pediatrics, board eligible in Pediatric Hospital Medicine and Program Director for Eat Well: Culinary Medicine at Dell Medical School - an interprofessional, pediatrics-focused culinary medicine program.
Dr. Keyburn earned her medical degree from Touro College of Osteopathic Medicine in New York City and completed her pediatric residency at Rutgers - Robert Wood Johnson Medical School, where she also served as chief resident. She joined the faculty at St. Barnabas Medical Center in Livingston, New Jersey, working in both the pediatric acute inpatient and intensive care units. She later moved to Austin, Texas where she currently works as a pediatric hospitalist at Dell Children's Medical Center. 
Kristen Hicks-Roof, PhD, RD, faculty for this educational event, has no relevant financial relationship(s) with ineligible companies to disclose. Hanh Keyburn, DO, FAAP, faculty for this educational event, has no relevant financial relationship(s) with ineligible companies to disclose. None of the planners for this educational activity have relevant financial relationship(s) with ineligible companies to disclose. An "ineligible company" includes any entity whose primary business is producing, marketing, selling, re-selling, or distributing healthcare products use by or on patients. View our disclosure policy.