Webinar: Finding the Intersection Between Counseling, Communication, and Social Determinants of Health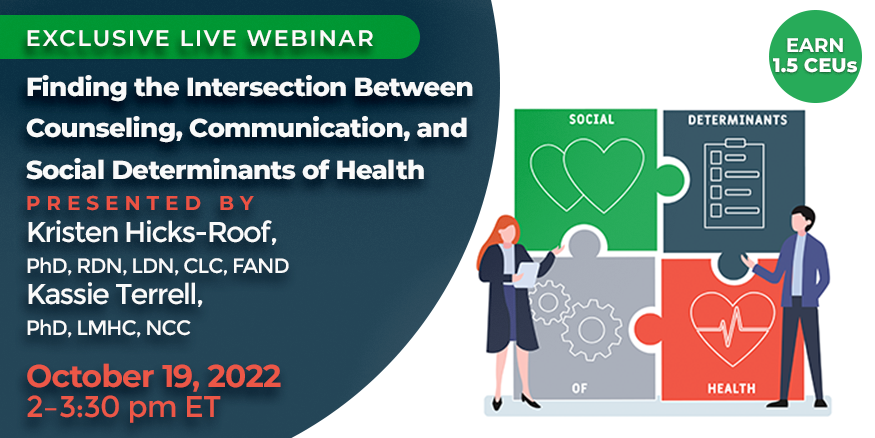 The impact of social determinants of health (SDOH) on care givers and patients is significant. Patients who experience SDOH disparities are more likely to suffer from chronic diseases, such as heart disease, stroke, cancer, and diabetes, and are at greater risk for mental health problems.
It is important for health care professionals to consider the SDOH of each patient and the impact it has on their decision making, understanding of health recommendations, and the individual care needs of patients.
Join Kristen Hicks-Roof, PhD, RDN, LDN, CLC, FAND, and Kassie Terrell PhD, LMHC, NCC, on Wednesday, October 19, 2022, from 2-3:30 p.m. ET. Drs. Hicks-Roof and Terrell will discuss the conditions of SDOH, its impact on care givers and patients as well as the screening tools, counseling techniques and ways in which the healthcare team can effectively work together to improve patient outcomes and address these underlying factors.
Participants will leave the session with a new knowledge of communication skills and best practices that will help to provide inclusive, person-centered support leading to successful health behavior changes.
Learning Objectives
After completing this activity, health care professionals will be better able to:
Define social determinants of health (SDOH) and explain their impact on the management of personal health.
Recognize and use screening tools that can identify SDOH and help care givers and patients overcome barriers to good health practices.
Implement inclusive communication skills to improve equitable and person-centered practices
Additional Information
Suggested CDR Performance Indicators:
1.7.1, 1.7.4, 9.2.2, 9.4.3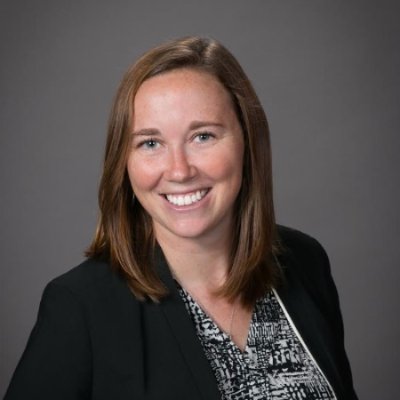 Kristen Hicks-Roof, PhD, RDN, LDN, CLC, FAND, is a Registered Dietitian and an Associate Professor in the Department of Nutrition and Dietetics at the University of North Florida. Her major research interests focus on program development and evaluation using virtual technology. Her programs specifically focus on interprofessional education and communication among the healthcare team, as well as virtual project-based mentoring in dietetics (www.rdmentor.com). Dr. Hicks-Roof is an expert on interprofessional education and advocating the role of the RDN in interprofessional teams and she's an active researcher, having presented her research at over 50 invited and professional conferences and has over 50 published articles and media.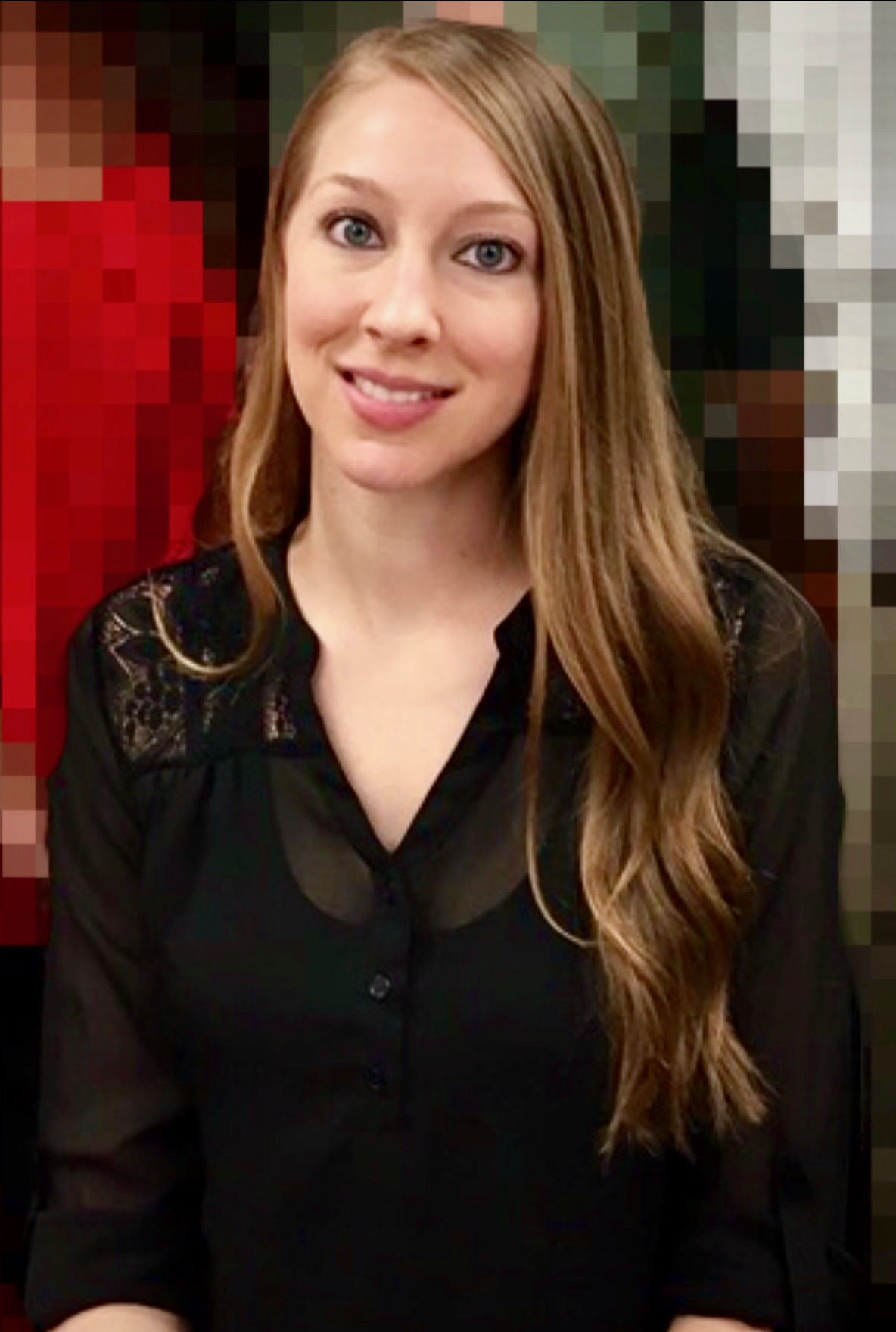 Kassie Terrell, PhD, LMHC, NCC, is an Assistant Professor in the Clinical Mental Health Counseling Program at the Brooks College of Health at the University of North Florida, and the Chapter Faculty Advisor of Chi Sigma Iota, Sigma Phi Epsilon Chapter. She is a Licensed Mental Health Counselor (LMHC) in Florida and is a National Certified Counselor. She has a personal and professional commitment to social justice, advocacy, and honoring diversity and inclusion. Her areas of interest include identifying and assessing competence in working with LGBTQIA+ clients; exploring dynamics of same-sex relationships; sexual minority identity development and understanding how sex, gender expression, sexuality, and minority stress affect mental health; pedagogy for increasing tolerance among master's students when working with diverse populations; enhancing the infusion of cultural diversity training into counseling courses; and ethical and legal dilemmas in teaching tolerance. Dr. Terrell is passionate about connecting with students, providing mentorship, and fostering the development of competent counselors.
Kristen Hicks-Roof, PhD, RDN, LDN, CLC, FAND, faculty for this educational event, has no relevant financial relationship(s) with ineligible companies to disclose.
Kassie Terrell, PhD, LMHC, NCC, faculty for this educational event, has no relevant financial relationship(s) with ineligible companies to disclose.
None of the planners for this educational activity have relevant financial relationship(s) with ineligible companies to disclose.
An "ineligible company" includes any entity whose primary business is producing, marketing, selling, re-selling, or distributing healthcare products used by or on patients.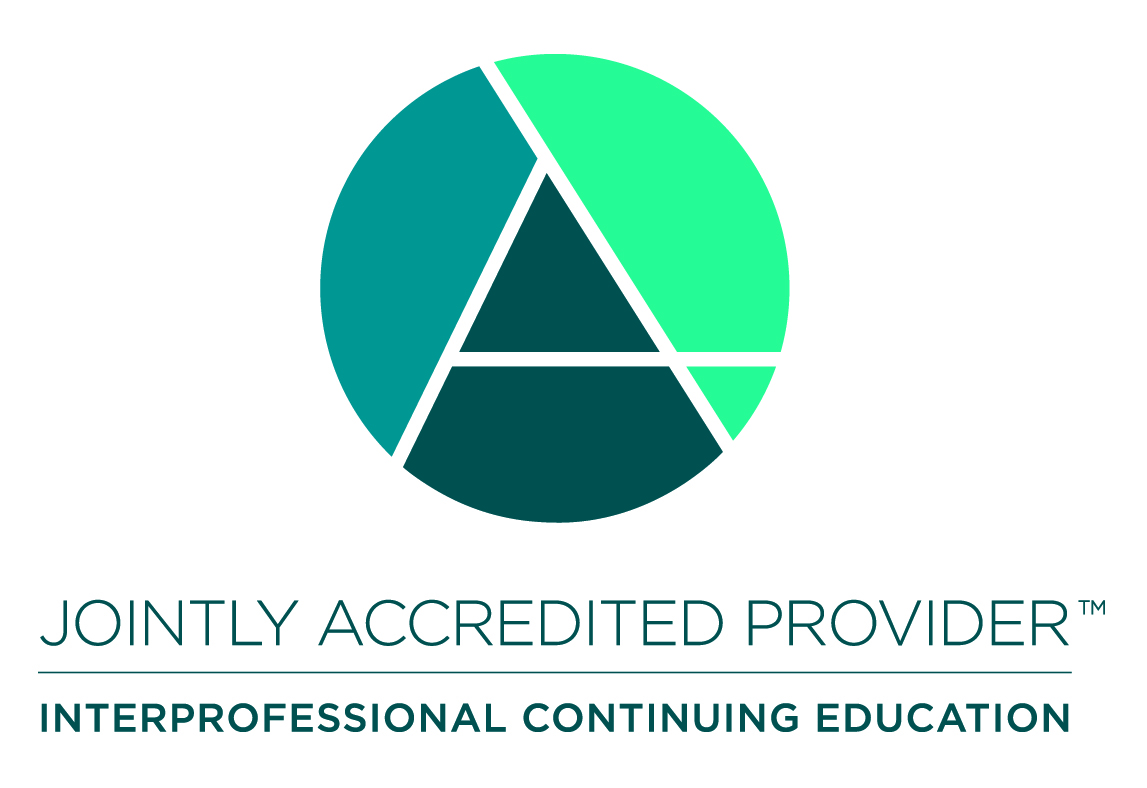 In support of improving patient care, Great Valley Publishing Company is jointly accredited by the Accreditation Council for Continuing Medical Education (ACCME), the Accreditation Council for Pharmacy Education (ACPE), and the American Nurses Credentialing Center (ANCC), to provide continuing education for the healthcare team.
This activity will also award credit for dietetics (CDR CPEU).
RDs and DTRs are to select activity type 102 in their Activity Log. Sphere and Competency selection is at the learner's discretion.
Required Hardware/software
Ensure your browser's cookies are enabled in order for the Zoom software to function properly. Please add "ce@gvpub.com" to your email provider's safe list. Otherwise, login instructions for this event may be caught in your spam/junk folder.