Recorded Webinar: A Flexitarian Approach to Sustainable Healthy Diets: How a Flexitarian Diet Leaves Room for Modest Amounts of Animal Products While Balancing the Needs of the Planet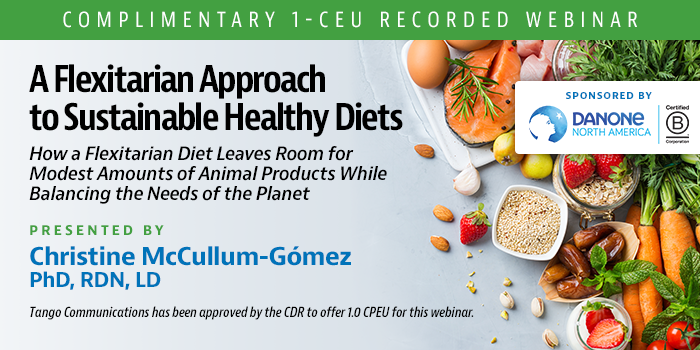 This webinar was presented on Wednesday, May 26, 2021, from 2–3 pm EDT.
Driven by concerns about health and the environment, many people are turning towards more plant-based eating. The Eat-Lancet Commission on healthy diets from sustainable food systems concluded that adoption of a largely plant-based flexitarian diet is likely to improve the health of billions while helping to avoid environmental degradation of the planet. Such action is also essential to meet the United Nations Sustainable Development Goals and Paris Climate Agreement.

Join Christine McCullum-Gómez, PhD, RDN, LD, as she describes a flexitarian approach to sustainable healthy diets, which leaves room for modest amounts of animal products while balancing the needs of the planet.
By registering for this free continuing education course, you are granting permission to Today's Dietitian to share your demographic information and e-mail with the course sponsor for potential marketing purposes. 
Learning Objectives
After completing this activity, nutrition professionals will be better able to:
Identify the principles of a flexitarian diet.
Describe the nutritional advantages of a flexitarian diet.
List potential health benefits and health-cost savings of adopting a flexitarian diet.
Discuss how a flexitarian diet contributes to reducing environmental impacts of the food system.
Additional Information
Suggested CDR Performance Indicators:
7.2.3, 8.3.6, 8.3.7, 12.1.3
Christine McCullum-Gómez, PhD, RDN, LD is a food and nutrition consultant, speaker, and writer. Her areas of expertise include community-based participatory research, community food security, environmental nutrition, food and nutrition policy, and sustainable food systems. She serves on the Editorial Review Board and as a Column Editor for the Journal of Hunger and Environmental Nutrition. Dr. McCullum-Gomez holds a Ph.D. in Nutritional Sciences from Cornell University with minors in Public Affairs (Public Policy) and Program Evaluation, and M.S. and B.S. degrees in Nutritional Sciences from The Pennsylvania State University. She has received numerous awards including a National Cancer Institute (NCI) Post-doctoral Fellowship, and the Excellence in Hunger and Environmental Nutrition Award from the Hunger and Environmental Nutrition Dietetic Practice Group of the Academy of Nutrition and Dietetics.

Danone North America is a purpose-driven company and an industry leader in the food and beverage category. As a Certified B Corporation®, Danone North America is committed to the creation of both economic and social value, while nurturing natural ecosystems through sustainable agriculture. Our strong portfolio of brands includes: Activia®, DanActive®, Danimals®, Dannon®, evian®, Happy Family® Organics, Honest to Goodness™, Horizon® Organic, International Delight®, Light + Fit®, Oikos®, Silk®, So Delicious® Dairy Free, STōK™, Two Good®, Vega®, Wallaby® Organic and YoCrunch®. With more than 6,000 employees and 14 production locations across the U.S. and Canada, Danone North America's mission is to bring health through food to as many people as possible. danonereferralpad.com
Christine McCullum-Gómez, PhD, RDN, LD reports the following relevant disclosure: She has received an honorarium from Danone North America. She certifies that no conflict of interest exists for this program. View our disclosure policy.
Tango Communications has been approved by the CDR to offer 1.0 CPEU for this webinar.