Recorded Webinar: A Dangerous Combination: Fad Dieting and Social Media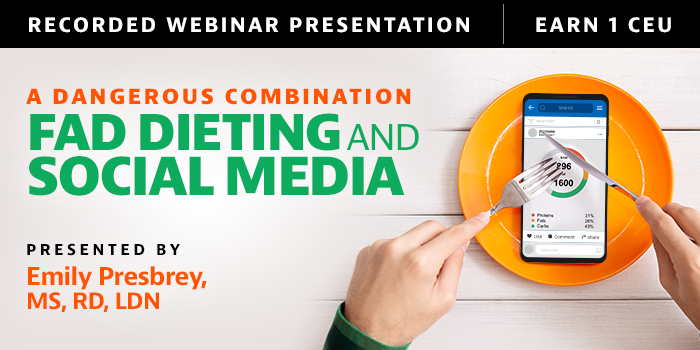 The live version of this webinar was presented on Thursday, August 27, 2020, from 2–3 PM EDT.
The internet provides individuals with a plethora of health, dieting, and nutrition information, and "advice" on these things certainly does not get left behind. With social media having an ever-expanding and ever-present place in our lives, and celebrity influence at the core of this phenomenon, many people take much of what they see and hear as fact, when most of it is anything but. Take it a step further: when people apply unverified nutrition advice they find on the internet to their emotional and mental lives and dietary and activity regimens, they may actually be implementing misguided recommendations that could have dangerous results.

Join Emily Presbrey, MS, RD, LDN, as she discusses the nutrition myths presented on the internet and social media, and how this misinformation can have a dangerous impact on the health of individuals. As a society our view of "health" is being contaminated by dietary untruths, and as RDs we are witnessing firsthand the resulting negative effects. Emily will help you gain an understanding of the impact fad diets and mainstream and social media outlets have on disordered eating and eating disorders, and she will show you how to recognize, address, and prevent these conditions from controlling and consuming your patients.
Learning Objectives
After completing this activity, nutrition professionals will be better able to:
List and discuss common myths about nutrition that are presented in mainstream and social media outlets.
Define orthorexia, disordered eating, and eating disorders, and learn to recognize when these conditions present in your patients or clients.
Discuss the presence of fad diets in mainstream and social media outlets and explain the impact they have on disordered eating and eating disorders.
Implement behavior changes in order to address and diffuse the impact of fad dieting in mainstream and social media outlets.
Additional Information
Suggested CDR Learning Codes:
Suggested CDR Performance Indicators:
8.1.2, 8.1.4, 8.3.6, 9.1.3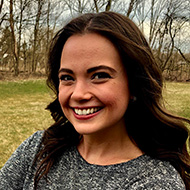 Emily Presbrey, MS, RD, LDN, is a Registered Dietitian who specializes in eating disorder treatment. Emily has experience working at the inpatient, residential, partial hospitalization, and intensive outpatient levels of care for individuals struggling with eating disorders. Her approach to nutrition focuses on guiding clients in nurturing a healthy relationship with food and their body. She strives to help individuals redefine health and discover their own path to wellness by helping them reconnect with their physical, mental, and emotional self in order to reclaim power and control over their own health.  
Emily Presbrey, MS, RD, LDN, has no relevant disclosures to report and certifies that no conflict of interest exists for this program. View our disclosure policy.