Webinar: A Review of Key Changes to the New USDA Pediatric Feeding Guidelines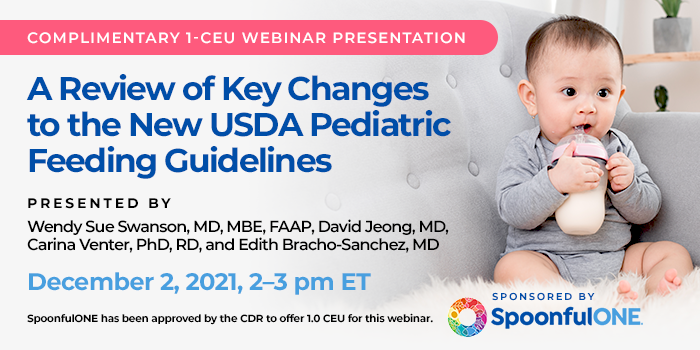 In 2020, the USDA released its updated Dietary Guidelines for Americans (DGAs). For the first time, this edition of the DGAs provides recommendations by life stage, beginning from birth. This update presents many opportunities, as well as challenges, for RDs.

Join a panel of experts on Thursday, December 2, 2021, from 2–3 pm ET, to learn more about the new infant feeding recommendations seen in the 2020 DGAs, as well as updates — based on new research and guidelines — around the introduction and maintenance of food allergens during infancy.
By registering for this free continuing education course, you are granting permission to Today's Dietitian to share your demographic information and e-mail with the course sponsor for potential marketing purposes. 
Learning Objectives
After completing this activity, nutrition professionals will be better able to:
Analyze the key updates to the DGAs' pediatric feeding guidelines.
Apply the DGAs' pediatric feeding guidelines in your practice.
Advise clients and parents about early food introduction and feeding.
Additional Information
Suggested CDR Performance Indicators:
1.7.2, 4.1.2, 8.1.1, 8.1.5
| | | | |
| --- | --- | --- | --- |
| | | | |
| Wendy Sue Swanson, MD, MBE, FAAP | David Jeong, MD | Carina Venter, PhD, RD | Edith Bracho-Sanchez, MD |
Wendy Sue Swanson, MD, MBE, FAAP, is a pediatrician and Chief Medical Office for SpoonfulONE.
David Jeong, MD, is an allergist and Section Head of the Allergy and Immunology Department at Virginia Mason Medical Center.
Carina Venter, PhD, RD, is an Associate Professor of Pediatrics-Allergy/Immunology at the University of Colorado School of Medicine.
Edith Bracho-Sanchez, MD, is the Director of Pediatric Telemedicine for the Ambulatory Care Network at Columbia University.
The speakers have the following relevant disclosures to report: Wendy Sue Swanson is a SpoonfulOne stock shareholder and has received speaking honoraria from the Leigh Bureau. She certifies that no conflict of interest exists for this program. David Jeong, MD, is a consultant to Before Brands. Carina Venter, PhD, RD, has received grants/research support from Reckitt, and honoraria as a speaker and consultant for Nestle Nutrition Institute, Danone, Before Brands, Else Nutrition, and Sifter. Edith Brancho Sanchez has no relevant disclosures to report. All speakers certify that no conflict of interest exists for this program. View our disclosure policy.

SpoonfulONE is the most complete way to introduce and keep food allergens in a baby's diet. The New USDA Guidelines recommend that as soon as babies start solids at 4–6 months of age, they should routinely eat common allergens such as peanuts, egg, cow's milk products, tree nuts, wheat, shellfish, fish, and soy. Developed by Stanford University pediatric allergist Dr. Kari Nadeau, SpoonfulONE products — Mix-Ins, Puffs, and Oat Crackers — contain 16 food allergens covering over 90% of food allergies, making it easier for parents to follow the new USDA Guidelines and routinely feed common allergens. SpoonfulONE is available at select Target stores across the nation, Target.com, Amazon.com, and SpoonfulONE.com.
SpoonfulOne has been approved by the CDR to offer 1.0 CPEU for this webinar.
Required Hardware/software
Ensure your browser's cookies are enabled in order for the GoToWebcast software to function properly. Please add "ce@gvpub.com" to your email provider's safe list. Otherwise, login instructions for this event may be caught in your spam/junk folder.