Webinar: Goal Diggers: Helping People Change Habits with Positivity and a Non-Diet, Values-Driven Approach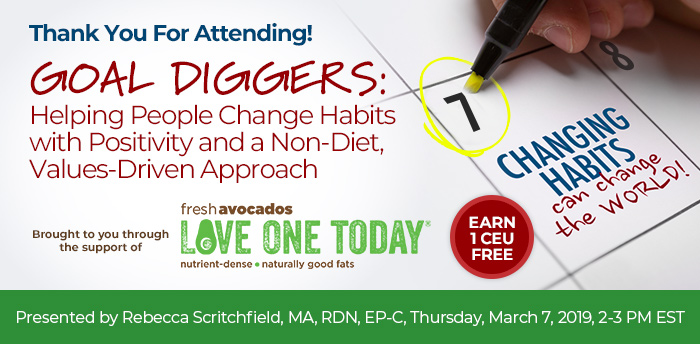 Suggested CDR Learning Codes: 4020, 5370, 6010
Suggested CDR Performance Indicators: 8.3.1, 8.3.6, 9.1.3, 12.4.3
CPE Level 2
CDR Activity Type 171
This webinar was presented on Thursday, March 7, 2019, from 2-3pm EST by Rebecca Scritchfield, MA, RDN, EP-C.
This complimentary 1-credit continuing education webinar is brought to you with support from Love One Today®. Please note that Love One Today® provided financial support only and did not have input into the information provided in this course. Rebecca Scritchfield, MA, RDN, EP-C, has the following relevant disclosures to report: she is a co-investigator at the MIND-BATCH lab at UNC Charlotte and is the creator of the Body Kindness® philosophy, book and podcast. She has certified that no conflict of interest exists for this program. View our disclosure policy.
Learning Objectives
After completing this continuing education course, nutrition professionals should be able to:
 
Contrast the weight normative and weight inclusive approaches to behavior change.
Describe the research evidence that demonstrates lack of efficacy of diets to improve physical or mental health.
Demonstrate goal reframing to values-centered, action-oriented statements.
Examine the roles of optimism, self-compassion, acceptance, and commitment in the process of forming new habits.
Analyze case studies to identify barriers and compose solutions for difficult counseling scenarios.