Recorded Webinar: Culinary Strategies for Managing Blood Sugar with Fresh Avocados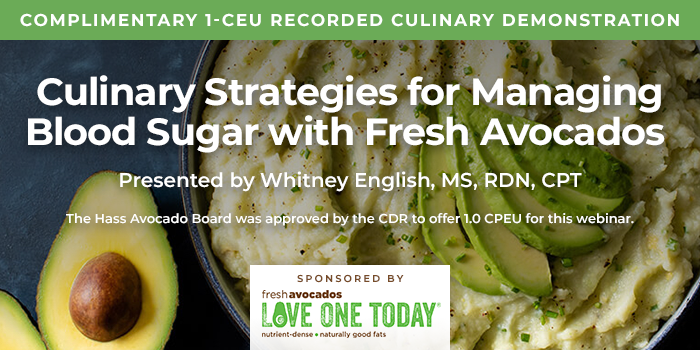 This culinary demonstration showcases the blood sugar management benefits of fresh avocados to help guide your clients through the upcoming holiday season.

Presenting through an evidence-based nutrition lens, expert, Whitney English, MS, RDN, CPT, partners with Fresh Avocados – Love One Today to share recent research, practical strategies and of course, delicious recipes to inspire clients to incorporate nutrient-dense, fresh avocados to aid in type 2 diabetes management.

Join Whitney English, MS, RDN, CPT, for the second in a series of two culinary demonstrations and watch and learn as she translates nutrition facts and research into tangible benefits and practical culinary tips and recipes.
Learning Objectives
After completing this activity, nutrition professionals will be better able to:
Identify key nutrients that may be particularly beneficial for the management of type 2 diabetes.
Explain culinary strategies for using fresh avocados to improve the nutrient density of recipes.
Equip patients/clients with practical culinary strategies and simple recipes to help incorporate fresh avocados, in support of type 2 diabetes and blood sugar management.
Additional Information
Suggested CDR Performance Indicators:
4.1.2, 6.3.2, 8.1.1, 8.5.1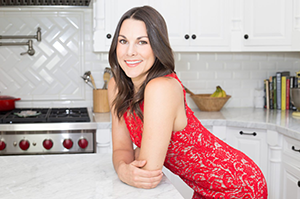 Whitney English, MS, RDN, CPT, is a Registered Dietitian Nutritionist, Certified Personal Trainer, author, and founder of the website/YouTube channel, Whitney E. RD. Whitney's mission is to help readers make educated decisions about the food they eat by providing evidence-based information on popular nutrition topics and sharing healthy original recipes that fit her plant-based nutrition philosophy.

She is the co-author of The Plant-Based Baby and Toddler and co-founder of Plant-Based Juniors, a community helping parents raise health-conscious children. She has been featured on outlets like Good Day LA, Bon Appetit, Parents, Wall Street Journal, People, Today's Dietitian, and many more. When she isn't whipping up healthy meals in "Whit's Kitch," she can be found soaking up the Los Angeles sun with her husband, two children, and pup, Mr. Chow.
Whitney English, MS RDN, has the following relevant disclosures to report: she is currently a spokesperson for California Strawberries and MyFitnessPal. She has recently worked in partnership with Sumo Citrus, Daiya Foods, BlendJet, and Bentgo. She certifies that no conflict of interest exists for this program. View our disclosure policy.

Fresh Avocados – Love One Today® is a leading source of the healthiest reasons and tastiest ways to enjoy fresh avocados. A science-based resource, it provides turnkey solutions that make it easy for health professionals to stay on top of the latest research and confidently recommend avocados. https://loveonetoday.com/health-professionals/educational-materials/?category%5B%5D=type-2-diabetes 
Hass Avocado Board was approved by the CDR to offer 1.0 CPEU for this webinar.