Webinar: Understanding the Role of Individualized and Integrated Care in IBS for Best Outcomes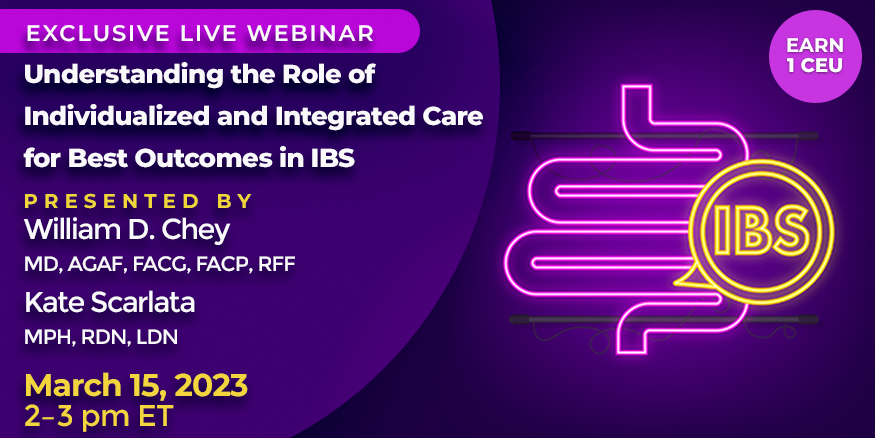 This webinar took place on Wednesday, March 15, 2023, from 2-3 p.m. ET.
Irritable bowel syndrome (IBS) is a common functional gastrointestinal disorder, affecting approximately 10–15% of the US population. Given the complexity and heterogeneity of this disorder, an individualized approach to care is essential. Emerging data reveals an integrated approach to IBS care, including a dietitian, psychologist, and gastroenterologist, is more effective in symptom management than physician guided care alone. IBS patients are most interested in holistic therapeutics, particularly diet interventions, but given this population is at higher risk of disordered eating, nutrition interventions should be as liberal as possible for symptom management to support nutritional needs while mitigating debilitating GI symptoms. The clinician toolbox for IBS care has expanded and clinicians should be aware of the full arsenal of emerging therapeutics.

On Wednesday, March 15, 2023, from 2-3 p.m. ET, join William D. Chey, MD, AGAF, FACG, FACP, RFF, and Kate Scarlata, MPH, RDN, LDN, for an interprofessional discussion on the challenges of treating patients with IBS. This expert duo will examine the latest IBS treatments and alternatives available to patients, including and beyond, the low FODMAP diet. They will provide strategies that members of the care team can use to effectively communicate and collaborate with one another, and help you develop the interprofessional skills to go beyond the usual IBS treatments so you can ensure the best possible treatment outcomes.
Learning Objectives
After completing this activity, health care professionals will be better able to:
Describe IBS and the challenges that exist with standard treatment options.
Recommend newer, more current IBS treatments and alternatives to successfully managing the disease.
Apply new communication techniques to effectively and successfully collaborate across every member of the health care team.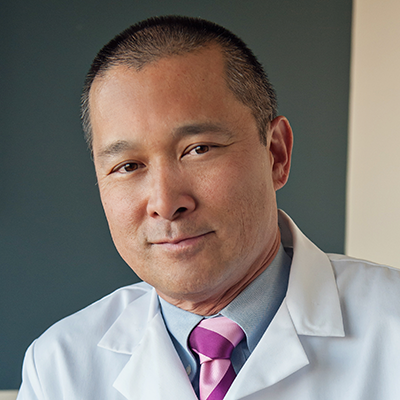 William D. Chey, MD, AGAF, FACG, FACP, RFF, received a medical degree and training in internal medicine at Emory University School of Medicine. He completed a fellowship in gastroenterology and has remained as faculty at the University of Michigan in Ann Arbor where he is the Timothy T. Nostrant Collegiate Professor of Gastroenterology. He holds a joint appointment as a Professor of Nutrition Sciences. He was appointed Chief of the Division of Gastroenterology in 2022.
Dr. Chey's research interests focus on the diagnosis and treatment of disorders of gut brain interaction and H. pylori infection. He has published more than 400 peer-reviewed manuscripts, reviews, book chapters and books yielding an H-index of over 60. He has mentored more than 70 students, residents, fellows and junior faculty, many of which are leaders in Gastroenterology. He is a medical innovator and holds several patents. Dr. Chey is former co-Editor-in-Chief of the American Journal of Gastroenterology and has authored more than 10 national and international clinical practice guidelines. Dr. Chey is a board member of the American College of Gastroenterology, Rome Foundation, International Foundation of GI Disorders, and GI on Demand. He is the Secretary of the American College of Gastroenterology and Vice President of the IFFGD.
He has been elected to Best Doctors since 2001 and received the Dean's Outstanding Clinician Award and Dean's Award for Innovation and Commercialization at the University of Michigan. He has received the Distinguished Clinician Award from the American Gastroenterological Association. In 2020, Dr. Chey was awarded honorary membership in the Academy of Nutrition and Dietetics and received the prestigious Berk-Fise Award from the American College of Gastroenterology.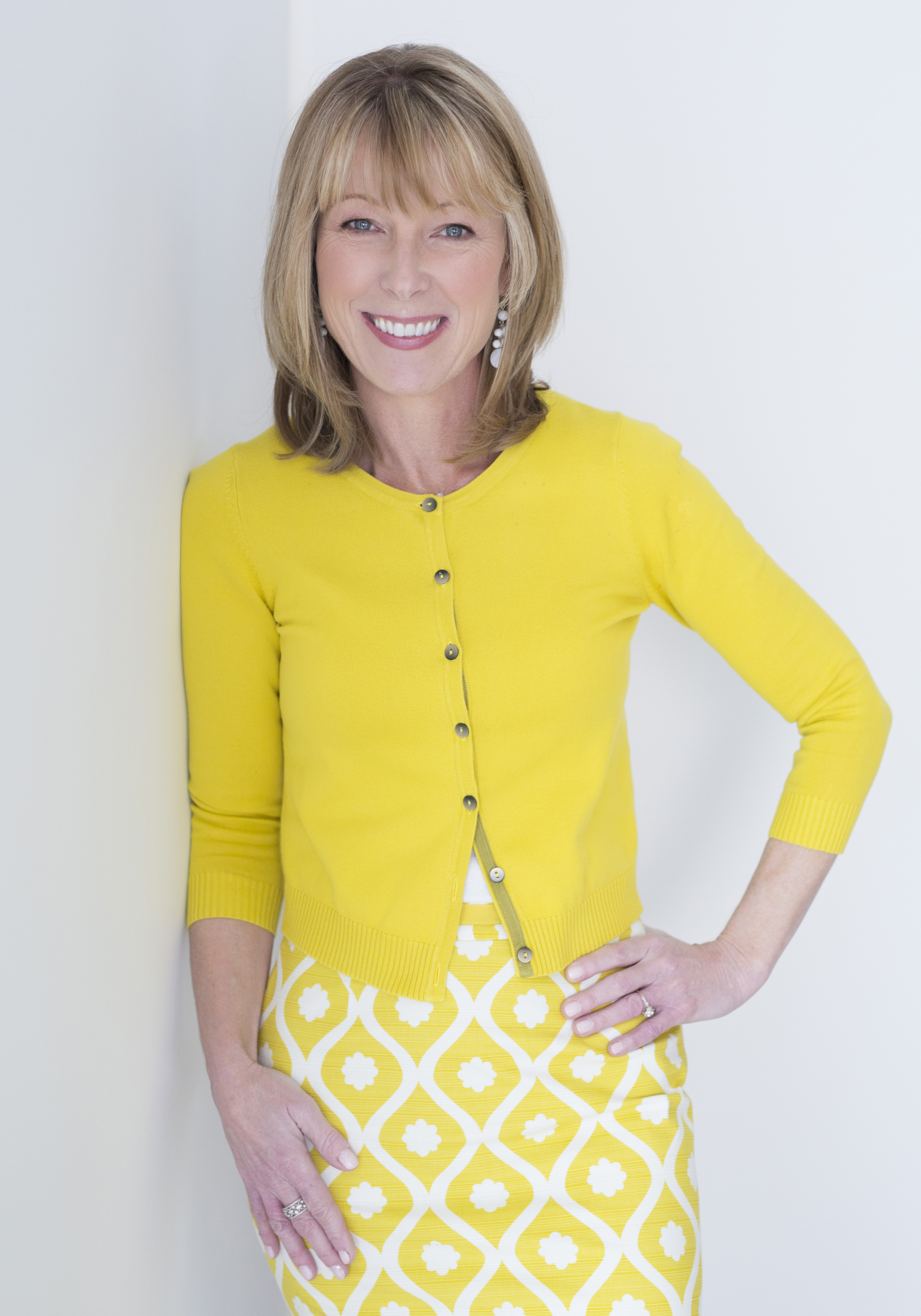 Kate Scarlata, MPH, RDN, LDN is a Boston-based dietitian with 30 years of experience. Kate's expertise is in gastrointestinal disorders and food intolerance, with a particular focus on the application of the low FODMAP diet for functional gut disorders. She was awarded the Outstanding Massachusetts Dietitian Award and recognized as Boston's Best Dietitian by Boston Magazine. Kate is the author of numerous books and articles on digestive health topics including the New York Times Best Seller, "The 21 Day Tummy Diet." Her latest book is "The Low FODMAP Diet Step by Step." Kate completed her postgraduate training at Brigham and Women's Hospital, a Harvard Medical School teaching affiliate.
William D. Chey, MD, AGAF, FACG, FACP, RFF, faculty for this event, has the following relevant financial relationship(s) with ineligible companies: he is a consultant to Abbvie, Alnylam, Bioamerica, Gemelli Biotech, Ironwood, Nestle, QOL Medical, Redhill, Takeda, Urovant Sciences, and Vibrant Gastro. He has received grant support and other research funding from Bioamerica, Commonwealth Diagnostics International, and QOL Medical. All relevant financial relationships listed for this individual have been mitigated.

Kate Scarlata, MPH, RDN, LDN, faculty for this event, has the following relevant financial relationship(s) with ineligible companies: she has stock options in Epicured and FODY Food Company. She has received other financial support from Olipop, Mahana Therapeutics, Pendulum, Nestle Health Science, Dr. Schar, QOL Medical, Commonwealth Diagnostics, and FODY Food Company. All relevant financial relationships listed for this individual have been mitigated.

The planners for this educational activity have no relevant financial relationship(s) with ineligible companies to disclose.

An "ineligible company" includes any entity whose primary business is producing, marketing, selling, re-selling, or distributing healthcare products used by or on patients.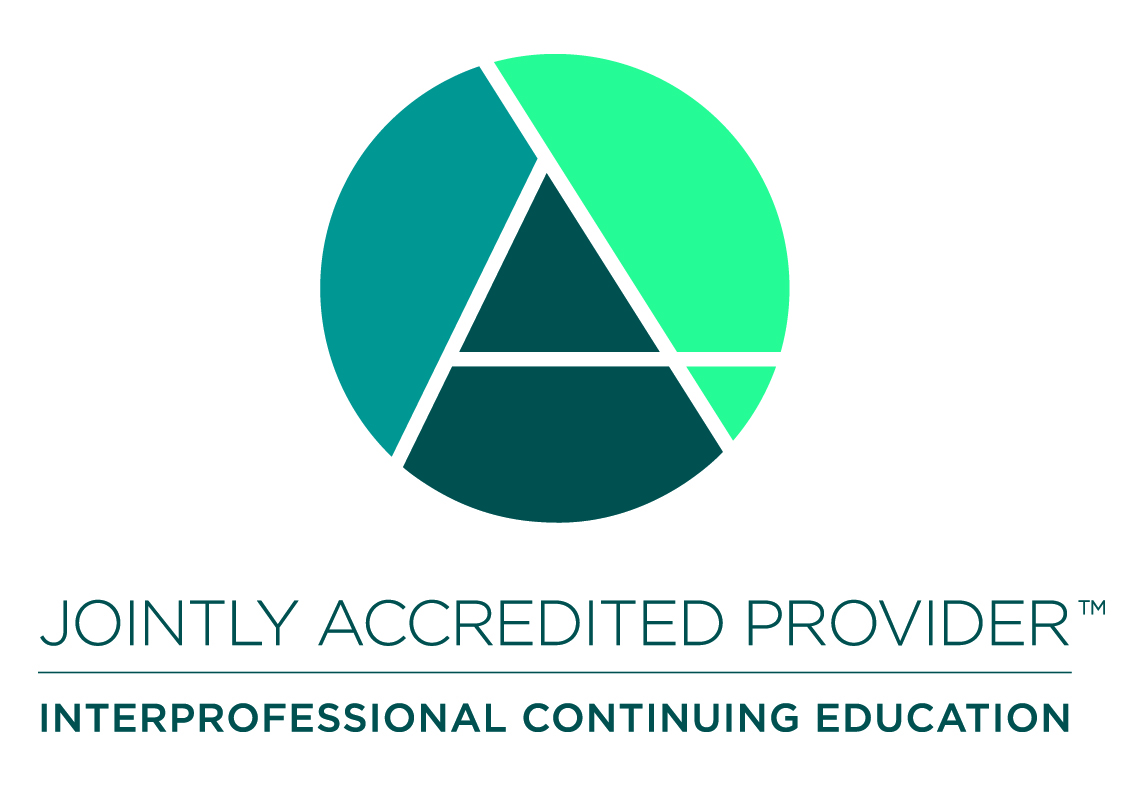 In support of improving patient care, Great Valley Publishing Company is jointly accredited by the Accreditation Council for Continuing Medical Education (ACCME), the Accreditation Council for Pharmacy Education (ACPE), and the American Nurses Credentialing Center (ANCC), to provide continuing education for the healthcare team.

This activity will also award credit for dietetics (CDR CPEU).
RDs and DTRs are to select activity type 102 in their Activity Log. Sphere and Competency selection is at the learner's discretion.
Required Hardware/software
Ensure your browser's cookies are enabled in order for the webinar software to function properly. Please add "ce@gvpub.com" to your email provider's safe list. Otherwise, login instructions for this event may be caught in your spam/junk folder.