Webinar: Getting Better Zzzs to Prevent Disease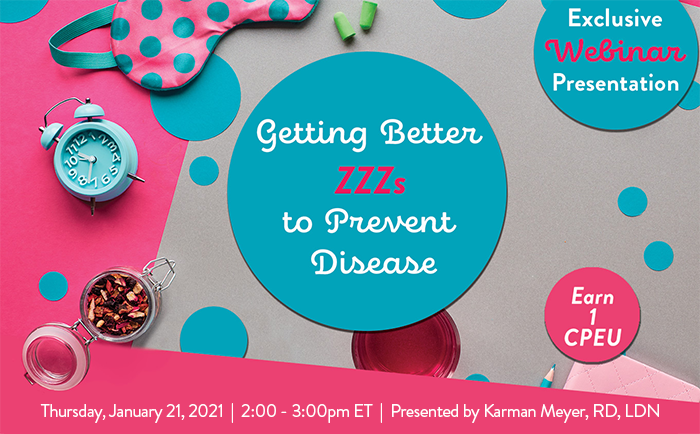 Are you "prescribing" sleep for your clients and patients struggling to manage their weight, those at risk of diabetes or heart disease, fertility issues, or those with weakened immune systems? Insufficient sleep can prove harmful to all major physiological systems including metabolic, cardiovascular, immune, and reproductive systems.

Join Karman Meyer, RD, LDN for a webinar on Thursday, January 21, 2021 from 2-3 p.m. ET and learn what dietary and non-diet approaches you and your clients can take to get more zzzs while simultaneously improving other areas of health. It's time to wake up to the foundational role of sleep for good health and help clients and patients navigate back to consistent, quality sleep!
Learning Objectives
After completing this activity, nutrition professionals will be better able to:
Understand the foundational role of sleep for good health and prevention of disease.
Identify what quality sleep is at different stages of life.
Learn what dietary and non-dietary changes can be made to improve quality of sleep and/or extend sleep cycle.
Additional Information
Suggested CDR Performance Indicators:
6.2.5, 8.1.2, 8.3.7, 10.2.5
Karman Meyer is an RDN with 15 years of experience in the nutrition and food industry. She's the author of the new book, "Eat To Sleep" and the founder and recipe creator behind TheNutritionAdventure.com.
Karman has been featured in publications such as Woman's Day, US News & World Report Eat, Shape Magazine, FoodNetwork.com, and WomensHealthMag.com, and often appears on local television networks. Her passion is sharing the facts about food and nutrition with readers, and she works to encourage others to feel more confident in the kitchen and to enjoy food - not fear it.
Karman Meyer, RD, LDN, has the following relevant disclosures to report: she is a consultant to the Dairy Alliance and the Wonderful Company. She certifies that no conflict of interest exists for this program. View our disclosure policy. 
Required Hardware/software
Ensure your browser's cookies are enabled in order for the GoToWebcast software to function properly. Please add "ce@gvpub.com" to your email provider's safe list. Otherwise, login instructions for this event may be caught in your spam/junk folder.