Recorded Webinar: Sleep Skills: Improve Your Sleep, Improve Your Health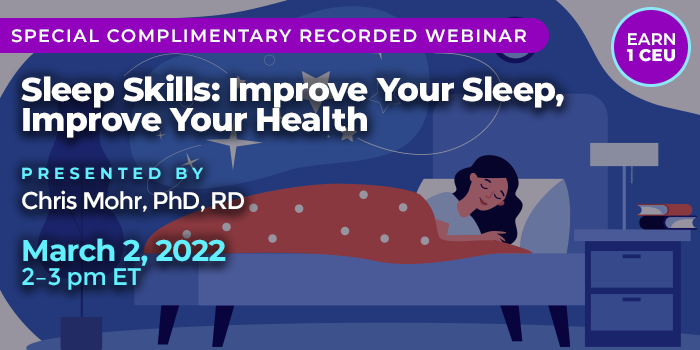 ---
Mohr Results Sleep CourseUse code RESTBETTER to save $10 off Chris Mohr's sleep course, "21 Days to Better Sleep." Follow this link to read more, buy the course, and earn 5.0 CDR-approved CEUs! Offer expires March 31, 2022.
---
This webinar was presented on Wednesday, March 2, 2022, from 2-3 p.m. ET.
Sleep is a critical part of our overall well-being. Not sleeping well? Your body is trying to tell you something. Yet despite this knowledge, sleep data is showing more and more that we're sleeping less and less. And given the current landscape, research has shown sleep disturbances are higher over the last two years than ever before. All this is a recipe for increased risk of various diseases, including CVD, hypertension, and stroke. So, what do we do?
The answer: increase the quality and quantity of sleep you get each night. But how?
Join Chris Mohr, PhD, RD, for a special complimentary webinar where he will share current data on the most effective sleep hygiene practices - for your clients and for you. Learn about the effects working from home while also managing family and household have on our bodies, minds, and performance; understand minor dietary pattern changes that can make a major difference; and come away with practical but essential sleep hygiene systems that will change the way you live and feel. 
Learning Objectives
After completing this activity, nutrition professionals will be better able to:
Understand what happens during sleep and why both quantity and quality are important factors in every night of rest.
Explain the impact chronic sleep insufficiency has on health outcomes, including body weight, immune system function and efficacy, and risk for disease.
Describe the positive effects implementing sleep hygiene practices has on everyday physical and mental performance.
Strategize practical approaches to help restore life boundaries to help lower stress and enhance sleep quality.
Additional Information
Suggested CDR Performance Indicators:
8.1.1, 8.1.5, 9.1.3, 9.6.2
Chris Mohr, PhD, RD, is an international presenter and subject matter expert on the topic of well-being and nutrition. He is on the Men's Health Advisory Board, previously worked as the Sports Nutrition Consultant for the Cincinnati Bengals, worked with select WWE athletes, and his expertise has allowed him the opportunity to speak at the White House, the CIA, and several of the largest Fortune 500 companies in over 10 countries and most of the 50 United States. He is an above average pizza chef with waning aspirations of opening an Italian restaurant.
Chris Mohr, PhD, RD, has the following relevant disclosures to report: he is a consultant to NOW Foods and Pharmavite. He certifies that no conflict of interest exists. View our disclosure policy.