Recorded Webinar: Where Does Nutrition Fit in the Sustainability Equation?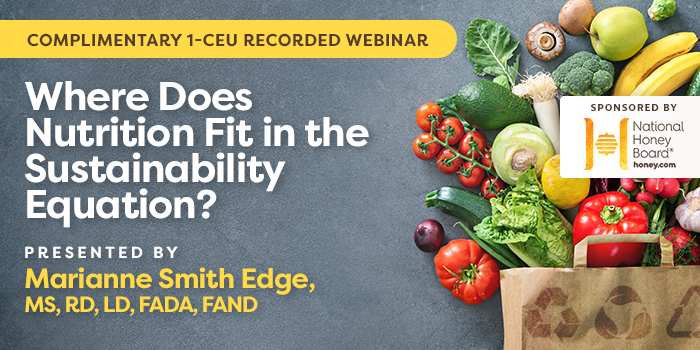 This webinar was presented on Wednesday, June 16, 2021, from 2–3 pm ET.
Sustainability is at the forefront of every company and organization along the food value chain and it has continued to rise in importance for consumers when making food purchasing decisions. Outcomes are mixed when human health is measured against environmental impact, especially when economics are included.

Join Marianne Smith Edge, MS, RD, LD, FADA, FAND, to examine the impact of diet on environment and the conflicts between the "haves" and the "have nots" when it comes to food availability and accessibility for all. This in-depth webinar will discuss the challenges and solutions that require collaboration and consensus building among all participants in the food value chain to ensure sustainable diets that are nutrient-dense, affordable, culturally appropriate, and respectful of the environment are available for all.
By registering for this free continuing education course, you are granting permission to Today's Dietitian to share your demographic information and e-mail with the course sponsor for potential marketing purposes. 
Learning Objectives
After completing this activity, nutrition professionals will be better able to:
Identify the commonalities and differences of how sustainability is viewed through the various partners along the food value chain.
Compare and contrast current research modeling studies as related to outcomes on human and environmental health and the impact on food availability and access.
Assess opportunities to enhance the focus on nutrition in the sustainability discussion collaboration and consensus building along the food value chain.
Additional Information
Suggested CDR Performance Indicators:
6.2.3, 8.1.1, 12.3.3, 12.5.1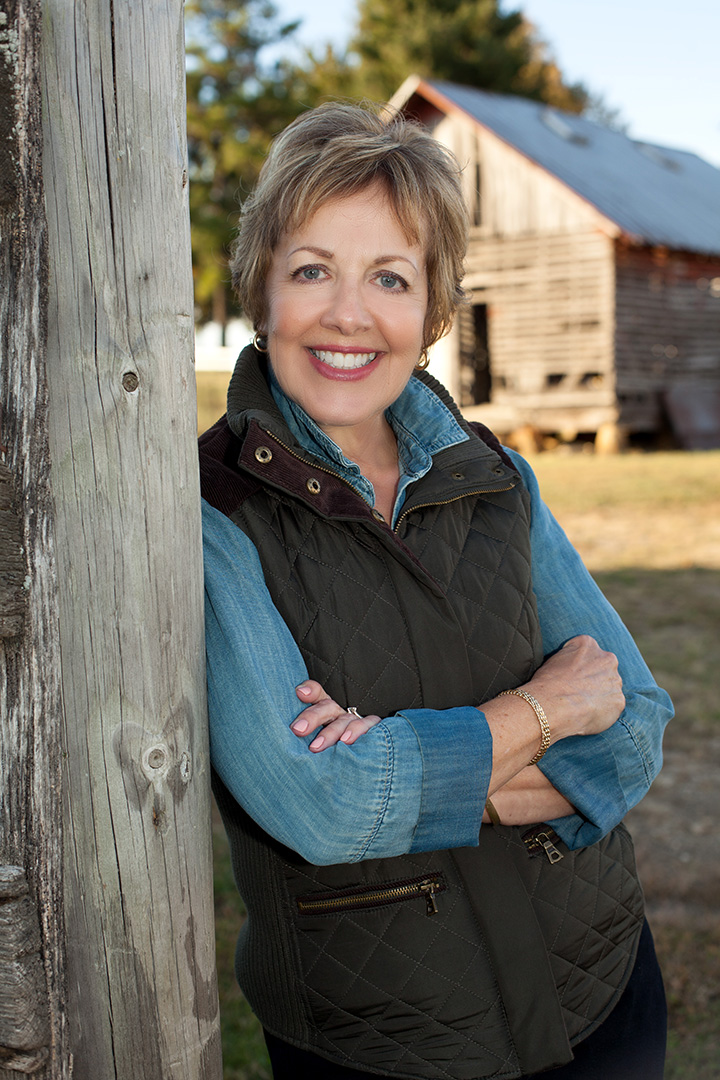 Marianne Smith Edge, MS, RD, LD, FADA, FAND, is Founder and Principal, The AgriNutrition Edge, a consultancy committed to assisting food, health and agriculture organizations across the food value chain to better understand and navigate the changing consumer environment through strategic positioning and communications. Marianne is an agriculture native, a 6th generation farm owner and produces the bi-monthly Meet Met at the Table blog and The AgriNutrition Edge Report newsletter. She is also a senior associate for The Context Network & serves on the Board of Advisors for FLM Harvest.

Prior to founding The AgriNutrition Edge, Marianne served as Senior Vice President, Nutrition & Food Safety Communications for the International Food Information Council (IFIC) in Washington, DC. Before joining IFIC, she was the owner of MSE and Associates, LLC, providing strategic nutrition and foodservice consulting services for the food and healthcare industry. Marianne brings over 30 years of experience to her clients as an experienced communicator, strategic planner, and facilitator. She is a nationally and internationally recognized speaker in consumer insights and food systems and sustainability issues.

Marianne is a former president of The Academy of Nutrition & Dietetics and a member of the Institute for Food Technologists (IFT) and the American Society for Nutrition (ASN). She is a co-author of over 25 peer-reviewed publications and a member of the Board of Editors for Nutrition Today. Marianne served two terms on the USDA National Research, Extension, Education, & Economics Advisory Board, the advisory board to the Secretary of Agriculture. She currently serves on the Kentucky Hunger Task Force and the Foundation for Healthy Kentucky Board.

Marianne holds a Bachelor of Science degree in dietetics from the University of Kentucky where she was a former member of the Board of Trustees. She has a master's degree in public health-nutrition from Western Kentucky University and earned a certification in Appreciative Inquiry from the Weatherhead School of Management, Case Western Reserve University.
Marianne Smith Edge, MS, RD, LD, FADA, FAND has the following relevant disclosures to report: She is a consultant with FLM Harvest Board of Advisors, The Context Network, JG Consulting Services. She is a shareholder in RH Smith Family Farms and Edge Farms. She receives material support from General Mills, Animal Ag Alliance, Nutrition Today, Academy of Nutrition and Dietetics, Nutrition Speaker's Bureau, National Cattlemen's Beef Association, and New York Beef Council. She certifies that no conflict of interest exists for this program. View our disclosure policy.

The National Honey Board is an industry-funded agriculture promotion group that educates consumers about the benefits and uses of honey. The vision of the National Honey Board is to inspire a passion for honey and an appreciation for the honey bees that make it possible. For more information, visit www.honey.com.