Recorded Webinar: Carbohydrate Restriction for Obesity and Diabetes: What Does the Evidence Say?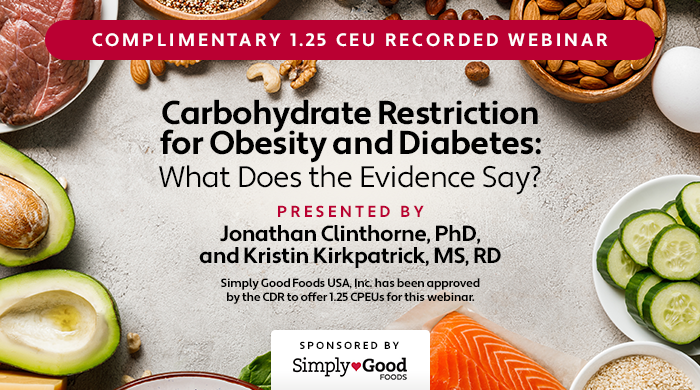 This webinar was presented on Tuesday, August 10, 2021, from 2–3:15 pm ET.
Carbohydrate restricted and low-carbohydrate diets have seen a resurgence in popularity in the last decade, along with renewed interest from the research community. However, there is still significant confusion as to what constitutes a low-carbohydrate diet, and what conditions carbohydrate restriction may or may not benefit. Areas in need of clarity include: what defines a low-carbohydrate diet? Is carbohydrate restriction appropriate for everyone? What should be considered before recommending a carbohydrate-restricted diet?

Join Jonathan Clinthorne, PhD, and Kristin Kirkpatrick, MS, RD, as they review the current evidence behind low carbohydrate approaches and recent research relevant to this eating pattern. Learn how to translate this evidence into clinical practice and how to effectively communicate with patients about carbohydrate restricted diets.
By registering for this free continuing education course, you are granting permission to Today's Dietitian to share your demographic information and e-mail with the course sponsor for potential marketing purposes. 
Learning Objectives
After completing this activity, nutrition professionals will be better able to:
Summarize the different types of carbohydrate-restricted diets found in the literature.
Discuss the evidence behind how these eating patterns can impact metabolism, weight loss, and glycemic control.
Review practical aspects of carbohydrate restriction, including important aspects of what constitutes a well-formulated low-carbohydrate diet.
Additional Information
Suggested CDR Performance Indicators:
8.1.2, 8.1.5, 8.3.6, 8.3.7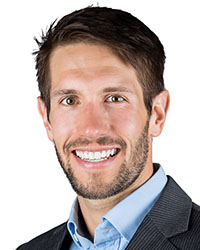 Jonathan (Jon) Clinthorne, PhD, received his doctorate in Human Nutrition from Michigan State University for his work focusing on metabolism and immune function. He then completed his post-doctoral fellowship at the University of Colorado Denver Anschutz Medical campus where he studied the interaction of diet, immunity, and the gut microbiota. His research has been published in several top-tier journals including the Journal of Nutrition and Journal of Immunology. Now, as the Director of Nutrition for Simply Good Foods USA, Jon's work is focused on sharing the numerous ways a low carb or low sugar lifestyle can promote everyday wellness. In addition, Jon is also responsible for managing relationships with researchers and healthcare professionals to help promote the clinical evidence demonstrating the benefits of low-carbohydrate diets for managing obesity and diabetes. When not working, you can find Jon running, skiing, and biking in the mountains of Colorado.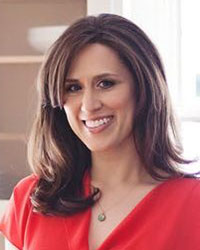 Kristin Kirkpatrick, MS, RD, is the President of KAK, Consulting, LLC, and a dietitian and consultant of Wellness Nutrition Services at the Cleveland Clinic Wellness Institute in Cleveland, Ohio. She is a best-selling author, an experienced presenter, and an award winning Dietitian. Kristin has been seen on both local and national shows such as the TODAY show, NBC Nightly News and the Dr. Oz show and has contributed to several national newspapers and magazines such as The New York Times, Wall Street Journal, TIME, Runners World, Oprah, Martha Stewart Living, Food Network, Costco Connection, Self and Women's Health. The Huffington Post named Kristin "one of 35 diet and nutrition experts you need to follow on twitter." Kristin is a sought after national speaker on a variety of nutrition and wellness related topics. In addition, Kirkpatrick writes for TODAY.com, Eating Well magazine, the Huffington Post, and US News and World Report and is a featured expert on Cleveland Clinic's Health Essentials. Kristin also serves on Dr. Oz's Medical Advisory Board as well as the Advisory Board for Lose it! Kristin is also a Nutrition Expert with the NBC affiliate for Denver, Colorado.

In her free time, Kristin enjoys running, hiking, skiing, reading, and spending time with her husband Andy, her 2 sons Jake and Boden and their dogs in their home outside of Denver, Colorado.
Jonathan Clinthorne, PhD, reports the following relevant disclosures: He is an employee and stock shareholder of Simply Good Foods USA, Inc. Kristin Kirkpatrick, MS, RD, reports the following relevant disclosures: She is consultant to Quest Nutrition, Swell Score, Meadows Behavioral Health, and Marsal Patient Care & Wellness. She is stock shareholder of ProLon, Swell Score, Lose It!, Gene Food, and is an employee of Cleveland Clinic Wellness Institute and practioner on record for eVitamins. The presenters certify that no conflict of interest exists for this program. View our disclosure policy.

At Simply Good Foods, our vision is to lead the nutritional snacking movement with trusted brands like Atkins and Quest Nutrition that offer a variety of convenient, innovative, great-tasting, better-for-you snacks and meal replacements. Our mission is to empower healthy lives through smart and satisfying nutrition. thesimplygoodfoodscompany.gcs-web.com
Simply Good Foods USA, Inc has been approved by the CDR to offer 1.25 CPEUs for this webinar.