Webinar: Update: What's New in the World of Carbohydrates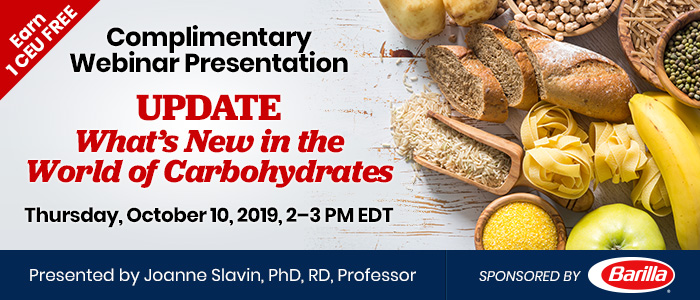 Suggested CDR Learning Needs Codes: 2020, 2070, 4030, 6010
Suggested CDR Performance Indicators: 8.1.1, 8.1.3, 8.3.6, 8.4.5
CPE Level 2
CDR Activity Type 171
Join Joanne Slavin, PhD, RD, Professor, on October 10, 2019, from 2–3 PM EDT, as she provides an update on the recommendations for carbohydrates set by the Dietary Guidelines for Americans (DGAs). In this webinar, Joanne will discuss the latest evidence relating to appropriate carbohydrate consumption by addressing professional practice gaps, including making better carbohydrate choices by consuming less added sugar and eating more plant-based foods that are high in fiber.

Joanne will also focus on helping nutrition professionals understand new nutrition facts labels and the challenges inherent in low gluten and low FODMAP diets. Finally, this presentation will help RDs develop strategies to better assist their patients and clients as they put new carbohydrate recommendations into practice.
Learning Objectives
After completing this continuing education course, nutrition professionals should be able to:
Discuss the latest science behind carbohydrate recommendations.
Understand the key guidance relating to carbohydrates in the DGAs.
Identify regulations that have been implemented relating to carbohydrates in foods.
Communicate to patients evidence-based recommendations for consuming carbohydrates.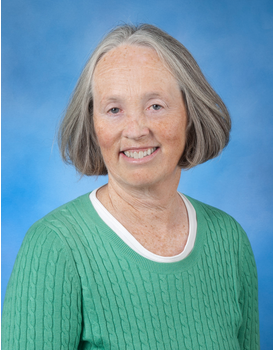 Dr. Joanne Slavin is a professor in the Department of Food Science and Nutrition at the University of Minnesota. She teaches FScN 4612 Advanced Human Nutrition. She has presented more than 350 invited scientific lectures around the world on topics including dietary fiber, carbohydrates, whole grains, protein, and the role of diet in disease prevention.

She has an active research group currently working in gut health, satiety, and related health outcomes. She is the author of more than 250 scientific publications and numerous book chapters and review articles and has advised 65 graduate students who work in universities, food companies, and health care facilities.

She is a Science Communicator for the Institute of Food Technologists and a member of numerous scientific societies, including the Academy of Nutrition and Dietetics and the American Society for Nutrition (ASN). She received the 2013 ASN General Mills Institute of Health and Nutrition Innovation Award, an award given to an investigator whose scientific contribution advance the understanding of the health benefits of whole grains. She gave the 2015 W.O. Atwater Memorial Lecture at the ASN meeting. She was a member of the 2010 Dietary Guidelines Advisory Committee for the US Department of Agriculture. She is a frequent source for the media on topics ranging from kid's eating to sports nutrition. 

Dr. Slavin received BS, MS, and PhD degrees in Nutritional Sciences from the University of Wisconsin-Madison and is a registered dietitian. She grew up on a dairy farm in southern Wisconsin that she still owns with her 2 sisters.
About Our Sponsor
We help people live better, by bringing well-being and the joy of eating into their everyday lives. In 1877, Pietro Barilla Sr. opened a small bakery in Parma, Italy. Today, Barilla® is still a family-owned company which believes that the table is much more than just a place to eat, and food is better when it is shared. At Barilla® we create products based on the Mediterranean nutrition model, delivering both taste and nutrition, to help people all over the world share the table together. www.barilla.com

Dr. Slavin reports the following relevant disclosures: In the past 12 months, she has received research funding from the Mushroom Council (gut health), Pepsico (oatmeal and gut health), Nestle Healthcare (FODMAPs), and DSM (fiber fermentation). She has certified that no conflict of interest exists for this program. View our disclosure policy.
Required Hardware/software
Ensure your browser's cookies are enabled in order for the GoToWebcast software to function properly.