Recorded Webinar: Insulin Delivery Devices Today and Beyond: What RDs Need to Know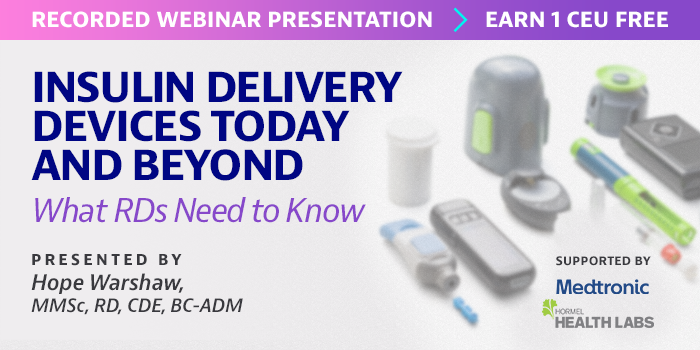 The live version of this webinar was presented on Wednesday, October 7, 2020, from 2–3 PM EDT.
The year 2021 marks 100 years since the discovery of insulin. Over the past hundred years, but particularly in the last two decades, insulin delivery devices have undergone enormous advancement and continue to do so at a faster pace than ever before. Even with a variety of administration options, including pumps, pods, patches, and smart pens, the challenges and burdens of insulin therapy are not only significant for the person with diabetes but their clinicians too.

In this webinar, Hope Warshaw, MMSc, RD, CDE, BC-ADM, will explore how newer insulin delivery devices can help overcome the most common management challenges faced by people with diabetes and their clinicians. With increasing numbers of people taking insulin to manage either type 1 or type 2 diabetes, it's important that RDs know how to obtain and continually maintain at least a basic knowledge of the array of available products. This competence offers the RD the opportunity to properly discuss these devices with clients and support their decision making process based on individual needs and desires. Hope will also review basic details about the U.S. FDA regulatory pathways along with evolving changes. Two case studies will be presented to help attendees explore the value of connectivity between  devices and data analytics to optimize numerous aspects of diabetes care.
By registering for this free continuing education course, you are granting permission to Today's Dietitian to share your demographic information and e-mail with the course sponsor for potential marketing purposes. 
Learning Objectives
After completing this activity, nutrition professionals will be better able to:
Understand the challenges and burdens of traditional insulin delivery devices.
Discuss the role of connectivity between insulin delivery devices and glucose monitors, and how this enables more optimal data analysis and management.
Describe the various FDA regulatory pathways for clearance and approval of insulin delivery devices. 
Detail the breadth of currently available insulin delivery devices in the U.S. marketplace, from simple patches and inhaled insulin, to smart insulin pens and insulin pumps, and get a glimpse into future insulin delivery technologies.
Describe the role of the RD in helping clients choose the right device, configure the device accurately, and use and understand the data to optimize diabetes care, while reducing the burden of disease management.
Additional Information
Suggested CDR Learning Codes:
Suggested CDR Performance Indicators: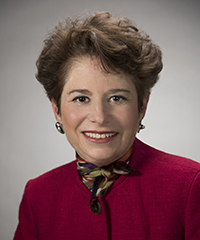 Hope Warshaw, MMSc, RD, CDE, BC-ADM, is a nationally-recognized diabetes care and education specialist. She applies more than 40 years of experience in her work as a book author and freelance writer and consultant within her business, Hope Warshaw Associates, LLC. Hope is well-known for her expertise in diabetes care and nutrition management, weight management, and healthy eating. She offers practical solutions for wellness to individuals and to the millions she connects with through an array of communication channels, including social media platforms.

As a freelance writer, Hope has written several award-winning, best-selling consumer books and resources published by the American Diabetes Association (ADA) including, "Diabetes Meal Planning Made Easy" and "Eat Out Eat Well — The Guide to Eating Healthy in Any Restaurant" and others. Hope initiated and wrote the Nutrition Q&A column for The Washington Post for several years and was instrumental in creating an avenue for more Registered Dietitian Nutritionists to write for The Post. She has become a regular contributor to Today's Dietitian magazine and recently authored an article about the newer insulin delivery devices. On this topic Hope developed a course for ADCES focused on connected insulin delivery devices and co-authored a book chapter and supplement to The Diabetes Educator on the topic of Smart Insulin Pens.

Hope is a sought-after speaker who regularly presents at association annual meetings and nutrition and diabetes symposiums. She served in volunteer leadership positions for the Academy of Nutrition and Dietetics and dietetic practice groups, the Academy's Foundation and the Association of Diabetes Care and Education Specialists. Hope currently works and resides in beautiful Asheville, North Carolina.
Hope Warshaw, MMSc, RD, CDE, BC-ADM, has the following relevant disclosures to report: consultant to Lifescan Diabetes Institute, Heartland Food Products Group, Montmed, Inc., Tandem Diabetes Care, and Companion Medical. The speaker certifies no conflict of interest exists for this program. View our disclosure policy.

Medtronic is working together with the global community to change the way people manage diabetes, who are at the center of everything we do. We are transforming diabetes care by expanding access, integrating care, and improving outcomes so individuals can enjoy greater freedom and better health. Visit www.medtronic.com to learn more.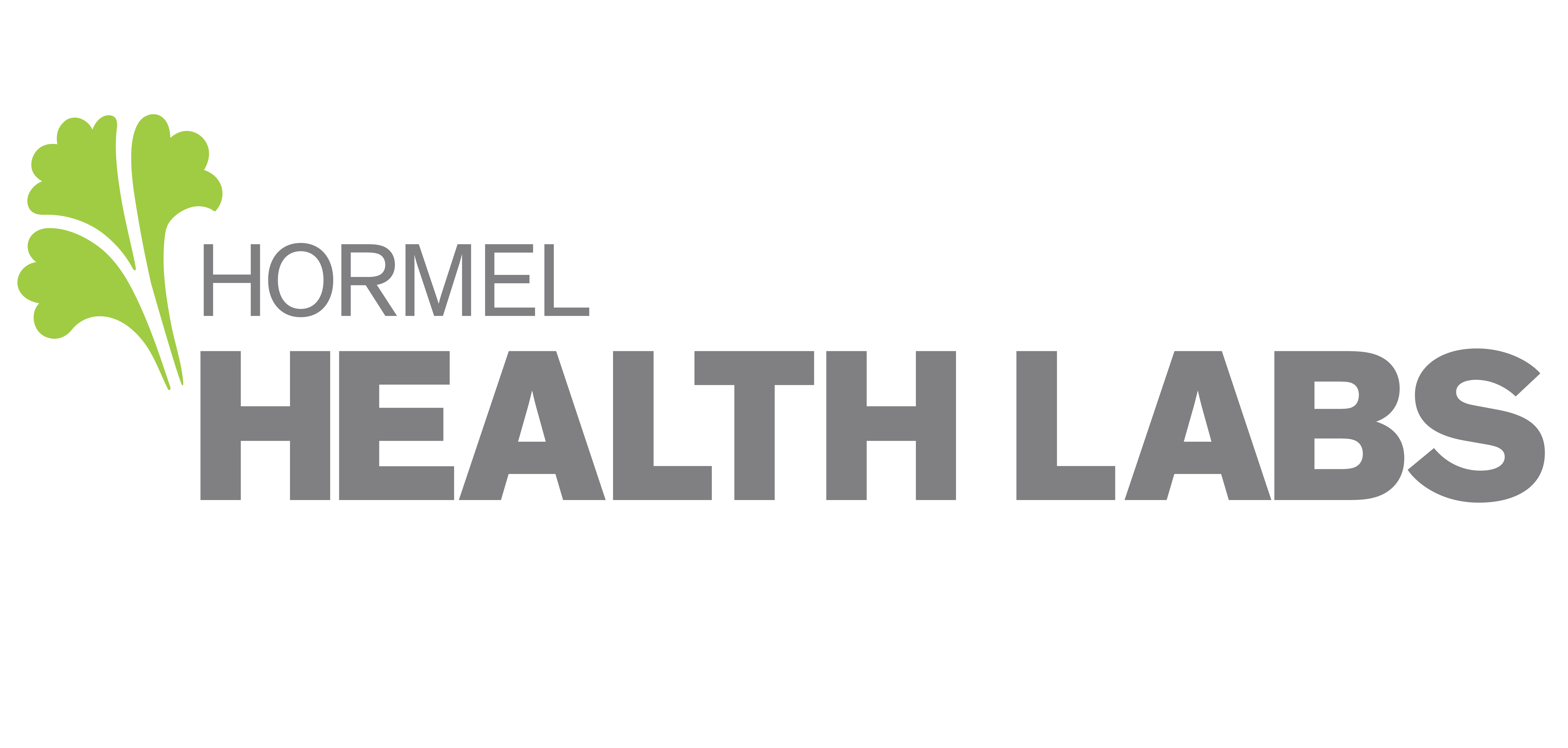 Hormel Health Labs is a leader in providing great-tasting and convenient nourishment to people when they need it most. Our Sin Free® products meet the needs of those with reduced-sugar, fat, or calorie diets, including diabetics. Whether you are a major healthcare center, special care facility, or caregiver, we are here to help with your dietary needs. Visit www.hormelhealthlabs.com to learn more.