Recorded Symposium Session: Winning With Nutrition: Achieving Patient Success With Practical Solutions to Reduce Added Sugar Intake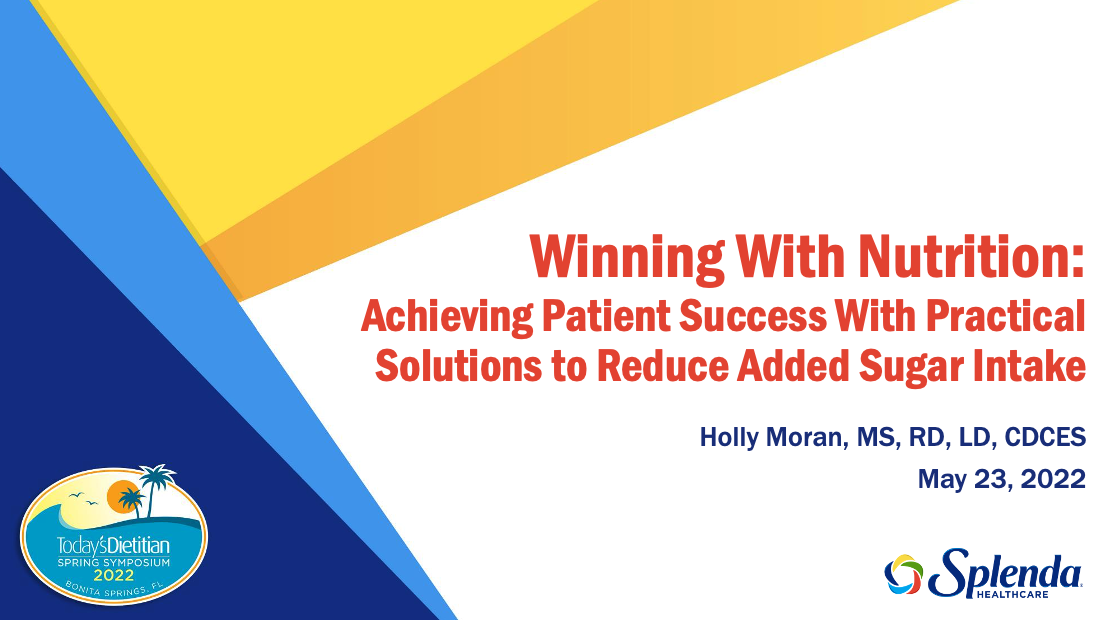 This is a recording of a live session that took place on Monday, May 23, 2022, during the 2022 Today's Dietitian Spring Symposium in Bonita Springs, FL.
A recent alarming report from the CDC reveals that 37.3 million Americans now have diabetes and another 96 million adults have prediabetes—that's over 40% of the US population. The need for practical dietary solutions for the prevention and management of diabetes and its common comorbidity, obesity, is greater than ever.

With expert knowledge of nutrition, dietetics professionals play a key role in the prevention and management of diabetes and obesity. The Dietary Guidelines for Americans, 2020-2025 emphasizes that Americans at every stage of life should limit added sugars to achieve a healthy dietary pattern. Most are aware of the health consequences of eating and drinking too many added sugars, yet Americans are still consuming too much!

Holly Moran, MS, RD, LD, CDCES, delivers practical meal planning and product solutions to help your patients successfully reduce their added sugars intake and win with nutrition.
Additional Information
Suggested CDR Performance Indicators:
8.1.1, 8.2.1, 8.2.4, 9.4.4
Holly Moran, MS, RD, LD, CDCES, reports the following relevant disclosures: she is employed by Heartland Food Products Group, Maker of Splenda® Brand Products. View our disclosure policy. 
Heartland Food Products Group #22971 was approved by the CDR to offer 1.0 CPEU for this recorded session.