Recorded Webinar: Strawberries and Cardiometabolic Health: Current and Future Directions for Research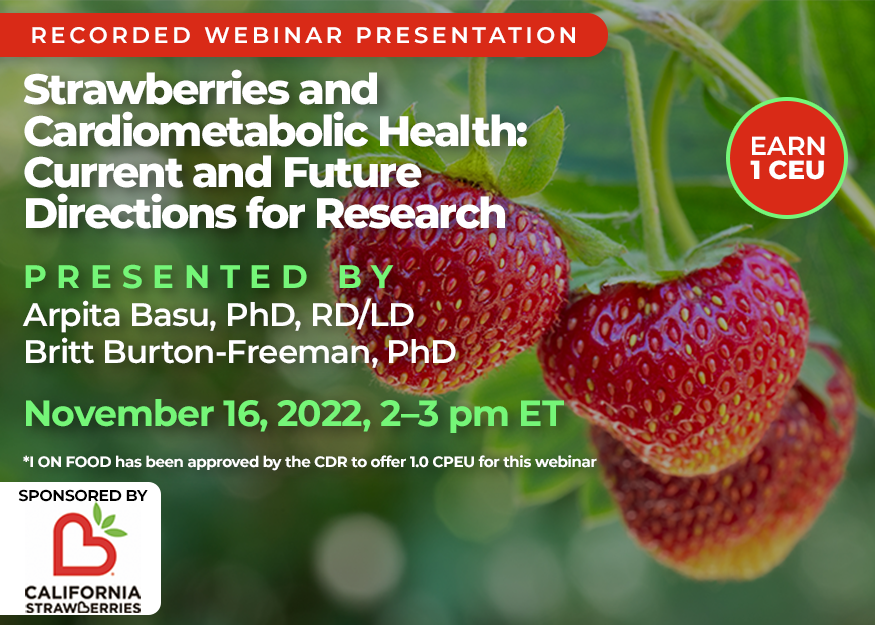 This webinar took place on Wednesday, November 16, 2022, from 2-3 p.m. ET. 
Preventing cardiometabolic disease – the spectrum of conditions that begins with abdominal obesity and insulin resistance and progresses through metabolic syndrome to type 2 diabetes and cardiovascular disease – is an issue of increasing national public health importance in the US. According to NHANES, the prevalence of various cardiometabolic morbidities was 14.4% in the U.S. in 2017-2018 and rising. As researchers look for diet and lifestyle behaviors to improve cardiometabolic health, one food to consider is strawberries.1

Strawberries are a rich source of several nutrients and phytochemicals and, in recent years, current research suggests they influence biochemical pathways that have an impact on several cardiometabolic factors. Strawberries can ameliorate postprandial hyperglycemia and hyperinsulinemia in obese and overweight adults with insulin resistance and adults with metabolic syndrome. Dietary strawberries have also been shown to improve inflammation and lipid biomarkers in adults with prediabetes. Evidence is accumulating and suggesting that these benefits can be attributed to the unique phytonutrient components of strawberries. The ways in which the gut microbiome metabolize them may be part of the reason.

In addition to identifying the cardiometabolic health benefits of strawberries and their components, new research is looking at how to maximize nutrient density by diversifying dietary intake of various fruits, as well as efforts in precision nutrition and human variability in relation to research outcomes.

Arpita Basu, PhD, RD/LD, Associate Professor, Kinesiology and Nutrition Sciences at the University of Nevada at Las Vegas, and Britt Burton-Freeman, PhD, Professor and Chair, Department of Food Science and Nutrition and Director, Center for Nutrition Research, Institute for Food Safety and Health at the Illinois Institute of Technology, address the current and future direction of the exploration of the potential benefits of strawberries for cardiometabolic health.
1. Vincent GE, Jay SM, Sargent C, Vandelanotte C, Ridgers ND, Ferguson SA. Improving Cardiometabolic Health with Diet, Physical Activity, and Breaking Up Sitting: What about Sleep?. Front Physiol. 2017;8:865. Published 2017 Nov 8. doi:10.3389/fphys.2017.00865
Learning Objectives
After attending this session, health care professionals and clinicians should be able to:
Analyze the current research demonstrating the potential role of strawberries and their bioactive components in cardiometabolic health.
Identify the bioactives in strawberries that may contribute to their positive impact on cardiometabolic health.
Describe future direction of research on strawberries and other fruits and their relationship to and impact on cardiometabolic health.
Additional Information
Suggested CDR Performance Indicators:
4.1.2, 6.4.3, 8.1.2, 8.2.2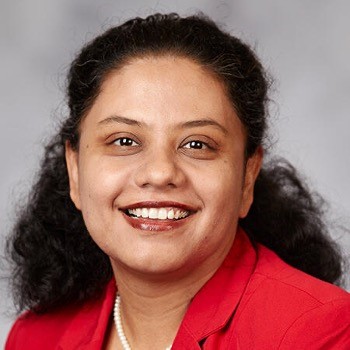 Arpita Basu, PhD, RD/LD, Associate Professor, Kinesiology and Nutrition Sciences at the University of Nevada at Las Vegas focuses on understanding the health effects of dietary bioactive compounds, such as those found in tea, berries, and cocoa in modulating disease biomarkers in type 2 diabetes, hypertension, and cardiovascular diseases. She has conducted several clinical trials focused on these foods, beverages, and dietary supplements among adults with the metabolic syndrome, type 2 diabetes, and cardiovascular risks. Dr. Basu also has extensive research interests in diabetes and nutritional epidemiology and has published several reports about prospective associations of lipid and lipoprotein biomarkers, as well as of dietary patterns, with diabetes vascular complications.

Prior to coming to UNLV, Dr. Basu was a faculty member in Nutritional Sciences at Oklahoma State University for 10 years. She has been published in more than 80 peer-reviewed journal articles and invited book chapters. Dr. Basu earned a master's degree in food and nutrition from University of Calcutta, India; a second master's degree in public health with focus on epidemiology from University of South Florida; and her PhD in nutrition from Texas Woman's University. She completed her postdoctoral fellowship in clinical nutrition at University of California Davis Medical Center. Dr. Basu has served on the editorial board of the Journal of Nutrition since 2012 and has received research awards from the American Society for Nutrition and the American College of Nutrition for her research in dietary bioactive compounds in human health.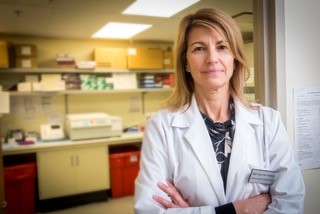 Britt Burton-Freeman, PhD, is a professor for and the Chair of the Department of Food Science and Nutrition and Director, Center for Nutrition Research, Institute for Food Safety and Health at the Illinois Institute of Technology. Dr. Burton-Freeman's research interests investigate dietary strategies to address risk factors of cardiometabolic disease focusing on whole foods and their unique nutritional/bioactive attributes. Current research characterizes the polyphenol profile of various fruits and traces their metabolic consequences after human ingestion, including their dynamic relationship with the gut microbiome affecting local and systemic physiology and health status.

Dr. Burton-Freeman is actively involved in multiple professional societies dedicated to health and disease abatement, publishes in top journals, and is co-editor-in-chief of Nutrition and Healthy Aging. Dr. Burton-Freeman received her bachelor of science in dietetics from the California State University, Chico; and her master of science and PhD in nutritional biology from the University of California, Davis. She completed a postdoctoral fellowship in the Department of Internal Medicine at University of California, Davis. Dr. Burton-Freeman has held professional appointments in academia and the biotech industry leading research programs and teams to deliver on basic and clinical science objectives.
Arpita Basu, PhD, has the following relevant disclosures to report: she has received grants and research support from the California Strawberry Commission, US Highbush Blueberry Council, NIH (INBRE, OCTSI), the USDA, and the Cranberry Institute. She has received honorarium from the California Strawberry Commission and has served on a grant review panel for the USDA.
Britt Burton-Freeman, PhD, has the following relevant disclosures to report: she has received grant support and other financial support from the National Institutes of Health, Common Fund, Nutrition for Precision Health; USDA (NIFA); California Strawberry Commission; Watermelon Promotion Board; Hass Avocado Board; National Mango Board; US FDA; and MB Clinical. She has received honoraria from the California Strawberry Commission, McCormick Science Institute, and Nutrient Institute.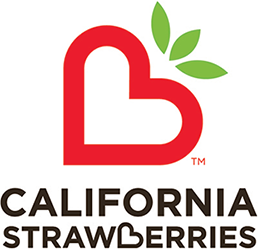 The California Strawberry Commission represents more than 400 strawberry farmers, shippers and processors, proudly working together to advance strawberry farming for the future of our land and people. Commission programs create opportunities for success through groundbreaking initiatives focused on workforce training, strawberry production research, and nutrition research. Through science-based information and education, we deliver the good news about sustainable farming practices that benefit the health of people, farms, and communities.
I ON FOOD has been approved by the CDR to offer 1.0 CPEU for this webinar.
Required Hardware/software
Ensure your browser's cookies are enabled in order for the GoToWebcast software to function properly. Please add "ce@gvpub.com" to your email provider's safe list. Otherwise, login instructions for this event may be caught in your spam/junk folder.