Recorded Webinar: Trauma-Informed Care: The Dietitian's Role and Nutritional Interventions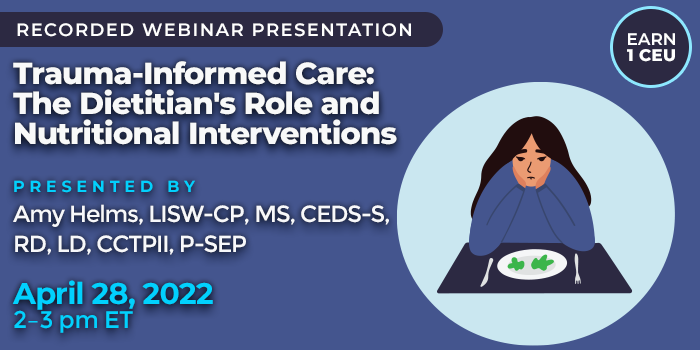 This webinar was presented on Thursday, April 28, 2022, from 2-3 p.m. ET. 
Individuals struggling with eating disorders and disordered eating are more likely to have a history of trauma. Trauma is experienced in the body and nervous system causing dysregulation, distrust, and the inability to feel and interpret sensations, and be attuned to one's needs. Traditional treatment models focused on the patient's behavior without considering how the individual could be attempting to self-regulate.

Dietitians are often concerned that trauma is not within their scope of practice. However, RDs may encounter trauma when working with clients with eating disorders, therefore treatment should consider the relationship between trauma and eating disorder behaviors. Unless the two are treated simultaneously, the chances of relapse increase significantly. Dietitians can incorporate a trauma-informed approach by understanding the intersection between trauma and eating disorders and bringing the body to the forefront of treatment.

Join Amy Helms, LISW-CP, MS, CEDS-S, RD, LD, CCTPII, P-SEP, for a webinar that will teach dietitians approaches that integrate mindfulness, body awareness, and somatic therapies when treating patients with eating disorders who have also experienced trauma. Amy will address her own experiences to help demonstrate the use of a trauma-informed approach and she will detail ways RDs can identify possible trauma by using a trauma-informed assessment and other interventions that help reduce symptoms.
Learning Objectives
After completing this activity, nutrition professionals will be better able to:
Understand how the attachment and defensive system are expressed through eating disorder symptoms.
Describe the connection between trauma, attachment, eating disorders, and  sensations.
Implement specific somatic interventions that facilitate embodiment for both the dietitian and patient and between the two and enhance effectiveness of current treatment interventions.
Employ knowledge of somatic practices and use specific tools when facilitating safety during a nutrition counseling session.
Additional Information
Suggested CDR Performance Indicators:
8.3.4, 9.1.3, 9.6.2, 9.6.11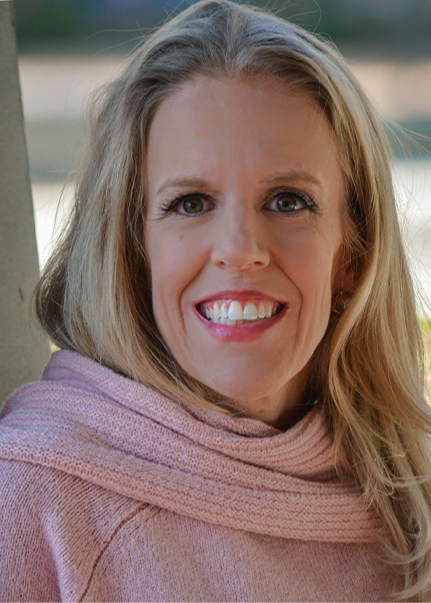 Amy Helms, LISW-CP, MS, CEDS-S, RD, LD, CCTPII, P-SEP, is an experienced clinician and believes in the power of human connection and self-compassion to foster growth and powerful transformation. Amy has dedicated her career to nutrition counseling, supervising, and teaching in the field of nutrition, body image, intuitive eating, eating disorders, infertility, women's health, and food allergies.
Amy believes in combining an individualized approach with the latest evidenced based techniques. She practices within the Intuitive Eating and Health at Every Size® principles.
Amy Helms, LISW-CP, MS, CEDRD-S, RD, LD, CLT, faculty for this educational event, has no relevant disclosures to report and she certifies that no conflict of interest exists for this program. View our disclosure policy.