Recorded Webinar: Navigating the 2020 Standards of Medical Care in Diabetes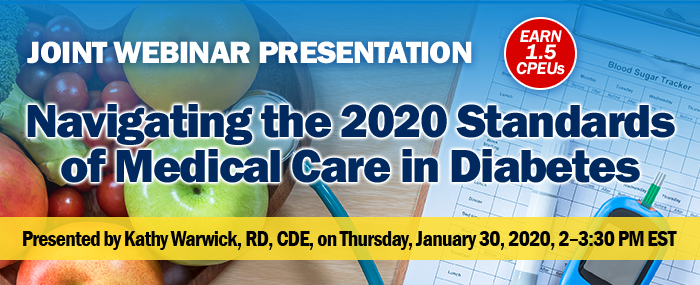 This webinar took place on Thursday, January 30, 3030 from 2-3:30 p.m. EST and was hosted by Becky Dorner & Associates.
Almost 10% of Americans – or over 30 million people – suffer from diabetes, and 1.5 million more are newly diagnosed every year. As the seventh leading cause of death in the US, understanding and navigating the challenges of diabetes is essential for healthcare professionals. RDs play a unique and necessary role in caring for clients with the disease, and therefore it's imperative they stay current on the latest guidelines and practices in diabetes care.
The annually produced American Diabetes Association Standards of Medical Care in Diabetes provides benchmark guidelines for patients living with diabetes and the healthcare professionals who care for them. Kathy Warwick, RDN, CDE provides a comprehensive review of the ADA's 2020 guidelines, developments, and opportunities for RDNs in diabetes care.
Learning Objectives
After completing this continuing education course participants should be able to:
Discuss the key revisions of the 2020 Standards of Medical Care in Diabetes.
Understand and implement the current nutrition care guidelines for adults with diabetes.
Identify opportunities for diabetes self-management education during the continuum of diabetes care.
Explain the roles and opportunities for RDNs in diabetes prevention.
Additional Information
Suggested CDR Learning Codes:
Suggested CDR Performance Indicators:
2.1.1, 8.1.5, 8.2.1, 8.3.6
Kathy Warwick, RD, CDE is a Registered Dietitian and Certified Diabetes Educator with 37 years of experience in several areas of dietetics practice. She is owner of Professional Nutrition Consultants, LLC in Madison, Mississippi, providing outpatient diabetes education, long term care consultation, hospice consultation, wellness program services, media communications and medical-legal consultation.  She has served as an expert witness in numerous nursing home and malpractice lawsuits dealing with issues of malnutrition, weight loss, wound healing and diabetes care.
Previous work experience includes home health, outpatient education, hospital nutrition support, public health, nursing home consultation, and teaching college level nutrition classes for nursing majors.  Kathy speaks regularly to medical and professional groups on the subjects of diabetes, various wellness topics, and the role of nutrition in litigation.  She was a speaker for FNCE® 2014 and 2015 and has presented multiple webinars.
Kathy was the past Print Communications Chair for the Diabetes Care and Education DPG of the Academy of Nutrition and Dietetics and a Past-President of the Mississippi Academy of Nutrition and Dietetics. She currently serves as Media Spokesperson for MsAND and has been a medical reviewer and freelance writer for Healthline.com and Medical News Today.  Kathy is also a member of the Coordinating Body for the Mississippi Association of Diabetes Educators, focusing on advocacy and licensure for diabetes educators in Mississippi.
Kathy Warwick, RD, CDE, has the following disclosures to report: she is a consultant for Hormel Health Labs. She confirms no conflict of interest exists for this program. View our policy here.
Required Hardware/software
Ensure your browser's cookies are enabled in order for the GoToWebcast software to function properly.
Please add "ce@gvpub.com" to your email provider's safe list. Otherwise, login instructions for this event may be caught in your spam/junk folder.