Webinar: Winter Wonderland: A Journey Through The Seasons - Making The Most Out of Seasonal Produce And The Complimentary Herbs and Spices That Accompany Them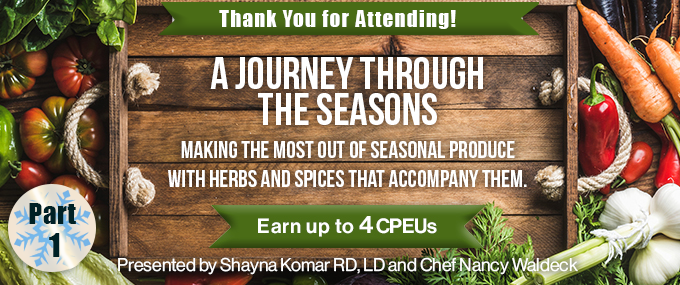 Suggested CDR Learning Needs Codes: 8060, 8090, 8100, 8130; Level 2
Suggested CDR Performance Indicators: 8.4.1, 8.4.2, 8.4.3
This is Part 1 of a 4-Part webinar series.
 
This webinar was presented on Wednesday, January 31, 2018, from 2-3 pm ET by Shayna Komar, RD, LD, and Chef Nancy Waldeck.
Shayna Komar and Nancy Waldeck have no relevant disclosures to report. They have certified that no conflict of interest exists for this program. View our disclosure policy.