Recorded Webinar: The Art of Recipe Development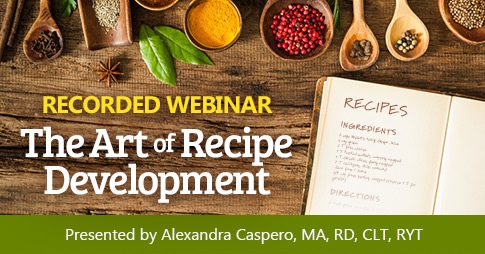 Suggested CDR Learning Codes: 1140, 2020, 8060, 8100; Level 2
Suggested CDR Performance Indicators: 2.1.3, 8.4.2, 8.4.3, 13.2.3
All varieties of media channels are eager to receive recipes created by RDs. Developing recipes for distribution through these channels is an effective and exciting way to grow your brand, advance your career, and reach a broader audience. But, recipe development is much more than just creating a delicious recipe. Not only do you have to develop an idea "from scratch," you also have to test and standardize the recipe, as well as perform a nutrition analysis. This webinar includes an A-to-Z guide on how to develop successful recipes for blogs, social media, print, food service, and consumer outlets.
The live version of this webinar was presented by Alexandra Caspero, MA, RD, CLT, RYT, on Wednesday, July 20, 2016, at 2 pm ET. This recorded version is approved for one hour of continuing education credit. RDs should list code 175 for this activity type.
Purchase this Recipe Development recorded webinar and Food Photography recorded webinar for only *$29 with coupon code RECIPEX2. Both webinars must be in your shopping cart in order to apply the coupon. *CE Club members can purchase both parts for just $20 - no coupon required!
Learning Objectives
After completing this continuing education course, nutrition professionals should be able to:
Identify common pitfalls in recipe development and testing.
Articulate best practices for recipe development: from conception to finish.
Review current nutrition trends and how to apply them in successful recipe development. 
Understand variances in recipe development for different audiences.
Review the basic nutrition analysis tools available for nutrition professionals.
Discuss tips and strategies for effective presentation of completed recipes and best practices for pitching them to various media outlets.
Discuss recipe development as it relates to your personal RD brand.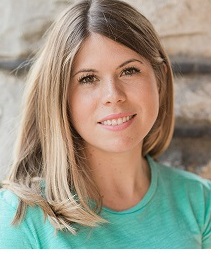 Alexandra Caspero, MA, RD, CLT, RYT, is owner of Delish Knowledge and author of Fresh Italian Cooking for the New Generation. As a consultant and spokesperson, she works with like-minded companies to develop nutrition communication strategies, corporate wellness programs and recipes. Her award-winning blog, Delish Knowledge, focuses on making whole-food eating deliciously simple.
Additionally, she is the co-author of Joyful Eating, Nourished Life, which helps others discover a happier, healthier relationship with food and their bodies.
Alexandra Caspero has no relevant disclosures to report regarding this program. She has certified that no conflict of interest exists for this program. View our disclosure policy.