Recorded Webinar: Measuring the Impact of Food Miles on Sustainability

Suggested CDR Learning Codes: 4010, 8018; Level 2
Suggested CDR Performance Indicators: 3.3.5, 7.2.3, 7.2.4
Local food is one of today's hottest food trends. But, when your patients and clients want to "eat local," what impact are they actually having on sustainability? In this entertaining and unique webinar, Sharon Palmer, RDN, explores the science and data on how far food is traveling today to get to the plate. In doing so, she will explain how food travel affects consumers' carbon footprint and sustainability of the food system. RDs will be provided with surprising revelations about the food system, together with bottom line advice to give to patients and clients who express interest in making a difference with their forks.
The live version of this webinar was presented by Sharon Palmer, RDN, on December 8, 2016, at 2 pm EST. This recorded version is approved for one hour of continuing education credit. RDs should list code 175 for this activity type.
Learning Objectives
After completing this continuing education course, nutrition professionals should be able to:
Define local food and food miles in today's food system.
Understand distance food is traveling in Western food systems.
List factors that impact carbon footprint beyond food miles.
Identify strategies to reduce carbon footprint by food choices.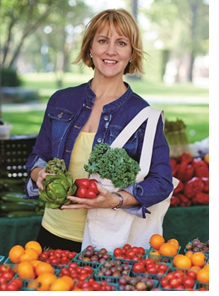 Sharon Palmer, RDN, The Plant-Powered Dietitian, is an award-winning food and nutrition journalist based in Los Angeles. She speaks, writes, and blogs about her passion for delicious, healthy plant-based foods. Check out her two books:

Plant-Powered for Life: Eat Your Way to Lasting Health with 52 Simple Steps & 125 Delicious Recipes (The Experiment, 2014) Let this guide-slash-cookbook lead you to a delicious, wholesome plant-based eating style for life.

The Plant-Powered Diet: The Lifelong Eating Plan for Achieving Optimal Healthy, Beginning Today (The Experiment, 2012). Sharon calls this book "the Bible" of plant-based eating, as it includes everything you need to know about unleashing the power of whole plant foods, no matter what you're eating style.
Sharon Palmer reports the following relevant disclosures: she provides consultant services for a select group of organizations, including Tomato Products Wellness Council and Oldways. The presenter has certified that no conflict of interest exists for this program. View our disclosure policy.