Recorded Webinar: An In-Depth Look Into the Dietary Guidelines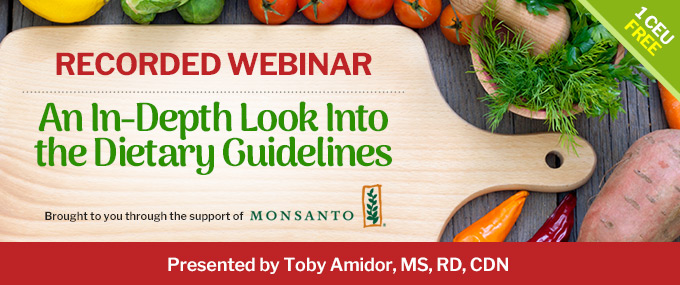 Suggested CDR Learning Codes: 1080, 4000, 4030, 4040; Level 2
Suggested CDR Performance Indicators: 6.2.5, 8.1.4, 8.3.6, 13.2.1
Registered Dietitians have had a year to examine, interpret and work with the 2015 Dietary Guidelines. In that time, the profession has gained a more thorough understanding of the changes to the Dietary Guidelines, as well as the implications of these changes. Moreover, there has been an opportunity to explore and resolve the numerous controversies regarding the Dietary Guidelines that emerged in the dietetics profession over the past year.
The live version of this webinar was presented by Toby Amidor, MS, RD, CDN, on Thursday, January 12, 2017, at 2 pm ET. This recorded version is approved for one hour of continuing education credit. RDs should list code 175 for this activity type.
By registering for this free continuing education course, you are granting permission to Today's Dietitian to share your demographic information and e-mail with the course sponsor for potential marketing purposes.
Learning Objectives
After completing this continuing education course, nutrition professionals should be able to:
Understand the process of how the Dietary Guidelines are created.
Explain why modifications were made to the Dietary Guidelines.
List three noteworthy changes to the Dietary Guidelines.
Communicate healthy eating messages to their clients that are consistent with the Dietary Guidelines.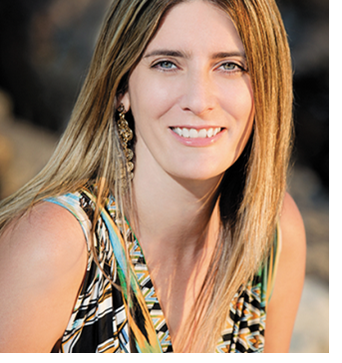 Toby Amidor, MS, RD, CDN, founded Toby Amidor Nutrition, through which she provides nutrition and food safety consulting services. Toby is the author of the Ask the Expert column in Today's Dietitian magazine. She also authored the cookbook The Greek Yogurt Kitchen (Grand Central Publishing, 2014); serves as a nutrition expert for FoodNetwork.com and writes for its Healthy Eats blog; and serves as an adjunct professor at Teachers College, Columbia University in New York City. Through her ongoing consulting and faculty positions, she has established herself as one of the top experts in culinary nutrition, food safety, and media (Internet, TV, and print).
Toby trained as a clinical dietitian at New York University and has more than 14 years of experience in various areas of food and nutrition.
This complimentary 1-credit continuing education webinar is brought to you with support from Monsanto. Please note that Monsanto provided financial support only and did not have input into the information provided in this course.
Toby Amidor reports the following relevant disclosures: she has received funding from the National Dairy Council, is a consultant to the Beef Expert Bureau, and is a member of Dannon Yogurt Board. The presenter has certified that no conflict of interest exists for this program. View our disclosure policy.