Recorded Webinar: It's About Time: Systems and Strategies for Conquering What Gets In Our Way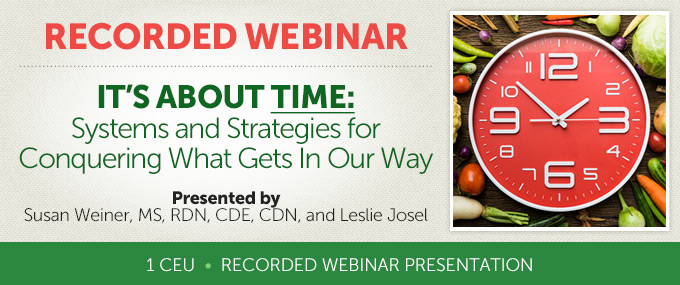 Suggested CDR Learning Codes: 1000, 1120, 7070; Level 2
Suggested CDR Performance Indicators: 1.6.2, 3.2.3, 4.2.1, 4.2.9
Time is one of our most precious resources. Yet we battle daily to make the best use of it. This webinar addressed how to maximize your productivity as a registered dietitian while learning to pinpoint where you need to take control. In addition, you will create your own "Personal Time Profile" to use to help you improve your focus and performance when juggling paper, projects and priorities. You'll also learn how to identify your time-robbers and how to eliminate them and so you can focus on career and personal goals. Using practical case studies, the presenters will discuss the difference between time management and motivation management, tips for conquering procrastination and avoiding interruptions. If you are a nutrition entrepreneur, or looking to conquer your scheduling demands, this webinar is for you!

The live version of this webinar was presented by Susan Weiner, MS, RDN, CDE, CDN, and Leslie Josel on Wednesday, February 15, 2017, at 2 pm ET. The recorded version is approved for one hour of continuing education credit. RDs should list code 175 for this activity type. 
Learning Objectives
After completing this continuing education course, nutrition professionals should be able to:
Identify and discuss time management and motivation management.
List and implement strategies to concurrently manage different tasks.
Evaluate and minimize activities and tasks that are inefficient uses of time.
Create and utilize a "Personal Time Profile."
Susan Weiner, MS, RDN, CDE, CDN, is the owner of Susan Weiner Nutrition, PLLC, located in New York. She was named the 2015 AADE Diabetes Educator of the Year and is the recipient of the 2016 Dare to Dream award from the Diabetes Research Institute Foundation. Click here to read more about Susan Weiner.
Leslie Josel is a successful entrepreneur, award-winning author and internationally acclaimed speaker. Click here to read more about Leslie Josel.
Susan Weiner, MS, RDN, CDE, CDN, and Leslie Josel have no relevant disclosures to report. They have certified that no conflict of interest exists for this program.
View our disclosure policy
.