Recorded Webinar: Baby-Led Weaning: A Step-by-Step Guide to Starting Solids Using a Safe, Practical and Natural Alternative to Spoon-feeding Purees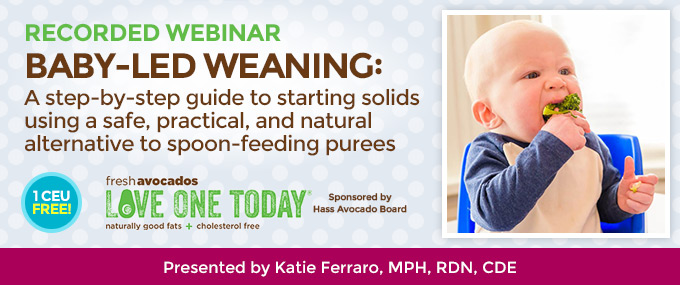 Suggested CDR Learning Codes: 3050, 4150, 5070; Level 2
Suggested CDR Performance Indicators: 8.1.4, 8.2.1, 8.3.6
Was the last thing you learned about feeding a baby from your Lifecycle Nutrition class? Well, it's time to bone up on your baby-feeding know-how! There's an exciting and credible body of emerging evidence and practice that supports a baby-led approach to infant feeding...and dietitians NEED to know about this!

Baby-led weaning is an alternative to spoon-feeding whereby babies feed themselves real, wholesome foods from the get-go. Baby-led weaning helps babies become children that like and accept all types of food. It can help prevent picky eating and may even lead to lower rates of childhood overweight and obesity.

In this presentation, mom of 5 and self-proclaimed baby-led feeding fanatic, Katie Ferraro, is going to run you through everything you need to know about this safe and natural alternative to spoon-feeding. You'll learn about the baby-led approach to feeding philosophy and we'll cover ideal starter foods and tips for pushing a baby's palate. By the end of this webinar, you will be more confident about your ability to incorporate baby-led weaning either in your own family or your nutrition practice.
The live version of this webinar was presented by Katie Ferraro, MPH, RDN, CDE, on Tuesday, April 25, 2017, at 2 pm EDT. This recorded version is approved for one hour of continuing education credit. RDs should list code 175 for this activity type.
By registering for this free continuing education webinar, you are granting permission to Today's Dietitian to share your demographic information and e-mail with the webinar sponsor for potential marketing purposes.
.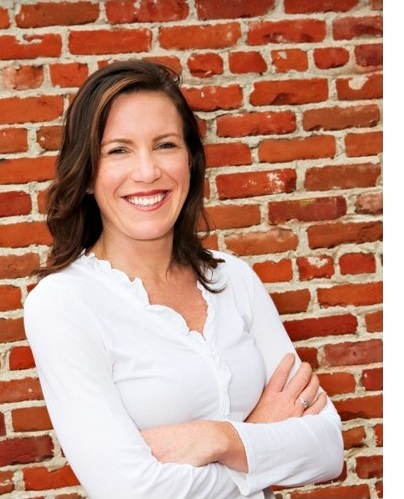 Katie Ferraro, MPH, RDN, CDE, is the founder of The Fortified Family (www.fortifiedfam.com), an online nutrition consulting business that specializes in infant and child feeding. As a mom of 5, she is a self-proclaimed baby-led weaning fanatic and a firm believer that good food fuels strong families. Katie is an Assistant Clinical Professor of Nutrition at the University of California San Francisco and the University of San Diego. She brings her real-life feeding experiences along with the hundreds of families she has counseled and a strong background in nutrition education and research to shape her unique perspective on baby-led weaning.
This complimentary 1-credit continuing education webinar is brought to you with support from Hass Avocados. Please note that Hass provided financial support only and did not have input into the information provided in this course.
Katie Ferraro reports the following relevant disclosure: she serves as a consultant to the California Avocado Commission. She has certified that no conflict of interest exists for this program. View our disclosure policy.
This complimentary 1-credit continuing education webinar is brought to you with support from Hass Avocados. Please note that Hass provided financial support only and did not have input into the information provided in this course