Recorded Webinar: Delivering a Dynamic TV Interview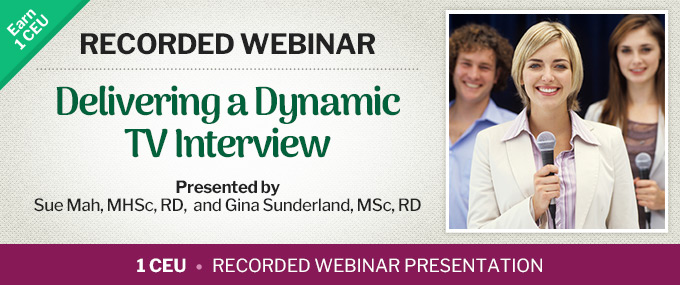 Suggested CDR Learning Codes: 1090, 1130, 1140, 7070; Level 2
Suggested CDR Performance Indicators: 2.1.3, 2.1.4, 2.1.7, 2.1.8
Have you ever been asked to give a media interview, but turned it down because you were too nervous or didn't know where to start? Or are you already working in the media and wish to take your skills to the next level? In a world of pseudo nutrition experts from celebrities to doctors, it is imperative that dietitians and nutrition professionals are ready to provide clear, accurate and evidence-based messages.
Listen, watch and learn from discussions and media interview videos featuring dietitians in action. With over 35 years of combined experience, media savvy dietitians Sue Mah, MHSc, RD, and Gina Sunderland, MSc, RD, will share their media coaching tips, real life experiences and secrets for success to help you develop your media skills and boost your confidence in working with the media. Don't miss this great opportunity to learn from two recognized media experts!
The live version of this webinar was presented by Sue Mah, MHSc, RD, and Gina Sunderland, MSc, RD, on Tuesday, May 9, 2017, at 2 pm EDT. This recorded version is approved for one hour of continuing education credit. RDs should list code 175 for this activity type.
Learning Objectives
After completing this continuing education course, nutrition professionals should be able to:
Identify 10 essential questions to ask before every media interview. 
Define the 5 Cs for writing effective key messages.  
Observe and compare some strengths and limitations of media interviews using the facilitators' "Secrets of Success" criteria.  
Apply facilitators' expert insights and tips to their own media interviews.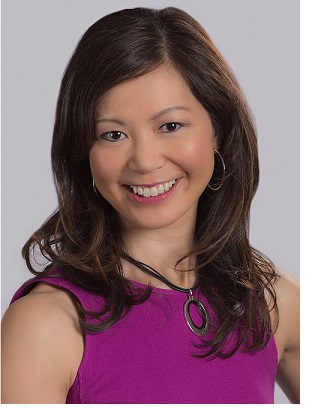 Sue Mah, MHSc, RD is one of Canada's favourite media dietitians who is known for her dynamic and "edu-taining" personality. With over 250 media features to her name, Sue has appeared across Canada in 12 TV commercials, and is a dietitian expert for 10 TV shows including: CTV National Your Morning, CBC National News Network, Breakfast TV Toronto, The Mom Show, Doctor in the House, and Steven and Chris. As President of Nutrition Solutions Inc., Co-Founder of Media Training Boot Camp, and Co-Founder of Nutrition for NON-Nutritionists, Sue is a nutrition entrepreneur and passionate peer educator. She is spokesperson for innovative foods and government education campaigns, including the national spokesperson for Health Canada's % Daily Value initiative. Sue provides media coaching and nutrition training to hundreds of dietitians, interns, nutrition students and food professionals across North America.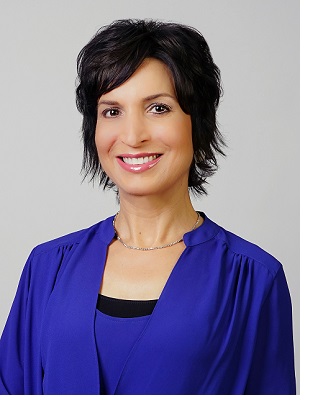 Gina Sunderland, MSc, RD acts as a spokesperson for international brands. For the past five years, she has also been an active spokesperson for the Dietitians of Canada's National Nutrition Month campaigns. As Co-Founder of Media Training Boot Camp, Gina provides media coaching and training at conferences and events across the country, and owns a busy consulting practice in Winnipeg, Canada.
The presenters have no relevant disclosures to report regarding this program. The presenters have certified that no conflict of interest exists for this program. View our disclosure policy.