Recorded Webinar: Food Psychology: Why We Eat More than We Think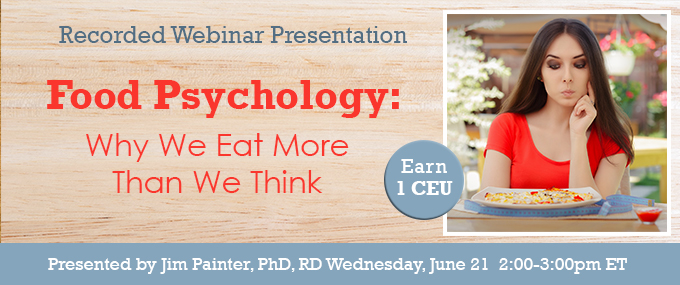 Suggested CDR Learning Codes: 4030, 5370, 8015, 9020; Level 2
Suggested CDR Performance Indicators: 4.1.2, 8.3.6, 8.4.5, 13.2.7
Most people are not aware of the volume of food they consume and this lack of awareness may lead to over-consumption. Dr. Painter will illustrate with examples how portion sizes have increased over the past two decades and the ways to control food portions: by changing the dining environment with smaller eating implements, become more aware of the foods that we eat using visual cues, food journaling, and making food less visible and accessible. Dr. Painter will also present techniques to help consumers be aware of their eating patterns and provide ways to reduce intake. He will also discuss current research regarding mindful eating and modifying the eating environment to encourage consumers to make better choices.
The live version of this webinar was presented by Jim Painter PhD, RD., on Wednesday, June 21, 2017, from 2-3 pm EDT. This recorded version is approved for one hour of continuing education credit. RDs should list code 175 for this activity type.
Learning Objectives
After completing this continuing education course, nutrition professionals should be able to:
Recognize that most people are not aware of their total consumption
List environmental factors that lead to over-consumption
Identify techniques that will help individuals to track their consumption and reduce weight
Identify common pitfalls that cause individuals to overconsume food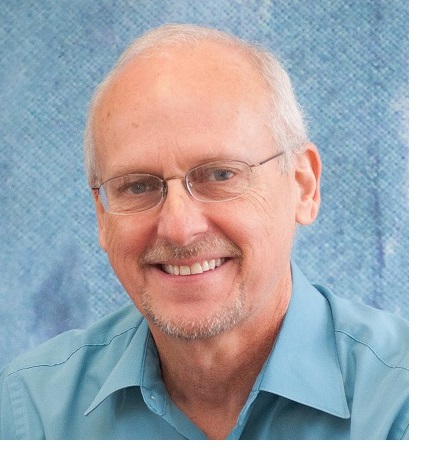 Dr. Jim Painter is an Adjunct Professor at University of Texas. His current research includes heart disease, and mindless eating. Jim consults for Sun-Maid Raisin Growers, Paramount Farms, Davison's Safest Choice, and the National Dairy Council. He currently serves on the American Heart Association's Eat Well Task Force. He worked for Marriott Corporation in the 1980s, taught at University of Illinois during the 1990s and at Eastern Illinois University until 2013.  Jim has over 100 peer reviewed publications to his credit.
Dr. Painter reports the following relevant disclosures: he has served as a consultant to Wonderful Pistachios, California Raisin Marketing Board, Sun-Maid Growers of California, and Chick-fil-A. He has certified that no conflict of interest exists for this program. View our disclosure policy.