Recorded Webinar: The Dietitian's Guide To Creating A Successful Cookbook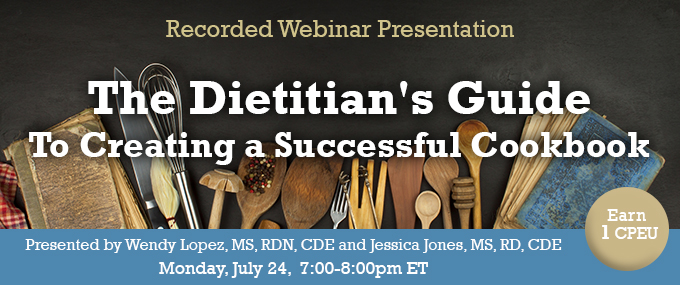 Suggested CDR Learning Codes: 1140, 2020, 7070, 8100; Level 2
Suggested CDR Performance Indicators: 2.1.3, 8.4.2, 8.4.3, 13.2.3
Ever considered creating a cookbook? Become one of the growing number of RDs who are using cookbooks as a tool to share healthy recipes and evidenced-backed nutrition advice. In this webinar, Wendy Lopez, MS, RDN, CDE and Jessica Jones, MS, RD, CDE, co-authors of the 28-Day Plant-Powered Health Reboot, will take you on a behind the scenes adventure of what it takes to produce a successful cookbook from start to end. Turn your cookbook dream to a reality that will help to elevate your business and brand.
The live version of this webinar was presented by Wendy Lopez, MS, RDN, CDE, and Jessica Jones, MS, RD, CDE, on Monday, July 24, 2017, from 7-8 pm EDT. This recorded version is approved for one hour of continuing education credit. RDs should list code 175 for this activity type.
Learning Objectives
After completing this continuing education course, nutrition professionals should be able to:
List and understand the different stages of creating a cookbook.
Assemble a cookbook proposal that is relevant to their brand, mission, and/or target audience.
Create an effective marketing plan for the success of their cookbook.
Define three measurable action steps that will assist them in the implementation of a cookbook.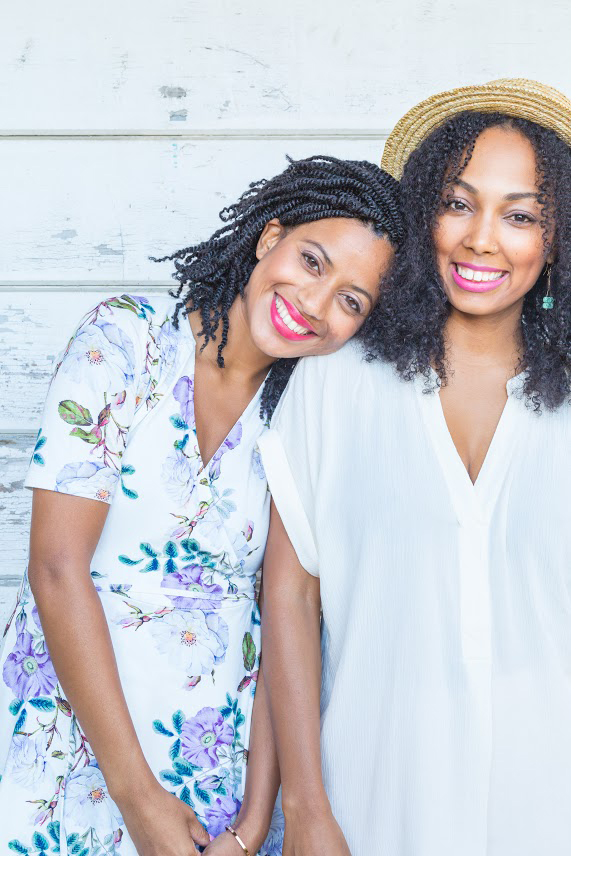 Wendy Lopez, MS, RDN, CDE, is a Registered Dietitian Nutritionist who is passionate about educating communities on plant-based eating, in ways that are accessible and culturally relevant. Working as a clinical dietitian in a community clinic in Port Chester, New York, Wendy focuses on disease prevention and management. She uses an integrative and individualized approach towards nutrition, health, and wellbeing. Wendy was raised in the Bronx, with roots in the Dominican Republic. When not catching up on the latest nutrition science, you can find her cooking, traveling, basking in the sun, and obsessively working on home improvement projects.
Jessica Jones, MS, RD, CDE, is an outpatient Registered Dietitian Nutritionist at UCSF in San Francisco. As a Registered Dietitian with a certificate of training in adult weight management, Jessica counsels hundreds of clients on weight management, pre-diabetes/diabetes, high cholesterol, hypertension, GI issues, wellness, and vegan/vegetarian nutrition. With a B.A. in Journalism from San Francisco State University, Jones has penned hundreds of articles about food, health and culture for publications like the Village Voice, Time Out New York, Buzzfeed, Self.com, and Today's Dietitian
Both Wendy and Jess are co-founders of Food Heaven Made Easy, a healthy living and nutrition website and community to over 100,00 followers. They also host the Food Heaven Podcast, which was named "New & Noteworthy" by iTunes in 2016. This January, the duo released their very first cookbook, titled the 28-Day Plant-Powered Health Reboot.
Wendy Lopez, MS, RDN, CDE, Jessica Jones, MS, RD, CDE, have no relevant disclosures to report regarding this program. The presenters have certified that no conflict of interest exists for this program. View our disclosure policy.