Recorded Webinar: Veganism, Plant-Based Diets and Eating Disorders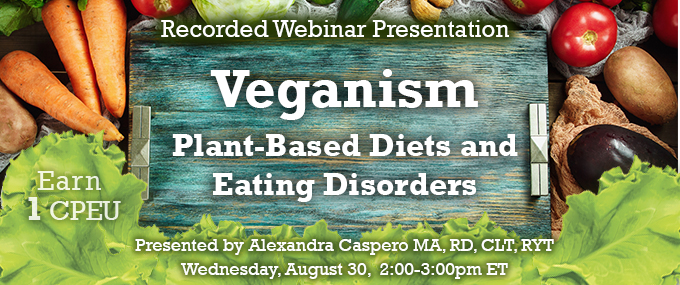 Suggested CDR Learning Codes: 4110, 5200, 6020, 6060; Level 2
Suggested CDR Performance Indicators: 8.2.1, 8.2.3, 8.3.6, 9.6.6
Can you be both vegan and working on recovering from an Eating Disorder? This presentation will explore the relationship between plant-based diets, orthorexia and anorexia. While many clients will do better on an omnivore diet, it is possible to counsel clients who wish to remain vegan and work on their recovery. This webinar will touch on various diets of restriction and how they overlap with eating disorder recovery as well as provide tools for dietitians working with these special populations.
The live version of this webinar was presented by Alexandra Caspero, MA, RD, CLT, RYT, on Wednesday, August 30, at 2 pm ET This recorded version is approved for one hour of continuing education credit. RDs should list code 175 for this activity type.
Learning Objectives
After completing this continuing education course, nutrition professionals should be able to:
Define the various diets under a vegetarian umbrella (vegan, raw, plant-based, semi-vegetarian, lacto-ovo vegetarian, flexitarian)
Identify three reasons one might choose these diet patterns
List three nutrients of concern in a plant-based diet
Discuss three ways to work with plant-based eating disorder clients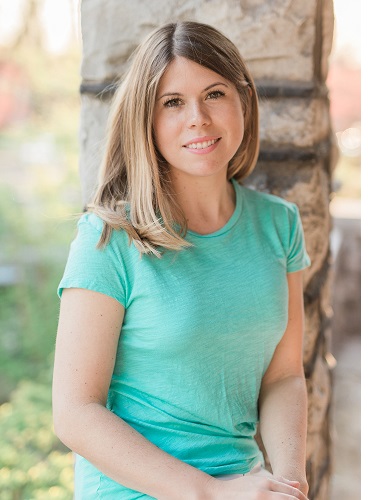 Alexandra Caspero, MA, RD, CLT, RYT, is owner of Delish Knowledge and author of Fresh Italian Cooking for the New Generation. As a consultant and spokesperson, she works with like-minded companies to develop nutrition communication strategies, corporate wellness programs and recipes. Her award-winning blog, Delish Knowledge, focuses on making whole-food eating deliciously simple.

Additionally, she is the co-author of Joyful Eating, Nourished Life, which helps others discover a happier, healthier relationship with food and their bodies. Alex has spent the last decade working with eating disorder clients, both in private practice and in formal treatment centers.
The presenter has no relevant disclosures to report. She has certified that no conflict of interest exists for this program. View our disclosure policy.