Recorded Webinar: Read Between the Headlines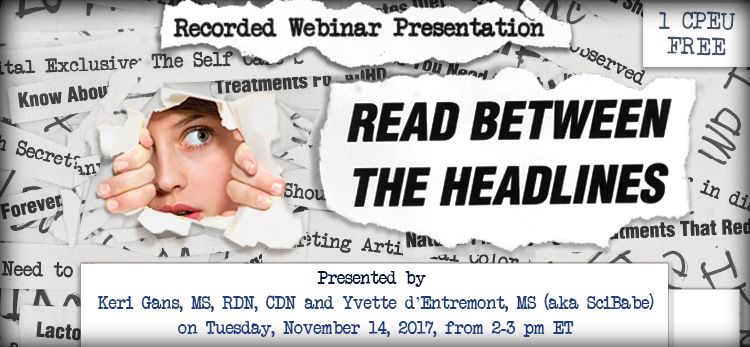 Suggested CDR Learning Codes: 1090, 4000, 9020, 9050
Suggested CDR Performance Indicators: 2.1.4, 4.1.2, 6.1.9, 6.2.5
CPE Level 2
CDR Activity Type 175
The public is constantly bombarded with information relating to health and wellness. The ubiquity of health headlines can be overwhelming and confusing. What's more, many of the health headlines seen by your patients and clients are based on biased, incomplete or inaccurate science.
This webinar provides practical strategies for evaluating levels of evidence and parsing headlines to identify questionable sources. They also share creative and effective methods for communicating sound science to your clients and professional peers.
The live version of this webinar was presented by Keri Gans, MS, RDN, CDN and Yvette d'Entremont, MS (a.k.a. SciBabe), on Tuesday, November 14, 2017, from 2-3 pm ET. This recorded version is approved for 1 hour of continuing education credit. RDs should list code 175 for this activity type.
By registering for this free continuing education course, you are granting permission to Today's Dietitian to share your demographic information and e-mail with the course sponsor for potential marketing purposes.
Learning Objectives
After completing this continuing education activity, nutrition professionals should be better able to:
Evaluate levels of evidence and utilize this knowledge to locate the best available evidence.

Dissect nutrition-related headlines by identifying common examples of misinformation.

Provide patients and clients with tools to help them critique headlines.

Creatively employ and disseminate evidence-based nutrition science to debunk junk science.

Yvette d'Entremont, MS, was working as an analytical chemist when she launched SciBabe as a side project. What started as a hobby for passion and fun turned into a full time job after a few viral successes. With an academic background in forensics and toxicology, a sharp BS detector, and a big dose of humor, she's taken her brand of science communication to make science more relatable and accessible in a social media landscape of misinformation. Her first book, SciBabe's Ten Rules To BS Detection, will be out in 2017.
Keri Gans, MS, RDN, CDN, is a Registered Dietitian Nutritionist, Certified Yoga Teacher, past Academy Spokesperson and past NY State Academy President. Gans is the author of The Small Change Diet, a Shape Magazine Advisory Board Member, blogger for US News & World Report and a sought after nutrition expert that has conducted interviews for thousands of media outlets worldwide. The Keri Report, her own weekly blog and newsletter, helps to convey her no-nonsense and fun approach to living a healthy lifestyle. Gans resides in NYC and East Hampton with her husband Bart, is a huge dog lover, Netflix aficionado and martini enthusiast. 
This complimentary 1-credit continuing education webinar is brought to you with support from SPLENDA®. Please note that SPLENDA® provided financial support only and did not have input into the information provided in this course. Yvette d'Entremont, MS (aka SciBabe) reports the following relevant disclosures: She has received honoraria from Flavor Producers, Florida Dairy Farmers, Crop Life, Minn-Dak Farmers, Atlantic Farm Women, American Soybean Association, MacEwan University, and CA Beet Growers and serves as a consultant to SPLENDA®. Keri Gans reports the following disclosures: She has received consultant fees/honoraria from Balchem, Barilla, Bel Brands, USA, Florida's Natural, International Pasta Organization, Kellogg's, KIND, and USA Pears and serves as a brand spokesperson for SPLENDA®. Both have certified that no conflict of interest exists for this program. View our disclosure policy.