Recorded Webinar: Eating Beyond the Headlines: Sorting Evidence from Emotion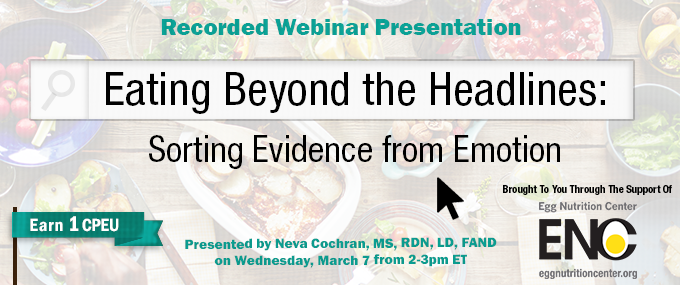 Suggested CDR Learning Codes: 4040, 5280, 5370, 9020
Suggested CDR Performance Indicators: 4.1.2, 6.2.5, 6.3.7, 8.1.2
CPE Level 2
CDR Activity Type 175
Alarming food and nutrition headlines not only confuse consumers but may also result in the exclusion of nutrient-rich foods from the diet. Nutrition and health recommendations should be based on the scientific evidence and not the results of a single study heralded in the media. This can be challenging especially for topics that evoke strongly held and emotional beliefs that often defy scientific reality. This presentation will examine some of the current popular nutrition topics in the news and the real scientific facts behind them.
The live version of this webinar was presented on Wednesday, March 7, 2018, at 2pm ET, by Neva Cochran, MS, RDN, LD, FAND. This recorded version is approved for 1 hour of continuing education credit. RDs should list code 175 for this activity type.
By registering for this free continuing education course, you are granting permission to Today's Dietitian to share your demographic information and e-mail with the course sponsor for potential marketing purposes.
Learning Objectives
After completing this continuing education course, nutrition professionals should be able to:
Read and critically evaluate studies that have been sensationalized in the media.
Identify the scientific facts behind popular nutrition myths in the media.
Explain the nutritional consequences of omitting specific foods from the diet that have been maligned in the media.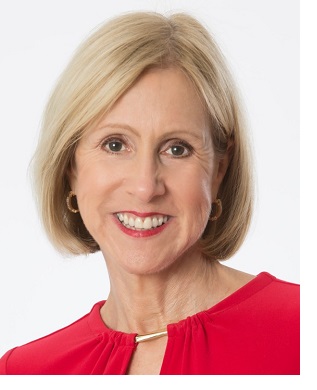 Neva Cochran, MS, RDN, LD, FAND, is a nutrition communications consultant in Dallas, Texas. She serves as a consultant to a variety of food and nutrition organizations, and is a frequent speaker at district, state and national conferences. An active member of the Academy, she has served as President of both the Dallas and Texas Academies, as a national media spokesperson, a member of the House of Delegates and Chair of the Academy Foundation. She was a 2012 recipient of the Academy's Medallion Award and the 2016 recipient of the Texas Academy's Outstanding Preceptor Award. Neva received her Bachelor of Science in Nutrition and Dietetics from the University of Oklahoma and her Master of Science in Nutrition from Texas Woman's University and completed her dietetic internship at Texas Health Resources Presbyterian Hospital of Dallas.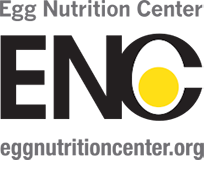 Eggs are a nutrition powerhouse. One large egg has 6 grams of high-quality protein, varying amounts of 13 essential vitamins and minerals, and the antioxidants lutein and zeaxanthin, all for 70 calories. The Egg Nutrition Center is the science and nutrition education division of the American Egg Board. Its mission is to be a credible source of nutrition and health information and the acknowledged leader in research and education related to eggs. www.EggNutritionCenter.org
This complimentary 1-credit continuing education webinar is brought to you with support from the Egg Nutrition Center. Please note that the Egg Nutrition Center provided financial support only and did not have input into the information provided in this course. Neva Cochran, MS, RDN, LD, FAND, reports the following relevant disclosures: She is a member of Monsanto's LEAD Network, is a consultant to Calorie Control Council and a Member of the Speakers Bureau for National Cattlemen's Beef Association, and has served as a Health Professional Advisor to Egg Nutrition Center. She has certified that no conflict of interest exists for this program. View our disclosure policy.