Recorded Webinar: Nutritional Approach to Management of Irritable Bowel Syndrome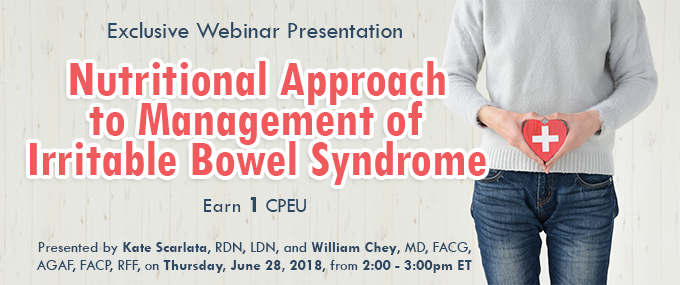 Suggested CDR Learning Needs Codes: 2020, 5000, 5110, 5220
Suggested CDR Performance Indicators: 8.1.4, 8.3.6, 8.4.4, 10.2.9
CPE Level 2
CDR Activity Type 175
Irritable bowel syndrome (IBS) is a complex, heterogeneous gastrointestinal disorder that impacts 40-45 million Americans. Food related symptoms are reported frequently in this population. The low FODMAP diet effectively manages symptoms in 50-70% of IBS patients. As there is growing interest in nutritional approaches for IBS symptom management, dietitians should understand how diet may impact functional gut symptoms as well as apply a low FODMAP diet when working with this population. As an evolving nutritional approach, up to date food composition and the latest research will be reviewed.
The live version of this webinar was presented by Kate Scarlata, RDN, LDN, and William Chey, MD, FACG, AGAF, FACP, RFF, on Thursday, June 28, 2018, from 2-3pm ET. This recorded version is approved for 1 hour of continuing education credit. RDs should list code 175 for this activity type.
Learning Objectives
After completing this continuing education course, nutrition professionals should be able to:
Detail how diet may be a trigger or therapy for IBS, impact changes in gut flora and microbial derived metabolites.
Describe how FODMAPs impact luminal distention via osmotic and fermentative effects.
Outline a low FODMAP elimination and re-introduction nutrition protocol. 

Kate Scarlata, RDN, LDN, is a Boston-based dietitian with 30 years of experience. Kate's expertise is in food intolerance with a particular focus on the application of the low FODMAP diet for functional gut disorders. She was the recipient of the Outstanding Massachusetts Dietitian Award and recognized as Boston's Best Dietitian by Boston Magazine. Kate is the author of numerous books on digestive health topics including the New York Times Best Seller, The 21 Day Tummy Diet and her latest book, The Low FODMAP Diet Step by Step. Kate completed her postgraduate training at Brigham and Women's Hospital, a Harvard Medical School teaching affiliate. She is currently enrolled in a Master's of Public Health program at the University of Massachusetts.
Dr. Chey received a medical degree & training in internal medicine at Emory University School of Medicine. He completed a fellowship in gastroenterology and has remained as faculty at the University of Michigan in Ann Arbor where he is currently the Timothy T. Nostrant Collegiate Professor of Gastroenterology & Nutrition Sciences.
His research interests focus on the diagnosis & treatment of functional bowel disorders and H. pylori infection. He is a medical innovator and holds 3 patents. He co-founded "My Total Health" (https://mygihealth.io/), a company developing novel health information technology solutions for persons with GI problems. Dr Chey has authored more than 300 manuscripts, reviews, chapters & books. Dr. Chey is a member of the Board of Trustees of the American College of Gastroenterology, Board of Directors of the Rome Foundation, and Council of the American Neurogastroenterology & Motility Society. He is Chief Scientific Advisor for the International Foundation of Functional GI Disorders.
He has been elected to "Best Doctors" since 2001 and received the Dean's Outstanding Clinician Award at the University of Michigan and the Distinguished Clinician Award from the American Gastroenterological Association.
Kate Scarlata, RDN, LDN, reports the following relevant disclosures: She has received consultant fees from Fody Foods and Casa de Sante and receives other financial support from FODMAP books and iTunes. Dr. Chey reports the following relevant disclosures: He has received grants, research support, consultant fees and/or honoraria from Ironwood, BioMedica, Vibrant, Allergan, Zespri, Outpost, Salix/Valeant, Shire, and Ritter. Both have certified that no conflict of interest exists for this program. View our disclosure policy.