Recorded Webinar: Malnutrition Documentation Throughout the Continuum of Care: Improving Payment and Quality Outcomes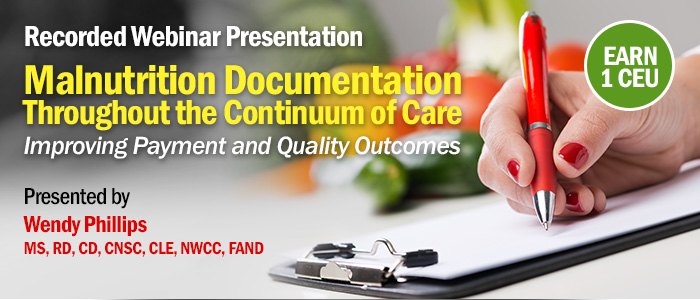 Malnutrition affects population and individual health at every level of the care continuum. Medicare and other healthcare payers provide payment incentives for care that is delivered in a cost-effective manner and provides high-quality outcomes. Accurate coding of complications and comorbidities, like malnutrition, can more accurately predict expected cost of care and improve quality measurement scores for individual providers and healthcare facilities.

This webinar explains the payment structures that can be improved in hospitals, inpatient rehabilitation and long-term care facilities, and ambulatory care clinics when malnutrition is accurately identified and documented. Best practices for medical record documentation will be shared to enhance the recognition of malnutrition when it is "present on admission". Attendees will be prepared for the new payment models that will be introduced by Medicare in the new federal fiscal year.

The live version of this webinar was presented by Wendy Phillips, MS, RD, CD, CNSC, CLE, NWCC, FAND, on Thursday, May 9, 2019 from 2-3 pm ET. This recorded version is approved for one hour of continuing education credit. RDs should list code 175 for this activity type.
Learning Objectives
After completing this continuing education course, nutrition professionals should be able to:
Compare and contrast the ways malnutrition coding can influence payment and quality measurements in hospitals, rehabilitation and long-term care facilities, and outpatient programs.
Organize medical record documentation to manage, evaluate, assess, and treat - or "MEAT" - regulatory requirements and decrease coding and payment denials.
Demonstrate recognition of malnutrition as being "present on admission".
Additional Information
Suggested CDR Learning Codes:
Suggested CDR Performance Indicators:
8.2.5, 8.3.5, 14.2.6, 14.2.7
As a Division Director of Clinical Support at Morrison Healthcare, Wendy Phillips, MS, RD, CD, CNSC, CLE, NWCC, FAND, directs the development, implementation and maintenance of clinical nutrition programs and services for hospitals, rehab and long-term care facilities, and outpatient counseling centers. She is involved in nutrition-related public policy and advocacy at the state and national levels, with focus areas in improving malnutrition care and expanding order writing privileges for RDNs.

Wendy Phillips has no relevant disclosures to report. She has certified that no conflict of interest exists for this program. View our disclosure policy.