Recorded Webinar: Cultivating Confidence: How to Communicate Food Peace So That Your Clients Can Eat With Confidence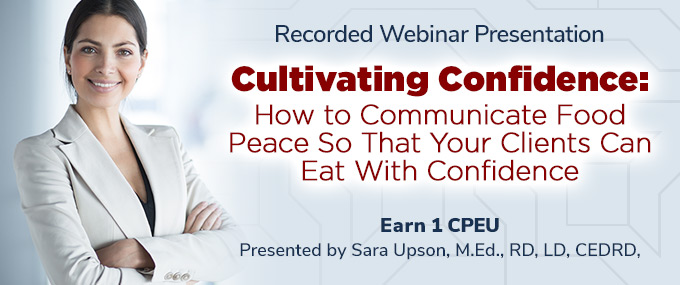 In an attempt to improve eating habits, our current food culture has only increased stress about eating. Scary headlines, sensational Internet stories and non-reliable sources only compound this confusion leaving your clients more stressed and overwhelmed than ever. The concept of "food peace", or the ability to enjoy foods without feeling anxious, guilty or ashamed, can empower clients to feel more confident and adopt more healthful eating patterns. This unique webinar will enhance your ability to communicate food peace and cultivate confident eating by your clients.

The live version of this webinar was presented by Sara Upson, M.Ed., RD, LD, CEDRD, on Wednesday, May 15, 2019 from 2-3 pm EST. This recorded version is approved for one hour of continuing education credit. RDs should list code 175 for this activity type.
Learning Objectives
After completing this continuing education course, nutrition professionals should be able to:
Explain why food peace improves health and well-being.
Challenge assumptions that interfere with cultivating confidence.
Identify 3 techniques to increase your clients' confidence with eating.
Additional Information
Suggested CDR Learning Codes:
Suggested CDR Performance Indicators: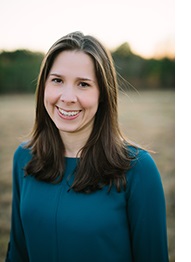 Sara Upson, M.Ed., RD, LD, CEDRD, is a Certified Eating Disorder Registered Dietitian with a masters degree in exercise physiology. She is the founder of My Signature Nutrition in Tyler, Texas where she provides outpatient nutrition education and counseling, specializing in the treatment of eating disorders and disordered eating through a weight inclusive, health at every size approach. Sara is passionate about helping people feel confident with their eating so that they can spend their time and energy focusing on what matters most to them, instead of stressing over food and their bodies.

Sara Upson, M.Ed., RD, LD, CEDRD, has no relevant disclosures to report. She has certified that no conflict of interest exists for this program. View our disclosure policy.