Webinar: Co-Managing the Thriving Oncology Patient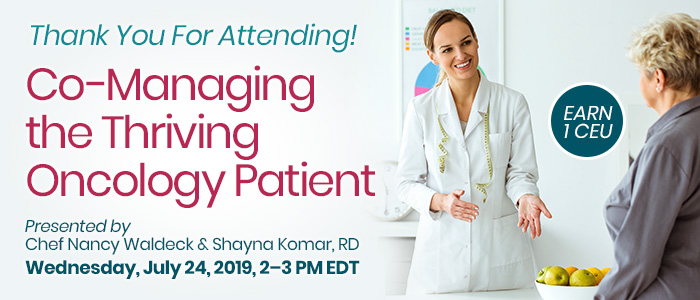 Suggested CDR Learning Needs Codes: 4010, 4040, 5150, 8090
Performance Indicators: 8.1.4, 8.1.5, 8.2.2, 8.4.1
CPE Level: 2
CDR Activity Type 171
This webinar was presented on Wednesday, July 24, 2019 from 2-3 p.m. ET. Check the CE.TodaysDietitian.com website for the recorded version, which will be made available as soon as possible.
Dietitian Shayna Komar works in collaboration with Chef Nancy Waldeck to show how a partnership made up of different healthcare professionals can work to make a positive impact for a cancer survivor. The dietitians' role may include developing a patient care plan that is not confusing with all different diets. The chef's role may include taking the nutrition advice from the dietitian to develop a menu, create recipes, and provide information on purchasing and preparation. Overall, nutrition can play a positive role for a thriving survivor if it is done well.
Learning Objectives
After completing this continuing education course, nutrition professionals should be able to:
Obtain a working knowledge of how to collaborate interdepartmentally when seeing an oncology patient.
List the basic treatment-related side effects of cancer and how they impact the overall nutrition plan.
Incorporate ideas and recipes into counseling a cancer survivor when they are dealing with other nutrition-related issues.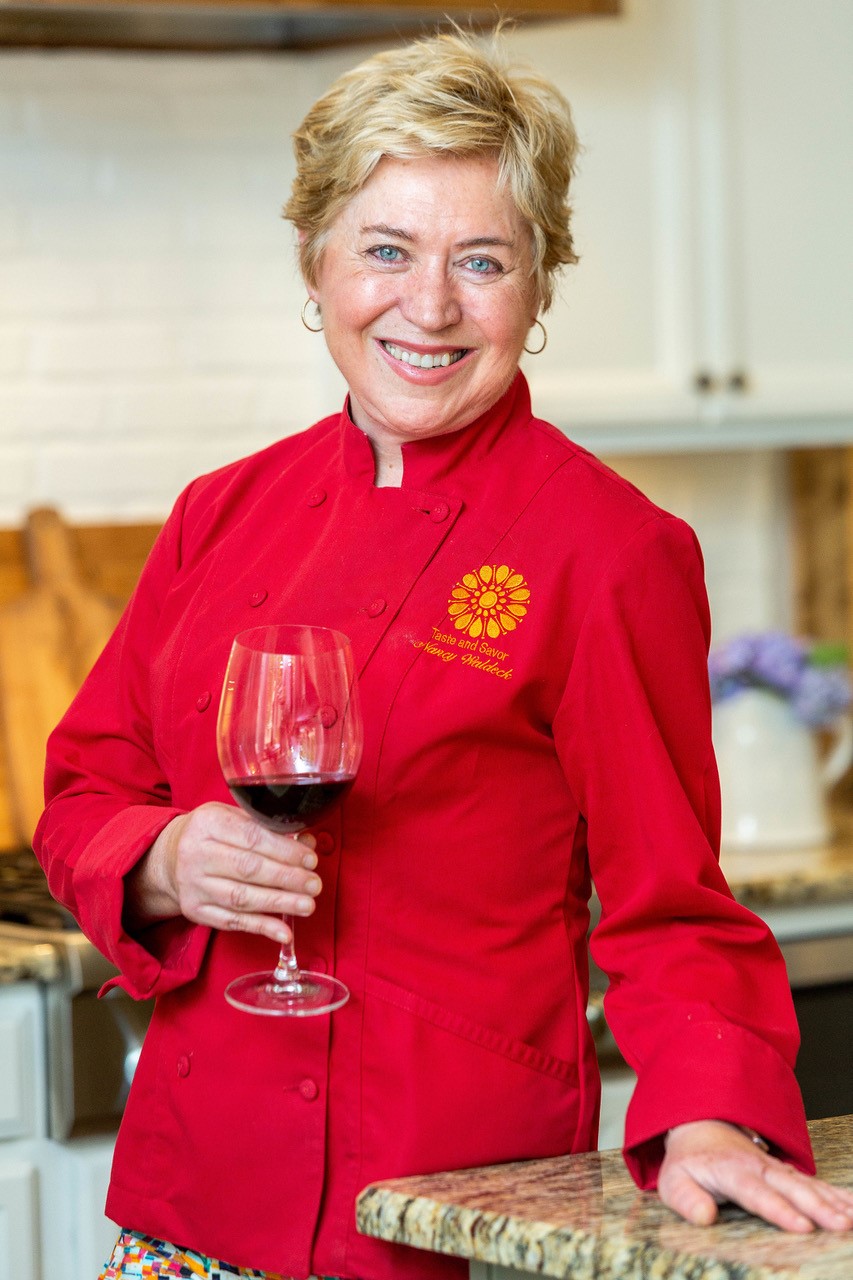 Healthy Chef Partyologist Nancy Waldeck's exuberant approach to healthy cuisine and fun wine leads her to deliver over 100 classes a year in interesting locations – from a United States embassy to corporate offices like Google, Southern Company and Norfolk Southern, and hospital wellness centers to a twice-a-month healthy cooking segment for NBC's Atlanta and Company, and farmers' markets and international conferences.
Nancy hosts carefully-curated wine and culinary trips around the world for small groups of curious guests. She believes cooking and traveling are two of the most rewarding (and fun!) things in life and her classes and events use food and wine to learn more about the world. At the intersection of cuisine and travel is where her expertise and passion meet, and result in fascinating and informative classes and tours.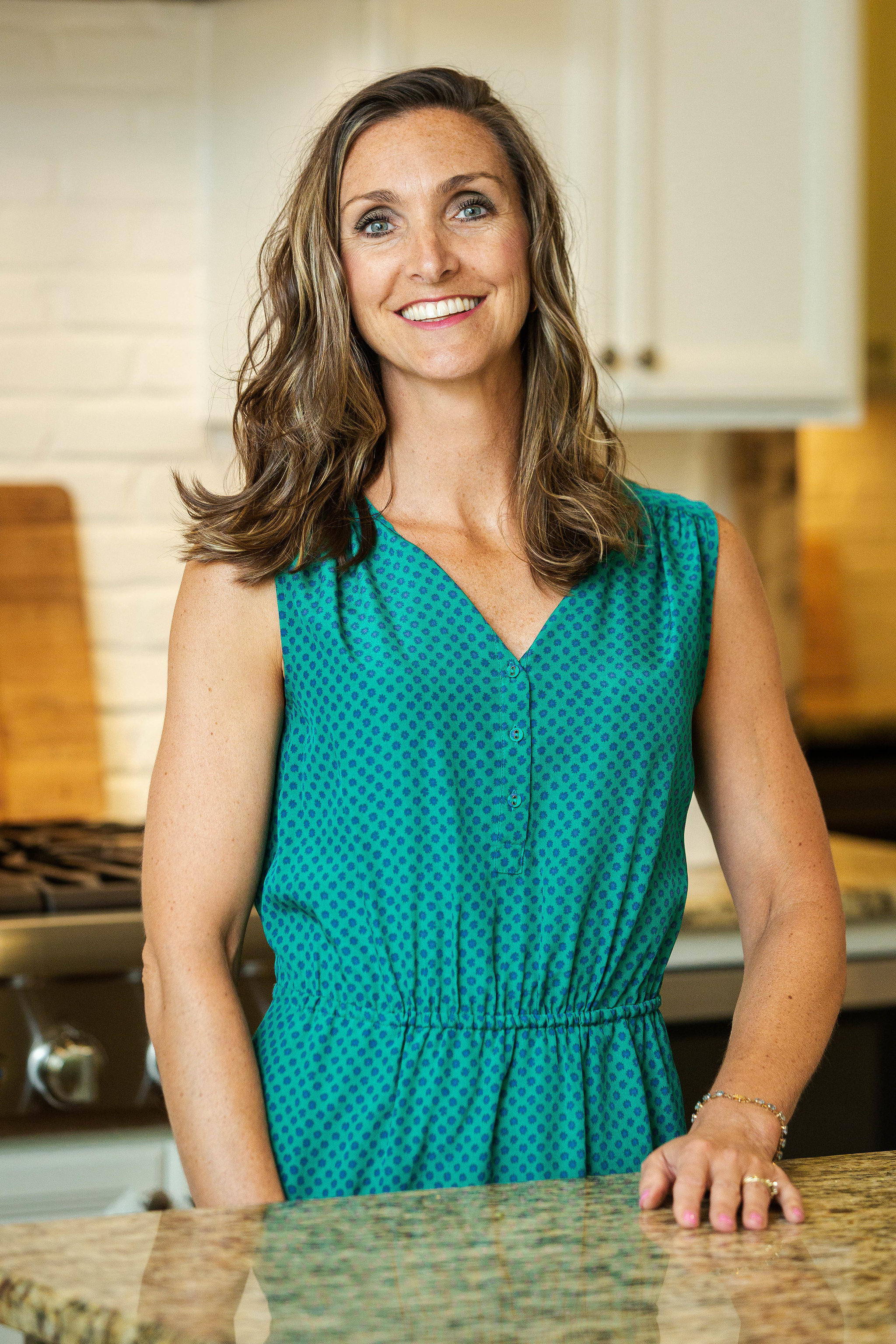 Shayna Komar, RD, is a Registered and Licensed Dietitian based in Atlanta, Georgia. She completed her undergraduate degree in Nutrition, Foods, and Exercise at Virginia Tech and her dietetic internship at Johns Hopkins Hospital in Baltimore, Maryland. Shayna currently contracts with Cancer Wellness of Piedmont Hospital where she provides individual nutrition counseling, cooking classes and group lectures for cancer patients and caregivers. She was the proud recipient of the 2006 Distinguished Dietitian of the Year Award from the Academy of Nutrition and Dietetics. She has presented nutrition lectures all over the United States, and in 2013 she was put on the Academy of Nutrition and Dietetic Speakers' Bureau for oncology dietitians. Shayna has been featured as a nutrition expert on Fox News Atlanta, CNN Accent Health, WSBTV Radio, and most recently, 11Alive Atlanta and Company. She writes weekly with her colleague, Chef Nancy Waldeck, on their blog livingandeatingwell.com and she's an avid fitness enthusiast who has been teaching group fitness classes for 20 years.
The presenters have no relevant disclosures to report regarding this program. They have certified that no conflict of interest exists for this program. View our full disclosure policy here.