Recorded Webinar: Building Meaningful Community Partnerships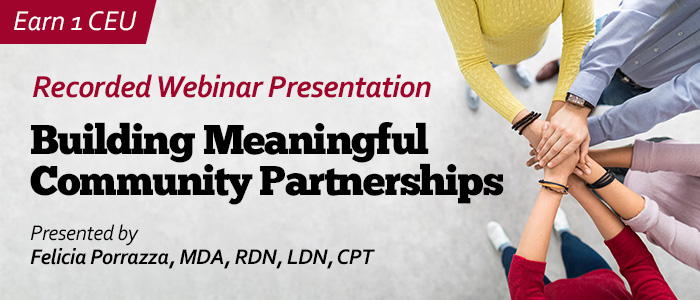 This webinar was presented by Felicia Porrazza, MDA, RDN LDN, CPT, on Thursday, August 1, 2019, from 2-3pm ET.
In this webinar, Felicia discusses the current research on the integration of employee wellness initiatives and how to keep participants engaged throughout the process. She discusses key characteristics to look for and implement when identifying a potential partner, including alignment with your business's mission, making the first connection with a partner, and specific marketing strategies, tools, and tips for creating a successful wellness program.
Learning Objectives
After completing this continuing education course, nutrition professionals should be able to: 
Identify targeted marketing strategies to build partnerships that align with your business goals.
Integrate community wellness initiatives for partners using key findings from industry research.
Describe ways to effectively build partnerships with businesses for wellness program implementation, including how to create relevant informational materials and marketing pieces.
Additional Information
Suggested CDR Learning Codes:
Suggested CDR Performance Indicators:
3.3.5, 8.2.2, 8.2.4, 12.1.3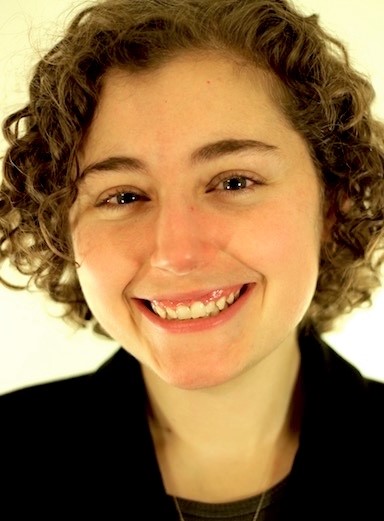 Felicia Porrazza is a Registered Dietitian Nutritionist and an ACSM Certified Personal Trainer with a Masters Degree in Dietetics Administration. She owns a private practice, PorrazzaNutrition, where she brings accessible wellness solutions to clients through in-home and virtual nutrition and fitness services. Her specialty is in combining plant-based eating with fitness programming, specifically targeting strength-training. Felicia has run multiple programs within her business, including cooking classes, support groups, walking groups, nutrition seminars, and business coaching for Dietitians.
In addition to PorrazzaNutrition, Felicia also creates and sells fruit-themed knitted products under the name Warm Your Melon. Learn more on her website, www.porrazzanutrition, and on Instagram @porrazzanutrition and @warmyourmelon. 
Felicia Porrazza, RDN, LDN, MDA, CPT , has no relevant disclosures to report. She has certified that no conflict of interest exists for this program. View our disclosure policy.