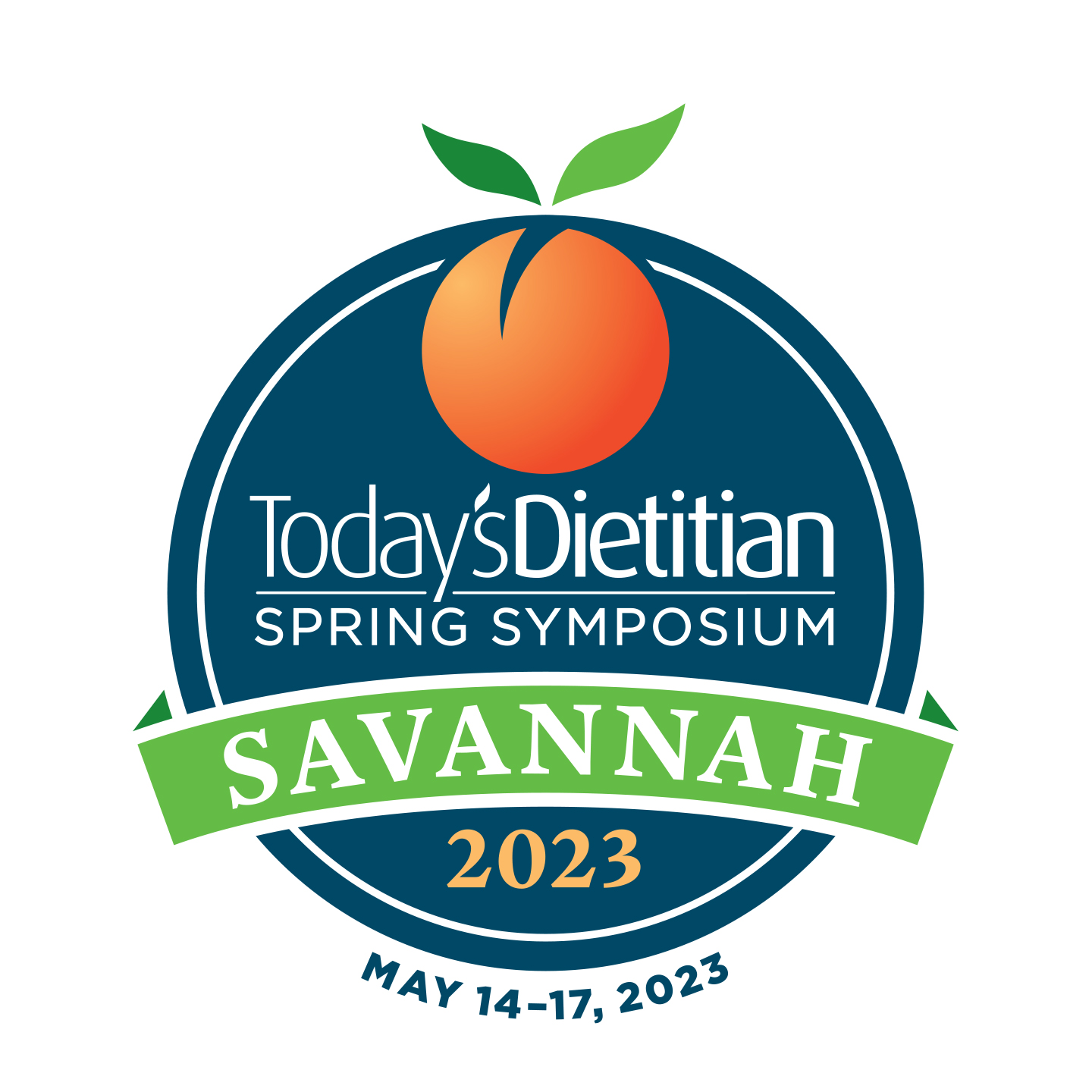 We hope that you enjoyed our 2023 Spring Symposium in Savannah, GA! You must complete a brief evaluation of each Symposium session you attended in order to receive your certificate. Evaluations will become available immediately following each session and remain available for one year following the event. All evaluations must be completed by May 17, 2024, in order to obtain continuing education credit.
Click on a session title below to complete the evaluation and download your certificate. Click here for step-by-step credit claiming instructions.
Please note: You must be logged in to your CE Learning Library account and have the access code provided to attendees in order to complete session evaluations.
These are not webinars or courses for purchase - they are modules for credit claiming for attendees of the 2023 Spring Symposium.
---
Today's Dietitian Spring Symposium Continuing Education Sessions
Accreditation for the following sessions is provided by Great Valley Publishing Company. 
In support of improving patient care, Great Valley Publishing Company is jointly accredited by the Accreditation Council for Continuing Medical Education (ACCME), the Accreditation Council for Pharmacy Education (ACPE), and the American Nurses Credentialing Center (ANCC), to provide continuing education for the healthcare team. 
The activities listed below also award credit for dietetics (CDR CPEU). 
---
Ask the Expert: A Year in Review and a Look Ahead
Toby Amidor, MS, RD, CDN, FAND
---
40 Years of the American Institute for Cancer Research: What It Means for Dietitians
Karen Collins, MS, RDN, CDN, FAND
---
Starting a Side Hustle: Opportunities and First Steps
Katie Dodd, MS, RDN, CSG, LD, FAND
---
From Allergies to Ethics: Using Public Partners to Help Clients Meet Nutrition Needs Outside of Their Own Kitchen
Lauren Harris-Pincus, MS, RDN
---
Recipe Editing 101: The Why and How to Perfecting a Recipe Before Publishing
Regan Jones, RDN, ACSM-CPT
---
The 5-Flavored Case for Food as Medicine
David Katz, MD, MPH, FACPM, FACP, FACLM
---
Reduced Carb Diets and Disease Risk Reduction: How Low Do You Go?
Kristin Kirkpatrick, MS, RD
---
Ethics for All in a Sometimes Unethical World in 2023
Dianne Polly, JD, MS, RDN, LDN
---
Navigating Food Fears and Disordered Eating in GI Conditions
Kate Scarlata, MPH, RDN
---
The Female (and Male) Athlete Triad: Updates Nutrition Implications, and Screening Tools to Prevent Low BMD
Kim Schwabenbauer, PhD, MS, RD, CSSD
---
Using Our Nutrition "SciVantage" in Today's Food Conversation
Jaime Schwartz Cohen
---
Sustainable Traditions: Food, Health, Culture - The Immigrant Experience
Vandana Sheth, RDN, CDCES, FAND
---
Dietitians to the Rescue: Translating Complex High-Quality Research into Simple Messages to Combat Nutrition Quackery
Taylor Wallace, PhD, CFS, FACN
---
What Should the RDN Do For the 96 Million Adults with Prediabetes?
Jill Weisenberger, MS, RDN, CDCES, CHWC, FAND
---
Zero to 100: Becoming a Powerhouse in Public Speaking
Wendy Bazilian, DrPH, MA, RDN, ACSM-EP, and Jen Nguyen, RDN, CDN, NASM-CPT
---
Incorporating the Future of Nutrition Into Your Practice: Nutrigenomics
Mascha Davis, MPH, RDN, and Ginger Hultin, MS, RDN, CSO
---
TikTok Made Me Eat It: How RDNs Can Empower Consumers to Eat Better by Creating Short Videos on TikTok and Instagram
Rosanne Rust, MS, RDN, and Liz Weiss, MS, RDN
---
---
Sponsor Meal Sessions
Accreditation for the following sessions is provided by various organizations; accreditation is not provided by Great Valley Publishing Company. Please check the "Accreditation" tab under each session's listing for specific accreditation information.
---
Workshop: Ask the Expert: Responding Responsibly to Media Queries
Presented by Toby Amidor, MS, RD, CDN, FAND
Sponsored by National Dairy Council
---
Keynote Presentation: Empowerment or Shame? How Are Biases Shaping the Way RDNs Communicate About Nutrition?
Presented by Amy Cohn, RD, CDM, CFPP, JC Lippold, MAL, RYT, and Jessica Broome, PhD
Sponsored by General Mills
---
Affordable Nutrition: How Food Prices Impact Food Insecurity and How to Leverage Grocery Stores to Shop Healthy on a Budget
Presented by Craig Gundersen, PhD, and Lorena Kaplen, RDN, LDN
Sponsored by General Mills Bell Institute of Health & Nutrition
---
A Closer Look at Low- and No-Calorie Sweeteners
Presented by Holly Moran, MS, RD, LD, CDCES, and Neil Skolnik, MD
Sponsored by Heartland Food Products Group, makers of Splenda
---
Not All Plant-Based Diets are Created Equal: Practical Ways to Help Clients and Patients Replace Processed Plan Foods with Whole Plant Foods
Presented by Cynthia Sass, MPH, MA, RD, CSSD
Sponsored by American Pistachio Growers
---
Prebiotics and Gut Microbiota: Establishing a Health Trajectory from Early Life to Adulthood
Presented by Dr. Raylene Reimer
Sponsored by BENEO-Institute
---
Sustainable Behavior Changes for Cardiovascular Health: Navigating Client Recommendations in a Socially Influenced Society
Presented by Wendy Bazilian, DrPH, MA, RDN, ACSM-EP
Sponsored by Fresh Avocados - Love One Today
---
Building Your Ag IQ: What Farmers Wish Your Knew About Healthy, Sustainable Diets
Presented by Marianne Smith Edge, MS, RD, FAND, Lauren Twigge, MCN, RD, LD, and Jason Sawyer, PhD
Sponsored by National Cattleman's Beef Association (NCBA)
---
Nourishing the First 1000 Days: Dairy and Baby's Brain Development
Presented by Elizabeth Zmuda, DO, FAAP, FACOP, Sun Young Lee, MD, MSc, and Marina Chaparro, RD, CDE, MPH
Sponsored by National Dairy Council (NDA)
---
Good to the Bone: The Intersection of Inflammation, Bone Health, and a Daily Handful of California Prunes
Presented by Connie Rogers, PhD, MPH, and Lauren Manaker, MS, RDN, LC, CLEC, CPT
Sponsored by California Prunes
---
Today's Food Conversation: What Messages Should We Be Communicating About Strawberries?
Presented by Amy Myrdal Miller, MS, RDN, FAND
Sponsored by the California Strawberry Commission (CSC)